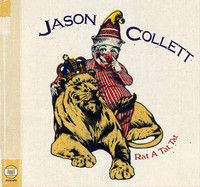 Jason Collett, the dependable and perennial folk-rocker out of Toronto has made his name on his rustic charm and late-night swagger. Members of Broken Social Scene, the revolving door musical collective have labelled Collett as the "Tom Petty of Broken Social Scene." How appropriate; Collett has resided comfortably slightly below the radar since he began making music. He'd had a career in drywalling beforehand, which again, makes more sense. Collett writes honest tunes, choosing to mythologize the workman within all of his. His blue-collar tales epitomize the struggles we all endure and he continues his modest, organic ascent into the public eye on Rat A Tat Tat, his latest.
Rat A Tat Tat sways like a warm evening wind, with tracks like "Winnipeg Winds" evoking a greasy, loungy state of mind. His approach continues to sound more relaxed with every release. And with this relaxed approach, Collett seems to be less and less afraid to show his roots and wear his musical heart of hearts on his sleeve. Comparisons to Bob Dylan have followed Collett throughout his career; it's rather gratifying to hear him embrace the comparison on Rat A Tat Tat. "Vanderpool Vanderpool" sounds lifted from a night of wine-drinking and flamenco dancing, with ol' Bobbie D providing the soundtrack. Again, it's Collett's surefire swagger and emerging drawl that really knock Rat A Tat Tat.
Which isn't to take away from the quality of songwriting. The eastern, bluesy roll of "Rave On You Sad Songs" and the quirky stomp of "Love Is A Dirty word" aren't only some of Collett's finest work; they're some of the better folk-rock tracks you're going to hear this year.
By Joshua Kloke
[Rating: 4/5]