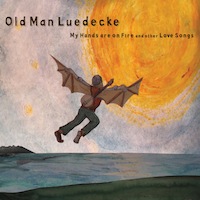 "My hands are on fire, my hands are on fire…" hums Chris Leudecke, again and again throughout the comfortable swing on "The Rear Guard." He isn't kidding. Leudecke is something of a renaissance man, picking and strumming his banjo with the passion and fury of blues and countrymen of yesteryear on My Hands Are On Fire and other Love Songs.
Eight of the eleven tracks on Leudecke's latest full-length are dominated by the banjo. Yet even those that feature Leudecke on the acoustic guitar, such as the bluesy romp of "Woe Betide The Doer Of The Deed" are rich with the soul and craftmanship that seems to be long forgotten in modern music.
As to be expected, there isn't heaps of variety on My Hands Are On Fire and other Love Songs but that begs the question; does that matter? The album is remarkably cohesive; one needn't worry about skipping a single track. Leudecke gets a little expansive on the second half of the record, exposing his inner Nashvillian on the brooding, haunting slow-dance, "Machu Picchu."
Leudecke is as talented a player as you'll find; how commendable that he hones his craft with a dedication to the songs that inspired him to pick up an instrument in the first place.
By Joshua Kloke
[Rating: 3.5/5]