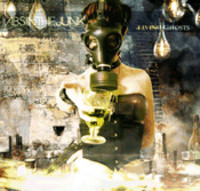 What a diversely-ranged piece of work here that offers so much to the listener.   This band hails from the country music capital of the world, Nashville TN, but make no mistake that there is no sign of country twang in their sound.   Absinthe Junk are a world-fused rock group that blends elements of: heavy metal, hard rock, alternative, classical & orchestral all into one tightly secured package.   Interesting, mysterious & appealing all make up the landscape for this new record, Living Ghosts.  
Absinthe Junk is made up of: Blair on lead vocals, violin, keys & guitar, Patrick Himes on guitars, keys & backing vocals, Matt Clarke on bass, Jeremy Miller on guitar, Brian Hoeflich on studio drums and Ben Bruno on drums for live shows.   It is great to hear a band and an album that exhibits so much creativity & originality.   In a sea of a crap that constantly floods our markets today, Absinthe Junk come crashing in with actual Living Substance.  
The CD starts up with a song coined "Commercialized Waste" that offers up hard rockin' guitar parts, which I loved, while Blair sings with such authoritative power.   Track three, "Dragonflies in Hurricanes", has pure melodic vocals that sound so good to the ears.   The title track gives you a light classical feel with a very subtle, solemn and low-key approach.   On song six, "Swear to Me", you get a lot of energy being poured out by the entire group.   Next up, "Rust", has a heavier vibe with a bit darker layer to it, but surprisingly you get an unexpected taste of Italy right at the end.   On track nine, "Assasin (Someday)", Absinthe Junk give it their all with an incredible amount of power, emotion & feeling being conveyed by way of one impactful delivery.   On the second installment, "Road to Damnation", a cool instrumental is being played with heavy rock and worldly influences colliding together.   What I loved about this particular number is that so much is being said without having to say a single word.   The climax and suspense is built up nicely here as you finally experience an uneasy screeching at the end.   What I gathered from this performance was that the fight & struggle all comes to a halt by the end when everything comes crashing down.   I couldn't help but think that this completely relates to our times in the sense that we deal with our own trials & tribulations each and every day.   In a country that has a highly corrupt government and the worst president in the history of the United States of America, we, the people, have to make a change.   If people are blind to the hypocrisy that is our bureaucracy and fail to wake up, then "Road to Damnation" might not be such a far-fetched idea.  
There is so much to like about this album from the glowing and distinct voice of Blair to the rich instrumentation to the thought-provoking lyrics & music.   Living Ghosts is a powerful record that doesn't get too deep, but always stays closely-connected to the listener.   Hopefully Living Ghosts will scare some sense into you as you hear an array of styles penetrating your eardrums.   As ghosts and their shadows dissipate within the air, Absinthe Junk are Living for the NOW and not looking to fade out anytime soon. For more on this eclectic bunch and their new release, SKOPE out www.mypieceofjunk.com.  
By Jimmy Rae
[Rating: 4/5]