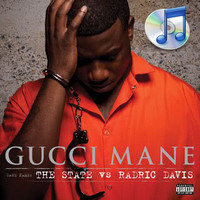 I was very anxious to give this new album from Gucci Mane a listen. I have always seen Gucci Mane as an emcee that has what it takes to be taken seriously in hop hop's higher ranks. His lyrical prowess is not unusually strong but his character & swagger make up for it. One thing is for sure about Gucci Mane is that he knows how to make a hit song & his hooks are contagious. In a genre like hip hop where street cred is imperative to success, this emcee is currently incarcerated.
This album is 20 tracks strong and Gucci did not lack in regards to cameos. He has everyone from Plies, Cam' Ron to Nicki Minaj on this album. Every single that Warner has chose to make videos for have been right on. Especially "Spotlight" with Usher. That song just gets you going from the club to the gym. Also after you here "Lemonade" that will be stuck in your head for atleast 6 hours.
 
One song that got me really excited was "Bingo" featuring Soulja Boy Tell'em & Waka Flocka Flame. This track is a straight banger and it shows that Scott Storch has not lost his touch. There is nothing that I do not love about this track and I have listened to it over 50 times already. It really just keeps getting better. You can't hate on Soulja Boy Or Waka's verses either.
"Bingo" feat. Soulja Boy & Waka Flocka Flame (video):
I know that many people are not buying CD's anymore but that should not apply with this album. Even if you are more into downloading singles there are atleast 6 that you need to be on your ZUNE or Ipod. I have moved this album into the car and I plan on leaving it there for a while. We can only hope that Radric Davis gets released soon so he can hit the road and come play Boston!
Review By: Mikey Frieds  
[Rating: 4/5]