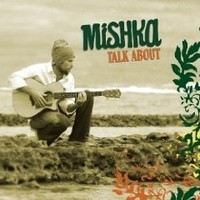 A gentle perusing of one's CD collection typically will render at least one Reggae album, usually the ubiquitous ones, like Marley's Legend or anything Peter Tosh. Further still one may find an obscure Yellowman or a long forgotten Burning Spear, but it seems that few of the CD generation went untouched by the feel-good vibes of Reggae. Even mainstream acts, the likes of The Police and Sublime, borrowed heavily from island rhythms and instrumentation. Yet, it seems Reggae as a whole has remained a marginal genre that has lost luster in the post-Bob Marley years. But if one contemporary artist has his way, the Reggae flag is that much closer to being planted into mainstream music.
Mishka has returned with a much-anticipated follow-up to 09s Above The Bones with Talk About, again on Matthew McConaughey's vanity label j. k. livin Records (more like Mishka's vanity label in that it was created for him). Album single "Bittersweet" is Reggae meets alt guitar riff work with the acclaimed Butch Walker lending production duties. The staccato Reggae guitar chirps laid over alt-pop electric guitar work makes the track a dub-infused, radio-friendly sing along. "Dead End Streets" paints a lyrical picture of a crumbling cityscape lost to time, a testament to Mishka's socially aware lyrical content. The track is served well with backing brass, which culminates with a muted trumpet solo mid-track. "Homegrown" bears mention for two reasons: it seems no proper Reggae album is complete without a shout out to marijuana and also, Willie Nelson makes a vocal guest appearance. Yes, THAT Willie Nelson. Appropriate mused this writer.
Again, for a genre of music that seems to have been relegated to CD purchases of the past, Mishka is breathing mainstream life into the genre through album sales and accolades. Named 2009 Best New Artist by iTunes, it was the same year he saw his first album debut at #1 on the Billboard Reggae Charts. With his modern spin on traditional Reggae, Mishka certainly serves the genre well. I expect many more socially conscious, feel good vibes from this guy.  
by Chris West
[Rating: 4/5]