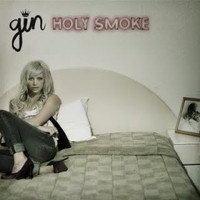 Last year, I reviewed a Lucy Woodward album and made a heartfelt confession. I am about to make another one. I have a Kiwi crush on New Zealand songbird Gin Wigmore. Now, the reasoning behind my amorous affections doesn't revolve around her Aguilera-esque looks or her heavily tattooed right arm (although those would certainly be reason enough). No, much like I confessed about Ms. Woodward, I have a crush on a voice on an album. It is a near indescribable vampy rasp that evokes a Macy Gray duet with Corrine Bailey Rae. Bolstering the incredible vocal delivery is the expansive musicality of The Cardinals (of Ryan Adams fame) and a melding of neo-soul, pop and rock elements rendering a total disregard of genre adherence.
One need only listen to the first three tracks of Holy Smoke to realize the breadth of diversity, so that is what I did and that is what I am going to review. Album opener "Oh My" is essentially a poppy-rock track with alt guitar work laying the foundation for the eclectic vocal delivery of a Wigmore toe-tapper. "Hey Ho" has 20s era torchy/lounge throwback elements with effects-laden guitar combining with the classical instrumentation of strings and trumpet over spacey vibrachord-like keys. "New Revolution" features down-tempo Rickenbacker-style guitar plucks and another vampish vocal delivery, which finally spills over into a soaring chorus. The electric guitar outro is true "new" meets "old" rendering a true song one can't help but sway in time to.
Perhaps it is the multiple genres that morph from track to track. Perhaps it is the melding of contemporary instrumentation and style while granting "a tip of the hat" to a long-gone era of songbirds. Or perhaps it is simply the awe-inspiring command that Gin has over that gift of hers–"the voice." Whatever the reason or reasons, this is… simply put, just damn, damn good.          
by Chris West
[Rating: 4.5/5]