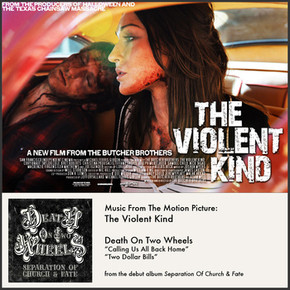 Atlanta-based rock band DEATH ON TWO WHEELS will premier two songs world-wide in the new movie THE VIOLENT KIND at Sundance 2010. The featured songs are Calling Us All Back Home and Two Dollar Bills from their current release SEPARATION OF CHURCH AND FATE on The Ghost Umbrella Records.
DO2W, featuring Trae Vedder — lead vocals, guitar, Andrew Knox — organ, piano, vocals, Paul Doss — lead guitar, David Fountain — bass, vocals and Greg Neel — drums, vocals –have been busy gearing up for their new EP, AGAIN FOR THE FIRST TIME to be released on Tuesday Feb. 16, 2010, and with recording the full album to be completed mid-year.
Award-winning filmmakers The Butcher Brothers (Mitchell Altieri and Phil Flores; THE HAMILTONS) will world premiere THE VIOLENT KIND at the 2010 Sundance Film Festival on January 25, 2010. The dramatic feature horror film is produced by Michael Ferris Gibson, Jeffrey Allard (TEXAS CHAINSAW MASSACRE), alongside Andy Gould (HALLOWEEN), Malek Akkad (HALLOWEEN), Jeremy Platt, and executive producer K'Dee Miller.
To celebrate the release of The Violent Kind, DO2W is offering both songs for FREE: