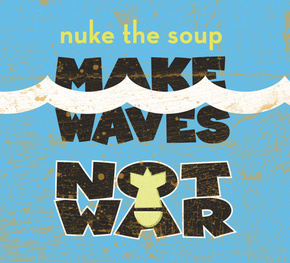 Nuke the Soup made their debut at Delaware's Dewey Beach Music Conference in 2006. The band's first single "Filled with Dread" was one of the most added radio tracks on FMQB's Triple A chart its first week out. The eleven track album features a host of top flight East Coast musicians (keyboardist Brian Simms, bassist Mike Mennell, guitarist Rennie Grant) as well as drum legend Chester Thompson, who has played with Weather Report, Frank Zappa and on and off with Genesis for more than 30 years.
The ocean-inspired pop/rock band Nuke the Soup, is unveiling the official music video for the reflective love song "Blind" from their debut album, Make Waves Not War on Meteor Records. "Blind delves into the reality of true love by realistically expressing one man's tendency to forget why he loved, only to grasp glimpses of it now and again," describes Surfrock.org.
[youtube lZ6cgib-Gu8 nolink]
The ocean-minded Baltimore, MD based band Nuke the Soup is unveiling the music video for the first single "Filled with Dread" from their debut album, Make Waves Not War, released earlier this summer.   The visually stimulating video was shot in Los Angeles, CA by producer/director George Rausch of Modified Ideas, who recently completed work for Perezcious Music, the new record label behind famed celebrity blogger Perez Hilton.
[youtube zc4pn2EqSPk nolink]