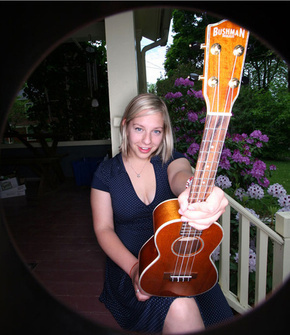 The 20-year-old upstate New York native is pleased to announce the release of her 5-song EP, I Think You Know. The record was produced by Jack Conte of Pomplamoose and will be released February 2, 2009 on Rude Butler Records.
While Julia mainly plays ukulele, melodica, piano and guitar, she also likes to use household items such as pillows, water bottles, tissue boxes or an old slinky, for extra percussion.   "I Think You Know," the deceivingly upbeat title track from her upcoming EP, features a toy piano, hand claps and layered vocal harmonies.  
MP3 for "I Think You Know":
Be sure to catch Julia Nunes playing this and many other songs live on her January tour which kicks off in Los Angeles.
Julia Nunes Tour Dates
1/14: Los Angeles, CA @ The Echo, 7pm
1/15: San Francisco, CA @ Swedish American Hall, 7:30pm
1/16: Seattle, WA @ The Vera Project, 8pm
1/18: Minneapolis, MN @ Cedar Cultural Center, 7pm
1/19: Chicago, IL @ Schubas Tavern, 7pm