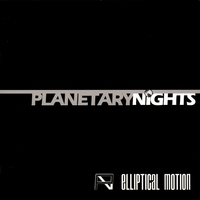 Planetary Nights and Elliptical Motion are ever-flowing with raw energy.   R.J. McSweeney is responsible for all the songs &  lyrics as well as being the lead vocalist & rhythm guitarist.   The CD is produced, engineered and mixed by Mark Hermann who also contributed all lead guitar parts as well as keyboard/organ sections.   The record also offers a slew of talented musicians that back up McSweeney on: bass, drums/percussion, organ/piano/keys, harmonica, tenor sax, background vocals & tambourine.  
R.J.'s singing/songwriting ability comes through loud & clear on this new album.   Meaningful words are combined with R.J.'s gritty & graspy vocal approach.   I would say that this new record is well-grounded, down-to-earth rock music.   Planetary Nights blend together different styles such as: rock, blues and alternative that comes across as rock solid.   I simply love the bluesy rock feel that is heavily used on Elliptical Motion.   The harmonica playing on certain tracks really helped emphasize this notion of classic bluesy rock.   The overall vibe is one that is stripped down as McSweeney and Planetary Nights bring you their own form of Earthy, Americana Rock.  
The recording starts up with a track titled "Road Trip" that is just so much fun and rocks away!   ESPN has even picked up this number as one of their theme songs for particular programming.   A notable track, in my opinion, is "If Ever" because of its sensational feeling.   What gives this song its phenomenal flavor is the solid & simple drum beat mixed with a soothing sax sound.   You just get a real nice & really cool sound here with this combo working extremely well together.   This drum 'n' sax mix is also detected on track 13, "Starting Over".   One of my favorite songs on this album is "N.Y.C." due to many aspects such as: awesome guitar playing & up-tempo, rockin' blues jamming.   This song just signifies rockin' out & having fun with a fan-freakin'-tastic demeanor.
With new studio & live albums in the works for 2010, be on the look out for Planetary Nights.   R.J. & company are also being approached by Music Supervisors in the film & television industries, so sky's the limit for this group.   The only drawback for me, personally, while listening to Elliptical Motion was the fact that certain songs sounded a bit similar at times.   This could have been due to the vocal style and/or musical approach, but whatever it may be a definite repetitive form of expression was detected.   In the end though, I did enjoy this record and feel that R.J. McSweeney and Planetary Nights have something special to work with here.   For more on Planetary Nights and their new release, Elliptical Motion, SKOPE out www.planetarynights.com.  
By Jimmy Rae (jrae@skopemag.com)
[Rating: 4/5]