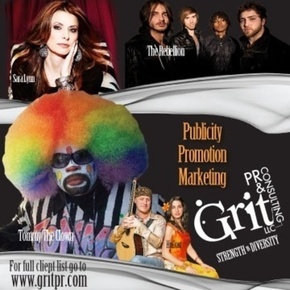 Grit PR & Consulting represents artists in music and performing arts from across the world.
The Company specializes in diversity, and works with only two artists per genre at a time; a unique approach and philosophy that has set Grit apart from many companies in the Publicity, Promotion and Marketing fields.
Grit's expertise spans such genres as Hip Hop/Rap, Latin, Rock, World and Pop. Artists on the company's roster include the Creator of Clowning/Krumping Tommy the Clown;   Canada's The Rebellion, Sara Lynn, The Unravelling and HuDost; Spain's Maria Bermudez Flamenco Company; Rap & Hip Hop artist Rob Wadda, Latin Composer Marcelo Quinonez and his band Cuchata, the amazing Funk band The Pimps of Joytime and renowned Cellist Skip vonKuske.
Contact us at www.gritpr.com. Mention Skope and receive 20% off your campaign!
 
GritPR&Consulting: gritpr@gmail.com