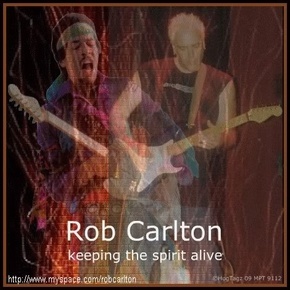 Straight rock and awesome guitar solos is what Rob Carlton is bringing to the music scene.   This guitar extraordinaire has a new album titled Beautiful Collision that simply rocks! Rob also endorses with GHS Strings, Morley Pedals and Halo Guitars & will also be busy with Specraflex Cables and Rocktron Amps & Effects. Not to mention, Carlton has also been featured in Guitar World and Guitar Player Magazines.  
With a hopeful 2010 tour in the works and an appearance at next year's NAMM show in California, Rob Carlton and his music career seem to be on top of the world!   I had a chance to ask Rob some questions about music, life and the respect for good, old rock & roll tunes.   Enjoy!
Jimmy Rae: First I have to ask: As a guitar player, and a damn good one if I may add, who is your all-time favorite guitar player?   Who inspires you to pick up that instrument every day and just rock out?  
Rob Carlton:   I would have to say Jimi Hendrix hands down.   I know I've talked about him before in the past, but to me he's in a class all by himself.   The same thrill I felt hearing the guitar solo for "ALL ALONG THE WATCHTOWER" at a young age still gives me chills today.   He's the reason why I picked up the guitar and sometimes I would play all night long.   I also loved his on-stage show and the way the media spun tales about his life.   He was the GUITAR HERO because he set the ground work for so many others I'm sure.   Later, I got into ROBIN TROWER who I met recently at Penn's Peak, which was a thrill for me as well.   Robin has such control over his playing and is a lot like Hendrix. He's just a great player all you young players should check out.
Rob carlton "Unshackled" MP3:
Jimmy Rae:   Was it always about the guitar for you or were there perhaps other instruments of choice for Rob Carlton?  
Rob Carlton:   Nope, it's the guitar for me all the way!   I've always wanted to be THE GUITAR HERO.   Besides, the guitar player got most of the girls!   When I realized that early on I was sold!
Jimmy Rae:   Was music always your #1 career choice?  
Rob Carlton:   Yes it is because it's what I do best, to be honest.   Fame really drives me.   I love writing songs as I have been a member of ASCAP for many years and I have won many awards.   I can see myself someday like 95 sitting with a lot of guitar players playing my Taylor guitar just enjoying the peace guitar can bring to you in this sometimes crazy world.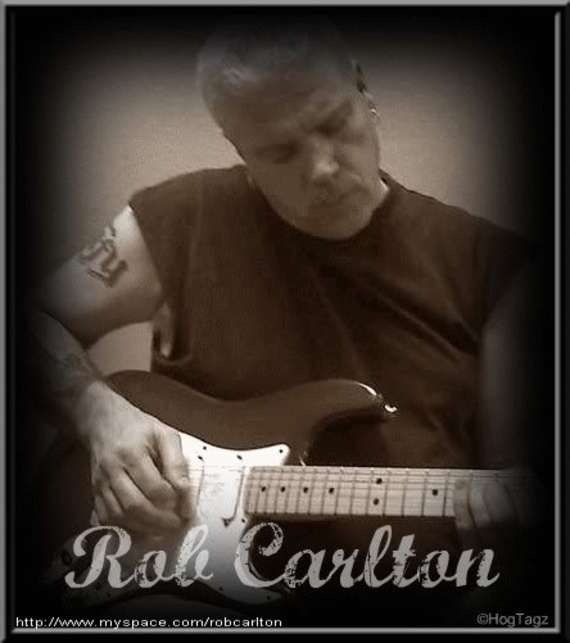 Jimmy Rae: On your new album Beautiful Collision, which is very good by the way, what types of reactions are you getting from people?   And what are you most proud of out of this whole record?
Rob Carlton:   Well, first off thank you for that awesome review you gave me on my CD, Beautiful Collision.   That whole CD was inspired by love, faith and the dream of being the guitar hero.   I'm getting such great reactions everywhere all around the world!   Even in my hometown of Stroudsburg, there's this guy that is right there as I'm driving in to get gas asking me about guitar & the CD.   I gave him an autographed poster and he flipped out.   Fans like this make what I do all worth while.   GHS Strings has me on there site and Morley Pedals now features me on there site as well.   Beautiful Collision seems to be rolling like a speeding train and I'm enjoying it all!
Jimmy Rae:   Next I wanted to talk about a comment I made during a CD review of your album, which was: calling the record "Beautiful Symmetry due to its perfectly balanced flow" and that it is "symmetrical music in motion".   Would you agree with this thought in some way and if so why?
Rob Carlton:   Yes, I would agree Beautiful Collision has that beautiful symmetry to it.   It's a great balance of rock, blues and acoustic with guitar solos.   Let's not forget the solos songs like "Thresold", which is a solo from beginning to end!   The 12 string gives a nice break when it needed to in between the harder-edged songs.
Jimmy Rae:   Why don't you tell these fine Skope viewers what Rob Carlton does for fun besides music and don't hold back now man!
Rob Carlton:   Well these days it's all guitar music, but I love to travel as I love going to NYC and Nashville.   I end up at the pawn shops checking out the deals on old guitars–lol.   When things get a little over the top, I hide in my music and sometimes forget the day like the Boston song "More than a Feeling"–lol.     I love to cook too, which is kind of a cool thing. But for me it all goes back to guitar as I never seem to get enough or find enough time in the day to practice.   About a year ago, I was looking for a teacher to take me over the top and I found that in Jimmy Brown, the senior music editor at Guitar World Magazine.   He's teaching me to really work the guitar.   He's training me, for instance, to use my pinky finger which in the past I was a bit lazy on (lol), but Jimmy has been great!
Jimmy Rae:   How did you initially learn how to play guitar and what would you say to all the young people out there inspiring to be a rock & roll guitarist like yourself?  
Rob Carlton:   Well at first it was just me playing my red Stella guitar.   I would practice until my fingers would bleed!   My mom saw this and set me up with lessons, which I loved.   I kept at it because if you are an inspiring guitarist then you get back what you put in.   That's the bottom line to never give up if you have that dream!   I finally reached the dream of getting in Guitar World and just last year into Guitar Player Magazine.
Jimmy Rae:   The whole "Sex, Drugs & Rock 'N' Roll" persona seems to always stick around in music; what's up with that?   Does the saying still stand true even to this day, according to you?  
Rob Carlton:   Well for me it's always been sex and rock 'n' roll!     You can keep the drugs!   The guitar is my drug and I guess Jimi Hendrix dying at a young age of drugs scared me.
Jimmy Rae: In your eyes, has the overall quality of music and music making gone somewhat downhill over the years?   I'm looking back to the likes of bands such as:   The Beatles, The Stones, The Doors and Led Zeppelin and I say to myself that they just don't make 'em like that anymore.   Do you agree with this statement?  
Rob Carlton:   I think music has gone down hill so much over the years.   The only place for it to go is up!   The indie scene has really blossomed into an awesome thing.   You really don't need a record deal to get your music out and tour.   These days, you can get a lot done on your own.   You're right in a lot of ways that there are no more Led Zeppelins and Beatles, but I think we're at a crossroads now.   I hope I can bring that glory back with guitar, which I love so much.   I know there are others in the indie scene that feel that way too.
Jimmy Rae:   Music has definitely evolved through the years, but do you feel that the originality factor is lacking big-time in today's music world?   If so, why do you think this is and how can the artists of today fix this problem?
Rob Carlton:   It's really strange that even the classic bands that come back and do a CD like the old days, they don't live up to what they used to sound like.   I think back in the day when it was a magical time, but once again it will be the indies that will save the day. I think bringing in fresh new music that although might not fix it, but it is surely gonna jump start it.   Jango radio is really cool as they play my CD on rotation and they love new music.   So, stations like that are a start and the Internet seems to be the future.   I'm happy to be right there!
Jimmy Rae:   I know that you've been heavily involved with Skope Magazine as of late and wanted to ask how you initially came into contact with Skope?   And how has the business relationship been thus far?  
Rob Carlton:   What can I say, Mike Friedman and Skope Magazine have been so great for me– they rock!   They have been a big part of the picture for me as to where I am now.   I think I got an email from them, initially, so that started the ball rolling.   Skope has been and continues to be awesome for me.
ROB CARLTON 'BEAUTIFUL COLLISION' PACKAGE – $20:
Jimmy Rae:   I wanted to say congratulations on being featured on GHS String's website as an endorsee.   I know that this is a huge honor as only a select few get a shot at this, so how does this really feel to you?  
Rob Carlton:   Thank you for the congrats about GHS Strings.   It feels so awesome to be up there with a lot of great players.   I'm honored to say the least that they really are the best guitar string out there.   I've been using them for years, so hat's off to Dave Cowles and Chris Walters at GHS Strings.   I'd also like to update that I'm also featured at the Morley Pedals site, so big thank you to Bill at Morley Pedals as well.
Jimmy Rae:   Next, tell me what the future holds for Rob Carlton overall?
Rob Carlton:   Oh boy what's next for me?   The sky's the limit!   My big dream is to tour and I'm hoping that happens in 2010.   I'm planning on being at next year's NAMM show in California, so I hope to see a lot of you there.   I'll be at GHS Strings, Morley Pedals and Halo Guitars, which I now endorse– they rock!   I'm also involved with Spectraflex Cables and Rocktron Amps and Effects, so I will be busy!   I want to thank you again for taking the time to interview me.   I finally feel I'm getting my due and that rocks my world!
For more info on Rob Carlton, check out these cool sites:   www.morleypedals.com,   www.jango.com/music/rob+carlton, www.myspace.com/robcarlton and
www.myspace.com/rob_1281967.  
By Jimmy Rae (jrae@skopemag.com)