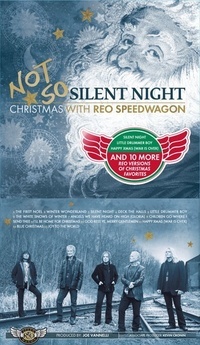 Singer/songwriter Kevin Cronin and the boys have assembled their version of 13 Christmas staples.   Kevin explained that they didn't realize that Christmas albums have to be recorded in spring/summer months, and that the late start had them rushing to get distribution before December.   They are currently on their Can't Stop Rocking tour to support this release and their most recent one, Find Your Way Home.   The veterans of 17 albums, 13 top 40 songs, and decades of touring since 1971 lends itself to a professional holiday project.
Kevin's higher range fits well on the slower paced offerings like the brief introductory The First Noel, Little Drummer Boy, Angels We Have Heard On High, and Silent Night.   Winter Wonderland is upgraded to a rocker, as is Deck The Halls, among others.   Their treatment of Lennon's Happy Xmas is one of the better I've heard (Kevin said that Yoko approved).   Blue Christmas is a country-flavored number with some lap steel.   Joy To The World is reminiscent of a Mannheim Steamroller cover with vocals, complete with a psychedelic intro and some electric sitar sprinkled in for good measure.  
The gospel influenced Children Go Where I Send Thee is a rousing hand clapper, if you're looking for one.  
There are some good arrangements, horn interludes, and a few spoken phrases, some pedal/lap steel, sitar effects, a bunch of variations to keep it from getting stale.   At times, aside from the intended country take, the disc exhibits a country feel, deliberate or not.  
The band is survivors of a few generations, and is still a viable professional act.   Their current touring is offering fan friendly pricing, via their "Rock N Roll Stimulus Package".   Give them a look and listen!  
By R.M. Engelman
[Rating: 3.5/5]