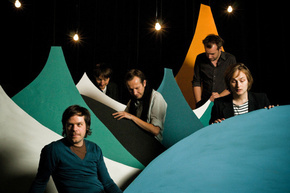 Berlin-based electronic artist, The Go Find, has announced the release of their third album, Everybody Knows It's Gonna Happen Only Not Tonight, in February 2010 (Morr Music).   On this third effort, The Go Find, led by Dieter Sermeus, continues to refine and build upon the band's now-familiar sound: charmingly dreamy indie pop songs shaped around swirling synths, acoustic guitars and Dieter's distinct vocals.  
The band is offering the title track of the album for free mp3 download as a first listen.
DOWNLOAD TITLE TRACK "EVERYBODY KNOWS IT'S GONNA HAPPEN, ONLY NOT TONIGHT":
In 2004, The Go Find's Dieter Sermeus floated into our musical realm on a cute paper sailboat. With the help of his good friend Styrofoam, he recorded his acclaimed debut, Miami, a perfectly constructed collection of crackled bedroom pop held together by Dieter's high and dreamy voice.   Though mostly a solo effort, Dieter put together a solid band for his following tour and approached his second record, Stars On the Wall (2007), with a more confident and practiced indie pop effort.   Everybody Knows is now a culmination of all of these dreamy picturesque adventures, but with a more up-tempo beat to match their fluid songwriting and electronic sensibility.