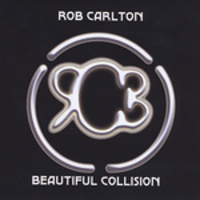 This new work by Rob Carlton is nothing short of amazing with the WOW factor in full effect.   This record consists of kick-ass guitar licks and high-energy jam sessions.   The new CD mixes hard rock, blues and Carlton even throws in twelve string acoustic songs.   ALL instrumental with a straight rock feel from beginning to end sums up Beautiful Collision.   I would also call this album Beautiful Symmetry due to its perfectly balanced flow.   Symmetrical music in motion is at work here.
Originally from Long Island, Rob Carlton can be considered as one of the finest local NY artists.   Carlton has been in numerous bands through the years as his love for the guitar grew stronger & stronger.   Carlton got interested in the guitar and songwriting at the young age of 12.   The love has definitely not diminished as Rob C. has flourished into a terrific player.
The twelve songs on Beautiful Collision are all equally impressive.   I have to admit that I was blown away by Carlton's guitar playing skills.   He doesn't just play guitar here, he is creating beautiful sounds by way of the guitar.   I loved how Carlton switched between electric and acoustic sets.   Rob C. is shredding away with electrifying solos with constant energy being poured into each performance.   You're hearing heavy rockin' guitar with jams that are rockin' the joint hard.   I also noticed that Carlton's band on the record jived perfectly with Rob's style of playing.   The drums were bringin' the goods with solid beats while experiencing finger-pluckin' good bass lines and the keys added a nice musical dimension to some of the tracks.   It seems to me that Carlton & company were never missing a step here.
If you like to rock out and enjoy stellar guitar playing, then you will absolutely love Rob Carlton's Beautiful Collision.   The heart and precision put into this record is quite impressive.   In the words of ACDC, "For those about to rock, I salute you".   And Rob Carlton, I salute you and would also like to say hell-of-a-job-well-done.  
I'd like to add that Rob C. was recently featured in Guitar Player Magazine and is also endorsed by Morley Pedals, GHS Strings, Spectraflex Cables, Rocktron Effects and recently signed a deal with HALO Guitars.   A national tour may also be in the works, so look out for that!   For more on Rob Carlton and his new release, Beautiful Collision, SKOPE out www.myspace/robcarlton.  
By Jimmy Rae
[Rating: 5/5]