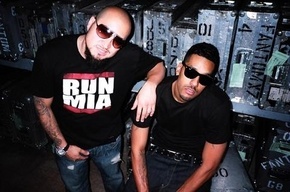 It is not everyday that you get a call from a member of one of the hottest production duos in music. On Wednesday night Skope got a call from Cool who is part of Cool & Dre. If you have listened to music especially hip hop over the past five years you have heard many of hits from Cool & Dre. Cool was talking with us from his studio in Miami, FL.
To say that Cool & Dre are busy is a serious understatement. The guys have been busy with Lil Wayne working on his new album, 'Rebirth.' They have already completed 10 tracks from that project. They are also busy working with Queen Latifah, JT's group Free Sol, Amarie, and Lloyd just to name a few. They have signed a new artist named C-Ride to their Epidemic Music imprint. They have also launched www.rateyourdemo.com and a clothing line www.dirtyroyalty.com. The hits keep coming & Cool & Dre are not stopping for a second.
Join Skope TV as we talk with Cool all about how they got started, managing all the projects, Chris Brown's apology, and so much more. Cool is really easy to talk to and he does not hold back at all.
SKOPE TV PHONER WITH COOL FROM COOL & DRE PT I
[youtube hsaCrl9AM_g nolink]
SKOPE TV PHONER WITH COOL FROM COOL & DRE PT II
[youtube RvTsIi_BU5c nolink]