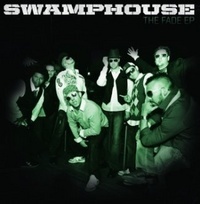 This LA-based group of EIGHT is bringing an invigorating sound to the table with their latest EP, The Fade.   Swamphouse is made up of: Pause-rapper, Devin-vocals, John M F Stover-guitar, Mike Navarette-bass, Blewfoot-drums, Nick-trombone, Forrest-trumpet and Tuna Butter-keys.   This large group of musicians offers up so many styles of music that it will make your head spin!   I hear hip-hop, rapping, soul, pop, light rock, R&B, funk and even some jazz all meshed together perfectly.
This fresh and hip sound that Pause likes to refer to as "funk hop" definitely makes you move.   The music is fun with party-like grooves, but also provides a deeper sense of meaning & purpose.   Jams that you can get down to and also take in like fine wine seems to be the best way to describe The Fade.   Two of Swamphouse's songs have already received recognition from VH1.   "Break Down" and "Good Girl" were monthly award winners in the VH1-sponsored Song of the Year Contest.  
I have to say I just loved the mix of hip-hop, rap, funk & soul because it made for such a cooler than cool connection.   That icy-cool flow travels gracefully throughout the whole record.   Swamphouse seemingly wants to take their music to the next level by messing around with numerous musical genres.   You get Pause rappin' some lines while the horn section is whaling away.   You'll also get a dose of Devin singing some soulfully, rich lyrics to the backbeat of Blewfoot pumpin' the beat.   Finally, as a bonus you'll also receive some funky-ass bass playing, hella guitar riffs and some right-on-keys melodies.   So…you'll get the funk…you'll get the rap/hip-hop…the soulful R&B…the pop…a tint of rock…and they'll even throw in a touch of jazz all for one low price!   So, CALL now!!   For anyone that didn't catch on, this was just one big joke, ha-ha, so please don't call 4 real because there is no #.   End of message.
The five-song EP starts up with "Break Down", which has a funky, fresh hip-hop presence while adding in some music from the soul and for the soul.   Next up is "She Wants to Move" that moves at a pretty fast tempo while churning in some smoothness for added flavor.   This track proves to be full of zesty spice that will "make you sweat 'till you bleed" (C&C Music Factory).   Song three, "Good Girl", appears to have more of a pop appeal while cut #4, "Twisted", is a perfect title for what Swamphouse has done here.   What they have done is twisted styles together and they appear to be making it happen.   In my opinion, Swamphouse won't be fading out anytime soon.   The sound they've created is just too damn cool to ignore, so get yours now!
For more on Swamphouse and their latest EP, The Fade, SKOPE out www.theswamphouse.com.  
By Jimmy Rae
[Rating: 4.5/5]