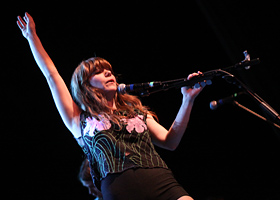 Last Sunday, Jenny Lewis of Rilo Kiley made a stop on her solo tour in Orlando, FL at the Plaza Theater. Things started of with a showing of the film "Welcome to Van Nuys", a documentary about the making of Jenny Lewis' recent album, Acid Tounge, with Heartless Bastards opening up.
Lewis played an 80 minute set along with her backing band, and together they performed light-hearted favorites such as "Black Sand" and "Acid Tongue", and the rest of Lewis' country and pop influenced catalog of songs.The surprise of the night came when after Lewis walked on stage, first acknowledging her fans with a "Hello, hello!", she picked up her guitar and claimed this would be "an older song". The songstress then strummed the first chords of "Silver Lining" by Rilo Kiley. While a Rilo Kiley song is usually a staple in her sets', it usually only comes 'till the encore. Maybe she wanted to get it out of the way, leaving only her solo work to worry about. After flawlessly and beautifully finishing the song, she was finally joined by her band and they went into "See Fernando".
Even though the night was quiet, besides some of the more noisy-in contrast songs like "The Next Messiah", Lewis put on a flawless and serene show for her fans in Orlando, with the only possible disappointment from some fans might have been the absence of Lewis performing Rilo Kiley favorite, "Portions for Foxes".