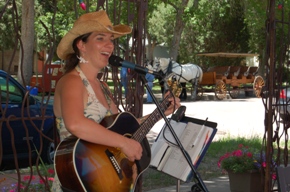 Just as the roses continue to grow 30 years long at the patio of Cucuru Gallery and Café, sweet and colorful are the simple things in life that remain a constant. Simplicity is what local solo folk artist Lindsay Weidmann explored in "What Else Have I Been Missing" her first CD, in which she performed several songs at the café June 21.
"It's my first album. The first of many flowers in the vast artistry," she said. "My songs are like canned fruit in syrup."
Her folk stress sound emerged with the 2008 CD as a rolling wonderland of ebony flow in harmony with the tune of nature's vibration. Similarly, Weidmann grew-up in the cornfields of Illinois with such inspirations as Jonnie Mitchell and Pattie Griffin.        
"When I am listening to nature I feel lighter and not so self conscious – being aware of what is outside of me," she said.
Guillermo Alvarado, owner of the café has watched the artist bud into her own sound.
"I see her like Sheryl Crow," Alvarado said. "Wonderful lyrics and a good sense of composition – her lyrics are contagious."
The catchy I'll Take the Wheel song is a reflection on a nine year relationship, in which one person must let the other go. The Supposin track is a jumping trip from escapism into reality with lyrics such as: "If you got to change, change to gratitude and accept what is here today. Be where you are with what you have or you'll suppose your life away."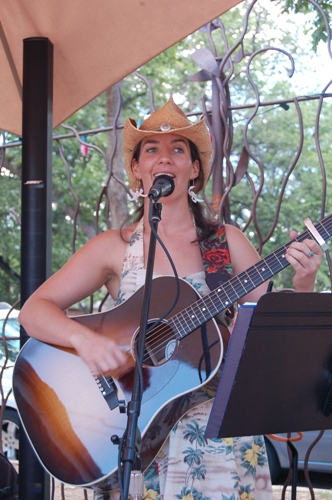 The title track lyrics explain: "What else have I been missing. I thought that I was alone. I'm in a world that's shifting — its bringing me back home. I know there's more out there, and there's more than me that all I have to do is be open to possibility."
Weidmann has gone from possibility to actuality with her new CD. What is next for the Colorado College music graduate will be revealed one simple breath at a time. Weidmann performs again at the cafe July 5 from 12 p.m. to 2 p.m. For more information visit www.lindsayweidmann.com.
Cutline
Lindsey Weidmann, local solo folk artist performed on the patio in Old Colorado City at Cucuru Gallery and Café June 21. Weidmann performed at the café again on Sunday from 12 p.m. to 2 p.m.
By Thea Skinner