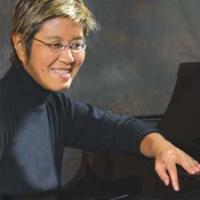 Originally from the Philippines but residing in Florence, Italy for the last 20 years, Faye Miravite brings you multi-cultural jazz.   On the record, you will hear an array of talented artists contribute their time to make up the recording of La Brezza.   Musicians from three different continents helped make Miravite's compositions come to life.   All music and lyrics are created by Faye with the exception of Marilina Marescutti writing the Italian lyrics on the title track, "La brezza ("The Breeze")".  
Faye Miravite has created a world of jazz that has Italian, Philippine and even Brazilian roots.   The overall sound is very rich due in big part to the many players on the record.   You hear piano, drums, vocals, guitar, soprano & tenor sax along with contrabass.   The musical connection between Miravite's music and the people playing her tunes is immense.  
The entire album encompasses a feeling of worldly value; a quality that seemed to be very well-polished throughout.   La brezza starts with a number titled "Dolce foschia ("Sweet Mist")" that contains a very smooth and easy-listening jazz melody.   You really do get a picture of a sweet mist hitting your face while listening to this song.   The title track, "La brezza ("The Breeze")", follows up with an equally soothing & calm breeze effect.   I also enjoyed its classy appeal, one very nice piano solo and add to that an impressive sax part.   "Heart on fire! / L'amore grande" comes at you with a completely different set by adding a dance-oriented beat/groove to the mix.   "What I Call a Friend" displays a phenomenal musical connection between drums, sax and piano.   The guitar and contrabass come in adding a nice touch to the whole layout.   Track five moves faster while the next number, "The dream I had of you last night", slows things down with a romantic mood.   Faye Miravite wraps it all up with "I found love" where the vocalist, Sandra Viray, sings in such a soft & sincere manner.   This tender ballad is captured beautifully by Viray's voice where she seems to be really feeling the moment, the music and herself.  
The overall listen is worldly, easy listening jazz that offers energy, romanticism, sophistication and one great group of musicians.   Feel the calm & cool breeze for yourself!   For more on The Music of Faye Miravite and her latest work, La Brezza, Skope out www.fayemiravite.com.  
By Jimmy Rae
[Rating: 3.5/5]