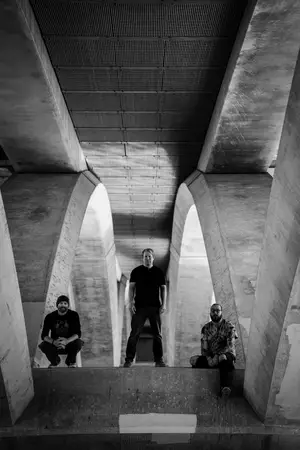 Coming from the heart state and ready to shake things up, The Corrupted Hearts is a hard rock/alternative band to watch. This Columbus, OH group names Deftones, Radiohead, and Elliott Smith among their top influences and takes inspiration from all sorts of places – a piece of gear, a new plugin that sparks a cool riff, a drum fill that develops into a song. For singer/songwriter Bradley Schultz, lyric writing is a therapy session: facing trauma and processing buried feelings can be ugly and painful but rewarding at the same time. The Corrupted Hearts will release their new album, Long Winter Blues, on December 1; in the meantime, they're live-streaming on YouTube and TikTok weekly. Keep your eyes and ears out to see and hear everything they're up to.
Some songs come from metaphor, but sometimes, the inspiration is quite literal: "We Dug a Ditch & Laid Down," from the upcoming album Long Winter Blues, was inspired by an actual ditch. Schultz says about the song, "I once laid in the bottom of a 14′ ditch at work, looking up at the sky and feeling a sense of overwhelming peace. It's very quiet underground. All you can hear is your breath and heartbeat. It reminds you that you came from the dirt. Distractions of the world get the volume turned down." Musically, the song started with a guitar riff Schultz came up with while live on TikTok. It's dark and heavy but upbeat and high-energy – making for a perfect opener for The Corrupted Hearts' live sets. After searching for the right engineer, the final mix of "We Dug a Ditch & Laid Down" was done by Cory Bergeron in Toronto – who also did every mix on Long Winter Blues.
The video for "We Dug a Ditch & Laid Down" was directed by Tom Chacra, drummer of The Corrupted Hearts. A true talent and visionary, Chacra came to life on set as the director. The visual is scratchy and sepia-toned as if shot on film on an old video camera. As the band begins rehearsing inside a barn, mysterious women lurk outside the room. Clearly, these women are up to something sinister – soon enough, they're inside, their hands all over Schultz as they haunt around the room.
Follow The Corrupted Hearts:
https://thecorruptedhearts.com
https://www.facebook.com/thecorruptedhearts
https://twitter.com/CorruptedBand
https://www.instagram.com/corruptedheartsband/
https://www.tiktok.com/@corrupted.22
https://linktr.ee/Thecorruptedhearts