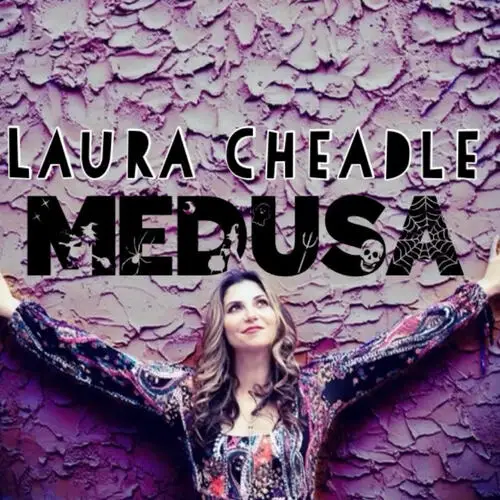 It's that time of year again where kids and people dress up in costumes and go trick or treating or attend parties/gatherings. Others enjoy more of the simple pleasures like watching scary movies/shows at home OR decorating the house inside & out with the scariest of decorations. Of course, I'm talking about Halloween, so it's the perfect time to kick off the spooky season with a brand new, Halloween-themed song by Laura Cheadle. "Medusa" is a scary, good song and listeners are sure to enjoy this musical treat. Laura and I talk about the new single, her own Halloween traditions & much more!
J Rae: How did the idea come about originally to record a Halloween track and make a video? You can SKOPE out the official video for "Medusa right here:
Laura Cheadle: This happened completely organically! After I finished recording "Medusa" in its entirety, a lightbulb moment went off like 'This would make a perfect Halloween song!'
J Rae: "Medusa" has such a catchy hook and is very enjoyable to listen to. What made you choose the title "Medusa" for this new song?
Laura Cheadle: "Medusa" is about people who drain your energy and only like you when you are down. The idea came from personal experiences of people I've met that are not there for you when you are at your best. We felt "Medusa" was the perfect metaphor as she turned people into stone while looking into her eyes.
J Rae: I see that you, James Cheadle and Steven Caban wrote "Medusa" and can you tell us all how that songwriting collaboration came about?
Laura Cheadle: Yes! The three of us are a 'dream team' of creativity. We all collaborated on the writing of my upcoming new album 'Mannequin' over a three year period. This album will be out January 1st with So Bold Ent and Sony Orchard. I have never been more proud of an album! For "Medusa", I came into the studio one day with the idea of the song and we all wrote it in about an hour. We couldn't believe how catchy it came out!
J Rae: Your vocals on this new track are so pure and fine-tuned and I have to ask what is your secret to keeping your voice in top shape?
Laura Cheadle: I am a vegan so not having dairy truly helps the vocal cords! I'm constantly practicing my scales and drinking a ton of tea and taking vitamins. I also exercise daily and meditate so I like to keep my mind, body and spirit in full alignment :)
J Rae: Do you have any Halloween traditions yourself and how about favorite Halloween candy if you have one?
Laura Cheadle: I love that Reese's finally released oat milk peanut butter cups. I'm in heaven! I am obsessed with the fall so I love carving pumpkins and still dressing up of course! When I was a kid, my family always had the house with the 'haunted house' and we would scare neighborhood kids while giving out candy. One time, I climbed into a scarecrow costume and would sit on the porch and scare the kids who walked up!
J Rae: Did you used to dress up for Halloween as a kid and go trick or treating? If so, what are some of your fondest memories AND how about favorite costume of all time?
Laura Cheadle: I always dressed up and continue to do so! My favorite costume of all time would be dressing as a hippie for many years since I was very young. I think I was always destined to live this hippie mind set!
J Rae: What are some of your personal favorite Halloween-themed songs that just make the perfect soundtrack for this time of year? Going off of that, any movies or television programs you enjoy watching in the spirit of Halloween?
Laura Cheadle: This past weekend, I went to the drive-in movie theater and saw a double feature of 'Hocus Pocus' and 'Haunted Mansion' I loved it! I am a scaredy cat so the fun Halloween movies are my kind of viewing! I also love the Halloween song 'Monster Mash'. It's a true classic and I've actually performed this song live where I made my own lyrics specific to the people in the audience.
J Rae: I'm curious to know if the Funky Soulstress herself puts up Halloween decorations at her home. If so, what is your particular style?
Laura Cheadle: I go all out! I currently have a black cat, pumpkins and scarecrows all over my home.
J Rae: "Medusa" is such a fun song and I have to imagine you had a blast recording this track. What was the whole experience like and how would you sum it all up?
Laura Cheadle: This song was meant to be created! Like I said earlier, it was written in about an hour. I also recorded the vocals with such ease. I really love the lyrics that resonate with my life. It's a huge metaphor for people trying to bring you down. They will never win! You be you!
J Rae: How did the style of "Medusa" differ from some of your other material? What were some of the key differences?
Laura Cheadle: I love that the track is a spooky pop song with some dance and theatrical undertones! I love being able to fully show my vocal range and styles. I feel like this song is universal and such a perfect song for Halloween and beyond! "Medusa", in my opinion, is the scariest of all!
J Rae: How has the response been thus far for "Medusa" and what are you most proud of with this song?
Laura Cheadle: People are loving it, especially on Tik Tok! I don't think many people release Halloween songs, so this was super fun for me! We needed a new Halloween song! This song is exclusively available on https://lauracheadle.bandcamp.com/track/medusa but WILL be available globally on everything January 1st when it's released with my new album 'Mannequin' :)
J Rae: What are your plans for Halloween this year and for the rest of 2023?
Laura Cheadle: I am going to a few super spooky Halloween parties! I am also on tour right now so please check out my tour dates/tv show/radio appearances at Lauracheadle.com/dates I am also on a major television show December 8th so keep your eyes on your TV. I am already in many of the promos! I will be officially announcing this on my social media.
J Rae: Ending on a positive note, can you offer any words of encouragement especially to those who may be in need or struggling with something?
Laura Cheadle: Just remember, you are constantly evolving and healing. You are more powerful than you think. Remember, you are here for a reason and a gift to this world.
https://lauracheadle.bandcamp.com/track/medusa
https://lauracheadle.com/
HAVE A SAFE AND HAPPY HALLOWEEN 2023!
By Jimmy Rae