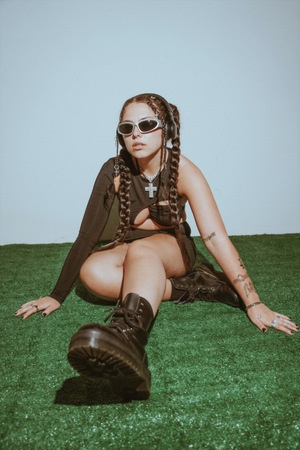 @skopemag news – friday – september 29, 2023 @ 1 pm est
https://www.facebook.com/SkopeMag/
https://www.youtube.com/@skopetv2
https://www.instagram.com/skopemag/
APP – Apple iTunes –
https://itunes.apple.com/app/id1465224822?mt=8
@skopemag APP – Google / Android –
https://play.google.com/store/apps/details?id=hr.apps.n207414718
Support @skopemag –
https://www.paypal.com/donate/?hosted_button_id=3APKAKT8K6ETW
SOPHIE SHREDZ Shares New Anthem, "EYEZ ON ME"
YOUNG FRANCO RELEASES "DAYDREAMING" WITH FRANC MOODY
RISING ARTIST DLG. DROPS DREAMY NEW SINGLE "OVER MY HEAD!"
NEW BRYCE DESSNER SOUNDTRACK FOR REBECCA MILLER'S 'SHE CAME TO ME' OUT TODAY
JAX JONES X D.O.D RELEASE NEW TRANCE ANTHEM "WON'T FORGET YOU" WITH INA WROLDSEN
RYAN TERRIGNO BATTLES WITH TIME ON "SUPERNOVA" ALIVE & WELL OUT OCTOBER 27TH
Bronx Bruiser Sha EK Gets Reflective With "Last One Left" Single
Steven Wilson's "The Harmony Codex" album out today
OUT NOW: Hayden James & AR/CO Share New Single 'We Could Be Love' via Future Classic
WYNONNA JUDD AND TRISHA YEARWOOD RELEASE REINVENTED VERSION OF "CRY MYSELF TO SLEEP" AHEAD OF A TRIBUTE TO THE JUDDS RELEASE
Jenny Stenger Whispers To Our Hearts in New Single "Rose Colored Lenses"
Karen Harding releases debut album + new single & video
HARM'S WAY Release New Album 'Common Suffering' Today – Headlining Tour Kicks Off Oct 18
Promiseland releases new track "3D Flower" ft Julian Casablancas
Deadbeat Girl shares gorgeous new single 'Talk Tonight'
JADE LEMAC UNVEILS NEW SINGLE "GRAPEVINES"// SET TO RELEASE CONFESSIONS EP ON NOVEMBER 3
Unfiltered Songwriter Ash Molloy Shares Nostalgic New Single "Viv"
TOBi SHARES NEW TRACK AND SHORT ANIMATED FILM FOR "SOMEONE I KNEW"
Danish artist Supervisjón explores 'cosmic anger' on Faroese track "At Skeldast"
Jeremy Voltz Shares Tender and Cathartic Official Video/Single for "Running Away," Title Track of New LP
Patrick Davis Shares "Wrong Side of the Tracks" ft. Branford Marsalis, co-written with Guy Clark
Bilingual Pop Maven Aiza Drops Debut Album 'Sovereignty'
BoomTown Saints Release Sizzling Fan-Filmed Music Video "Blacktop Don't"
TOBi SHARES NEW TRACK AND SHORT ANIMATED FILM FOR "SOMEONE I KNEW"
Ben Hazlewood Shares "Kerosene" Single via Galore
Ben Hazlewood Shares "Kerosene" Single! New Music Coming Soon
New Music This Week from Wilco, Blonde Redhead, Ed Sheeran, Green Day and More
New Releases for September 29, 2023 – Here are the AllMusic editors' picks for the most noteworthy releases this week. Looking for more? Visit our New Releases page.
Black Pines full-bodied new EP lands today
Single Out Today from Britta Raci: "Embarrassing"
MAE MULLER SHARES DEBUT ALBUM — SORRY I'M LATE — TODAY
Sharl unveils fairytale anthem "No Other"
VASTUM: Bay Area Death Metal Overlords To Release Fifth LP, Inward To Gethsemane, Through 20 Buck Spin November 10th
IZO FITZROY SHARES THE BRAND NEW SINGLE 'BLACK INSIDES'
Andrew Cushin Releases Debut Album 'Waiting For The Rain'
Rock Band Solely Veil Release Debut Single "Serenity" via Daeth Development
Ethereal, Iridescent Single from Canadian Indie Dream Pop Artist
Heather Kathryn Releases A Song for anyone who's ever been ghosted while dating
THREE-TIME GRAMMY® WINNER NE-YO DROPS NEW SINGLE, "LINK UP"
Gold-Selling Bedroom Pop Artist HARMLESS Announces First Studio Album; Shares Hand Drawn Animated Music Video
Hayku Kyah releases "Swan Dive" (FFO: Little Simz)
Blak Madeen Drop More Knowledge With New Single "Surah 26" FT. Kam, kane major & Cheese
For Skope: PLS&TY releases new tech-house single "Listen to My Heart" (out now as a self-release)
Bristol rockers Krooked Tongue release Scorcese-inspired new single 'Backseat Therapy'
Lacy J. Dalton's Latest Single "Devil By A Different Name" Is Available Today Through StarVista Music!
Svartanatt release final single "Mad Stranger" from upcoming third studio album "Last Days on Earth"
SCOTT REEDER'S (FU MANCHU) JACKET THIEF RELEASES DEBUT SOLO ALBUM, "LIGHTS OUT ON THE SHORE"
KWASI releases indie hip-hop concoction 'Poison'
Miss Velvet Shares "Zumirez" Single + Videos via Galore
Miss Velvet Shares "Zumirez" Single +Video and Live Performance
New Zealand Collective LEISURE Share New Album Today; First Ever US Tour Selling Out
Vancouver Psych-Pop, Old Man Canyon Shares 'So Long Babylon' ; a lush and hypnotizing new EP