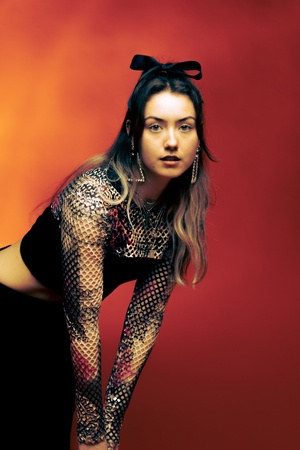 @skopemag news – tuesday – september 26, 2023 @ 2 pm est
https://www.facebook.com/SkopeMag/
https://twitter.com/skopemag
https://www.youtube.com/@skopetv2
https://www.instagram.com/skopemag/
APP – Apple iTunes –
https://itunes.apple.com/app/id1465224822?mt=8
@skopemag APP – Google / Android –
https://play.google.com/store/apps/details?id=hr.apps.n207414718
Support @skopemag –
https://www.paypal.com/donate/?hosted_button_id=3APKAKT8K6ETW
Folly Group announce debut album + share new single "Big Ground"
Today, Folly Group have announced details of their much anticipated debut album "Down There!", which is set for release on 12th January 2024 via So Young Records. The news is accompanied by the release of borderless single and album opener "Big Ground".
HUMAN INTEREST announce 'Empathy Lives In Outer Space' EP & share teaser 'Grounded'
East London outfit Human Interest announce 'Empathy Lives In Outer Space' (EP), set for release November 24th, and share wistful new track 'Grounded', out today (Sept 26th) via Nice Swan Records (Sports Team, Pip Blom, English Teacher).
OUT NOW: Lauren Dejey returns with new single 'Permanent' // Listen here
Today, Lauren Dejey is back with the release of her brand new single 'Permanent', featuring JUST OSKA, which finds her taking a more electronic approach than usual, for it's doused in a glistening hue of dance-pop beats and animated audio distortion.
Award-winning Australian Americana artist Helen Townsend asks 'Is This Love' with brand new single
'Is This Love', asks the age-old question, the one we've all wanted answered sometime or another. Dressed up in irresistible honky tonk blues, 'Is This Love' is an instant dance-floor filler and the first leg of a musical oeuvre that has Townsend at the peak of her powers and will have audiences beaming and calling out for more.
Post Alternative Rock Outfit The Behaviour Release The Dark Introspective And New Album "A Sin Dance"
The Behaviour as a perfect and effective representation of the sounds, melodies, and noises heard in his head and ringing in his ears for quite some time. While being a catharsis, purging, and execution of shadow work in its purest form of expression, this record is merely a prologue. The music is dark and melancholic on the surface, yet underneath the richly textured layers are introspective messages of redemption, healing, and renewal found through experienced loss and traumas. It expresses the true essence of finding one's self in his/her sober reflection and through the interpersonal relationships of self, others, and environment.
BREAKTHROUGH POP STAR JAMIE MILLER SHARES HIS NEW SINGLE 'EMPTY ROOM' FROM HIS SECOND EP 'THE THINGS I LEFT UNSAID'
INGRID MICHAELSON SHARES THE NEW SINGLE 'IF THIS IS LOVE' FROM THE NEW MUSICAL 'THE NOTEBOOK'
Glasgow's ALEX AMOR releases vibrant indie-pop single "Cherry Blossom Boy"
VAN MORRISON RELEASES THE NEW SINGLE 'PROBLEMS' FROM THE NEW ALBUM 'ACCENTUATE THE POSITIVE'
Arone Dyer x s t a r g a z e announce new collaborative album + share "Define"
Ukrainian/Polish Black Metal Band THREE EYES OF THE VOID Unveils Details for Debut Album
Folter Records has announced that the international release date for the debut full-length album, 'The Atheist,' by Ukrainian/Polish Black Metal band Three Eyes of the Void, is set for October 27, 2023.
Swedish Death Metallers RAVEN BANNER Drops Lyric Video For "Rise Up Clan"
Brighton's Owners Club Share New Visuals For 'Double Diamond' via Goo Records
Morgan Wallen's 'One Night At A Time' Adds 10 Stadium Shows to '24
With Pollstar noting his distinct ability to make "fans feel like his songs are their lives," and Southern California News Group observing during his SoFi Stadium tour stop that he "had them in the palm of his hand… as they sang… cried and cheered," CMA Entertainer, Male Artist and Album of the Year nominee Morgan Wallen's One Night At A Time World Tour has been universally celebrated for the fan connection that has driven its historic run.
Now, with 11 dates remaining on the 2023 leg and fans demanding more, Wallen is extending the tour into 2024 with 10 additional stadium shows. A rotating lineup of guests including Bailey Zimmerman, Jelly Roll, Jon Pardi, Lainey Wilson, Nate Smith, Bryan Martin, Lauren Watkins and Ella Langley will join for support. Wallen's coast-to-coast run will include stops in Nashville, TN; Arlington, TX; Las Vegas, NV and more.
O. Return With New Single "Slice"
ALEX NICOL — Shares Soothing New Alt-Folk Single: "Working On My Tan"
Emerging Grunge Band G.U.S.H. Debuts Second Single, "Down the Drain"
UPCHUCK release "Crashing" video
Lagoona Bloo Releases "Elle Woods" Music Video
In solidarity with the WGA strike, the music video also features an unforgettable cameo from Kirsten "Kiwi" Smith and Karen McCullah, the screenwriters of Legally Blonde, who Lagoona dedicated the visual to "for showing us that – no matter who you are or where you come from – we could all pursue our dreams and do it like Elle Woods."
MADGE ANNOUNCES THEIR ALBUM BOXJAR TO BE RELEASED ON 11.17 + "SARAGHINA" OUT TODAY
Madge is a Brooklyn-based artist. Somewhat sad and angry. They've written for Pussy Riot, Brooke Candy, and Slayyyter. Lots of music in the pipeline.
LUCI Shares New Single & Video "Spins" / Taken From Debut Album 'They Say They Love You' Out Feb 2 via Don't Sleep
North Carolina native LUCI shares the third single "Spins" from her debut album They Say They Love You, set for release February 2, 2024. The track is accompanied by the official video and out 26 September via Brixton-based record label, Don't Sleep.
Loveless Share New Single "Picasso"
"'Picasso is a dance rock anthem for the anxious artist in all of us," shares Comeau. "Regardless of how or what you create, it's about feeling your creativity slipping away, and about being torn between two juxtaposed versions of one's self. It's the battle between who you are versus who you wish you could be."
The Gleeman shares infectiously catchy 'Somebody'
OMNIUM GATHERUM Releases New Video for "Lovelorn"
The Ivy Releases "Good Faith" Music Video
Lil Lotus Announces New Album 'Nosebleeder', Shares Lyric Video For Title Track
Today, shapeshifting songwriter and musician Lil Lotus officially announces his sophomore album 'Nosebleeder' due for release on December 1st via Epitaph Records. Produced by Matt Malpass (Blink 182, Travis Barker, MGK, nothing,nowhere.) and Mike Pepe (Taking Back Sunday, Charlotte Sands), the follow up to his debut record ERRØR BØY (2021, Epitaph) finds Lotus fully embracing his role as a pioneer of a new generation of pop-punk.
Enemy Of Fate Releases Debut Single "Dear Dad"
LYDIA CAN'T BREATHE Release Official Music Video for "Killerz"
We Owe Announce New LP
Love Ghost Releases Metamorphic New Single "Snap" feat Mexican arist CHZTER
Love Ghost's Finnegan Bell is currently in Mexico writing and recording with many Latin artists, including Dan Garcia, Ritorukai, Go Golden Junk, Phyzh Eye, Jozue, Young Dupe, Blnko and many others. Producers they are working with in Mexico include Shantra (Santa Fe Klan's latest album), BrunOG (Latin Grammy nominee) and SAGA. They have several other songs coming this year including "Dopeman" with Ghana afrobeat artist Camidoh, and "Do you Like Me Now" with Nu Metal artist Cinnamon Babe.
Dischord Records post-dance-punks LIGHT BEAMS Announce New Album "Wild Life" with Single/Video
The Washington D.C. post-dance-punk band Light Beams have just announced their new album titled Wild Life will be released on November 3rd via legendary independent label Dischord Records in partnership with the band's own imprint Mud Memory. Along with the album announcement news, the band have released the lead single "Coming Our Way" across all digital platforms.
RISING VOCAL ENSEMBLE CITILIMITZ RELEASES THEIR DEBUT SINGLE "SAY NO MORE"
PEINE KAPITAL ANNOUNCES SELF-TITLED ALBUM, RELEASES SINGLE
Prepare to plunge headfirst into the abyss of sonic despair as doom-sludge trio PEINE KAPITAL has announced they will release their new self-titled album this fall. Fans and music critics alike have lavished praise upon the band for their previous releases, with one review describing them as a "vital force in the current heavy landscape." PEINE KAPITAL's new album is their most ferocious and punishing work yet. It stands tall as a brutal forty-five minute magnum opus, and it features the band at their most nihilistic. With songs about depression, human decay, and man's inherently animalistic nature, the album is as dark as it gets.
Doja Cat reveals Agora Hills video from new Scarlet LP
Last week, GRAMMY award-winning global superstar Doja Cat, released her new fourth studio album,"Scarlet" via RCA Records. In addition, she dropped the music video for her new track, "Agora Hills". The music video was shot in Pomona, CA and Koreatown in Los Angeles, CA and directed by Hannah Lux Davis (Ariana Grande / Nicki Minaj) and Doja Cat.