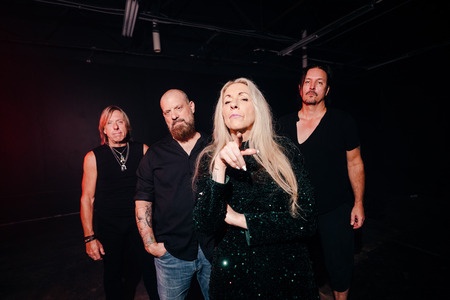 Meet Rok Ali and The Addiction, a powerhouse collective with a captivating story of revival. Alison Krebs, or Rok Ali as she's known in the music world, embarked on her musical journey in the nurturing embrace of the sacred music community. Simultaneously, she was drawn to the emerging allure of rock and roll, a genre that resonated deeply with her. But her path was plagued by the shadows of addiction, a tempest that veiled her spiritual and musical pursuits. Today, her voice is no longer overshadowed by addiction; it's accompanied by a renewed passion for music.
Rok Ali and The Addiction have emerged as a formidable hard rock ensemble, featuring a lineup of exceptional musicians. Their sound, marked by complexity and surprise, showcases their creative prowess.
They return in 2023 with a promise of something fresh. 'Ponder This' is their latest offering, a hard-hitting heavy-rock marvel. Right from the start, Rok Ali's vocals take center stage, embodying the essence of rock's iconic personalities. Sonically, the track catapults listeners back to the golden era of '90s rock, evoking echoes of bands like The Smashing Pumpkins and Nine Inch Nails.
'Ponder This' exemplifies this truth, featuring luscious guitar licks, infectious melodies, and a dynamic structure that dances on the edge of change. The chemistry between this formidable quartet ignites a sonic blaze, with each element amplifying the others in a symphony of rock-infused power. Check it out now.