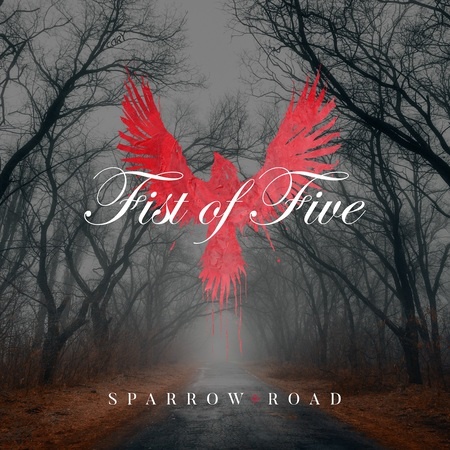 Sparrow Road is a six-song EP from Fist of Five that delves into pained emotions through hard rock grooves. The project opens with "The Dance," a song that sounds like it is about separation from a loved one. If this song sounds familiar, it was originally a hit for Garth Brooks. Yes, this is actually a hard rock rendition of a country song. Instead of the sort of acoustic instrumentation you'd expect from a country tune, though, this one includes loud guitar, as well as mournful acoustic piano. It's sung with true heart. Oddly enough, I didn't even recognize it the first few times I heard it. And this was a huge hit for Brooks! However, Fist of Five deserves to be complimented for taking a song this familiar and making it the group's own. About three-quarters through, there is a speedy electric guitar solo – the kind one might expect to hear on a heavy metal song, not a country track. Thus, the group has completely reimagined the song, and quite smartly at that.
What comes next, ironically, is an acoustic-backed song. "Can't Be Over" is a song about romantic separation. Lyrically, it tells the story of a man who just can't believe that this partnership has ended. They say denial is one of the stages of grief, and this person is clearly in some sort of state of denial. "It can't be over," he sings, sadly. It's certainly tough to come to grips with a breakup, and this song does a good job of expressing these emotions. This song also incorporates acoustic piano.
Speaking of piano, this project's title track, "Sparrow Road," starts off with piano. It also includes guitar, bass, and drums, but piano is its central instrument. The quiet verses lead into a big chorus. This place, Sparrow Rood, must be a place where important life events took place. The song has a sad feel to it, which suggests this person doesn't have pleasant memories of his time there. About halfway through the song, the electric guitars are tamped up and a string section is brought into the mix. These elements greatly enhance the emotional weight of the track. Then, suddenly, the singer is heard singing over little more than acoustic guitar. This song goes through multiple sonic phases, which makes it a fascinating listening experience.
What comes next, "Imperfections," begins enticingly with a handclapped rhythm. This then leads into a guitar-driven groove along with an upfront bass line. The song's vocal moves back and forth between sung and screamed lines, which gives the song aural variety. Next is "Can You Hear Me (Radio Edit)," which is another quiet song. It is sung sweetly over acoustic guitar. Its words suggest yet another song that expresses regret over a romantic breakup. The album closes with "My Friend," that yet again smartly utilizes acoustic guitar. And once again, the singing is especially good on it.
ONLINE:
https://www.fistoffive.com/
https://fistoffive.bandcamp.com/album/sparrow-road
https://www.instagram.com/fistoffive
https://www.facebook.com/fistoffive
Yes, there's sure a lot of sadness to be found along Sparrow Road. However, Fist of Five know how to transform emotional pain into engaging musical sounds, which makes this one really good release.
-Dan MacIntosh