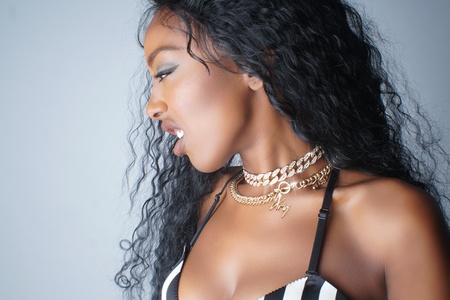 @skopemag news – thursday – september 21, 2023 @ 11 pm est
https://www.facebook.com/SkopeMag/
https://twitter.com/skopemag
https://www.youtube.com/@skopetv2
https://www.instagram.com/skopemag/
APP – Apple iTunes –
https://itunes.apple.com/app/id1465224822?mt=8
@skopemag APP – Google / Android –
https://play.google.com/store/apps/details?id=hr.apps.n207414718
Support @skopemag –
https://www.paypal.com/donate/?hosted_button_id=3APKAKT8K6ETW
SURVIVAL GUIDE Stars As A Stepford Wife Gone Rogue in "Pie" Video
"Our hostess starts out perfect, but gradually begins to unravel as the song progresses," says SURVIVAL GUIDE, a.k.a. Emily "Agent M" Whitehurst (former vocalist for punk standouts Tsunami Bomb) about the deranged Stepford Wives treatment for her video for "Pie," the third single off her fourth full-length electropop Survival Guide album deathdreams, out October 19 via Double Helix Records. The vivid metaphor in the lyrics as a protector ("Let me bubblewrap you / Hide you from his eyes") begins to reveal itself as she dreads younger women having to endure some of the darker things she's been through.
JULIA BHATT Salutes Her Past With 'Grab Bag' EP Out November 17
Hera Lind shares brand new single 'someday' // Listen here
Today, emerging Icelandic musical talent Hera Lind returns with her beautiful new single 'someday', which puts her love and fondness for someone special out into the universe.
Msuic Feature Opportunity for Skope Magazine: Chayce Kennedy – "Mr. Super Fine"
Written by Chayce Kennedy, Juno Award-winning producer Ryan Stewart (Carly Rae Jepsen, Jocelyn Alice) and actor/songwriter Roark Critchlow ("Pretty Little Liars", "Days of Our Lives"), "Mr. Super Fine" is about the feelings that come out when you're looking for your perfect someone. Stewart also produced the track.
FRESH RELEASE: Regal R&B Master Klay Cartier releases 'On The Low' Single
ill peach Share "COLLIDING" New Single Off THIS IS NOT AN EXIT
On November 3rd, 2023, Los Angeles duo ill peach will release their debut full-length, THIS IS NOT AN EXIT, via Hardly Art. This collection of anthemic songs is built out of bright pop and gritty experimental elements, punctuated with hooky choruses ready to be screamed along to in the safety of your own bedroom or with a bunch of friends at one of ill peach's intense live shows.
The Dirty Nil Unveil Official Music Video for "The Light, The Void and Everything"
Emerging Alt-Pop Artist Lauryn Macfarlane Allows Herself to "Dive" Fully into Love on New Single
Written right as she was falling madly in love, it's a fun yet vulnerable song about allowing yourself to fully "Dive" into a relationship with your whole heart, even though you know you could very well be crushed by the wave. This song is the first time a producer has given Lauryn an instrumental to write to with free reign on melody and lyrics. To her surprise, it came very easily and is a new way of collaboration that she is eager to pursue more of in the future.
blink-182 RELEASE NEW SINGLE "ONE MORE TIME" WITH VIDEO
TAYLOR MCCLUSKEY Debuts New Video For Latest Single "Reflection"
SPOOK THE BEAST Stream New EP 'Guided By The Second Sun' At Decibel Magazine
EP Premiere: SPOOK THE BEAST Shock and Awe with "Guided By the Second Sun"
Multidisciplinary talent MASAKA journeys through heartbreak in new cut "ATV"
Arkells New LP 'Laundry Pile' out Today w/New Music Video for "Quiet Love"
Today, Arkells release new album Laundry Pile, via Virgin Music. The release of the album is accompanied by a new music video for album closer-track "Quiet Love," an intimate song about wanting to have a love back, but it being completely out of your hands. The song follows previously released title-track "Laundry Pile" and summer Americana-tinged singalong "Skin."
GRAVESEND: New York City Black/Death Metal Trio Releases Title Track To Second LP
As Gowanus Death Stomp, the lethal second LP from New York City-based black/death metal trio GRAVESEND, nears release on 20 Buck Spin in late October, the title track to the album has today been unveiled.
Rocco Drops Debut EP 'Her Favorite Flowers'
Her Favorite Flowers is a culmination of the maturity and growth Rocco has experienced through his trials and tribulations with love and especially his growth as a musician this past year. It is an emotional narrative that embarks the listener on a nostalgic journey bound to recall moments with the special someone. The EP graces the themes of young-love, heartbreak, and contentment accompanied by a variety of instruments but the reoccurrence of strings and acoustic guitars.
New York's FROGG Will Have You Jumping Up And Down With Technical Metal Single "Wake Up"
FROGG is a modern experimental technical metal band located in the New York metropolitan area, USA. The concept behind FROGG is simple: create modern heavy music while striving to show off some originality in an often-over-processed genre.
New York's Frogg premiere flamboyant video for explosive new single Wake Up!
DEAD FEATHERS: stream new album in full now!
Chicago's psychedelic blues rock revelation DEAD FEATHERS present their sophomore album "Full Circle" in its entirety, ahead of its anticipated release this Friday through Ripple Music.
Premiere: Dead Feathers 'Full Circle' – New Album Releases Tomorrow via Ripple Music
EMERGING R&B ARTIST SAHXL SHARES DEBUT EP COME THRU OUT NOW VIA DEF JAM RECORDINGS
COME THRU channels SAHXL's ability to effortlessly blend genres of melodic hip-hop, pop, and R&B while tapping into his vulnerable side. With refreshingly clever melodies, accessible love stories, and tales of a young man misunderstood, SAHXL'S debut serves as an invitation to the movement he's building. Born and raised in Sydney, Australia, 20 year old SAHXL originally used singing and songwriting as the main way to make sense of his feelings and the changes he was experiencing. Now with music as a proven supplement for his own personal growth, SAHXL is dedicating his time to sharing music with his fans that they can relate to and feel his passion.
SYBLING Announces 'Strange Ways' EP + Releases "Radio" Single/Video
On "Radio," the sisters' voices mesh in perfect synchronicity, and the track personifies the essence of their sound — arresting, enchanting, complex and a little bit creepy. The coinciding video follows the perspective of the song's narrator, a man obsessed with a woman who doesn't even know he's there.
Baby Jey Share "What's the Point of Saying Sorry," Jaunty Synth Pop Lead Single from Upcoming Record, 'Crop Circles'
Baby Jey is an Edmonton indie pop band who wear their love of classic disco and synth-pop music on their sleeves. "What's the Point of Saying Sorry," the lead single from their upcoming LP, Crop Circles, was recorded using vintage keyboards from the 80s and 90s, the Korg M1 and the Yamaha Motif ES7.
OneRepublic's Ryan Tedder Uses Galaxy Buds2 Pro to Reimagine 'Counting Stars'
Mr. HUBB & Hip Hop Legend CL Smooth Release Video For "Grown Man Business"
Chow Lee Brings NYC to Vegas in "drais" Video
Artela's Single "Why Don't You Love Me" Out Today!
AVENGED SEVENFOLD'S MUSIC VIDEO FOR "MATTEL" IS A PLASTIC WORLD IN FLAMES
Infiltrating radio now, "Mattel" adorns the group's unanimously lauded eighth full-length LP, Life Is But a Dream…, and follows "Nobody," which hit #1 on the Rock radio charts.
Boise/LA indie rock band Tamra share new single + video "Flood"
ARIG takes back her power on new single and video 'His Nation'
Eora/Sydney-based artist ARIG (she/her) today shares her vivacious new single and its equally spirited video 'His Nation'. A bouncing, hypnotic celebration of finding the all-consuming kind of love we seek within ourselves in a world that discourages this, 'His Nation' represents a new sonic era for the self-described "loud introvert", and is taken from Arig's forthcoming as-yet-unannounced new EP.
AOTEAROA / NEW ZEALAND ALT-POP ARTIST ISLA NOON SHARES NEW SINGLE + VIDEO 'BODY'
Lush, hypnotic and brimming with alt pop whimsy, the brand new single Body from Aotearoa New Zealand artist Isla Noon is an electrifying ode to growing up from one of the scene's most exciting up-and-comers. A dynamic addition to Isla Noon's ever-growing repertoire, Body is also accompanied by an enigmatic music video featuring the artist herself in a potent display against a fittingly eerie locale.
Body is out today, Friday September 22.