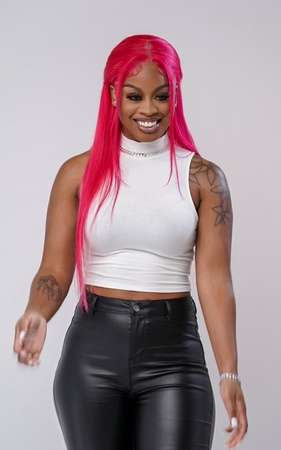 Tallahassee, FL rapper The Real Meladee is simultaneously versatile and resilient, exciting and reliable. Though she's often inspired by the success of other female artists in her genre, Meladee is a musical stand-out, driven by the goals she sets for herself rather than imitating anyone else. Her inspiration comes from things she sees and feels as she grows, bringing a sense of pride every time she gets in the studio to make something different. And that's exactly what she'll be doing next: releasing new music to separate herself as an artist and deliver music that fans love.
"Set The Tone" is Meladee's recent underground hit, and it's making waves already: it's reached over 36k views in its first two weeks on YouTube. Describing the song, she says, "With this record, I'm letting it be known that I see myself taking over. I bring something fresh and new to the table as a rapper, and I aim to set the tone for everyone in the genre, male and female."
The "Set The Tone" video was directed by It's Mason Productions (IMP) and shot at different events around Miami. The "Set The Tone" video opens with a snapshot into The Real Meladee's digital life: prominent rappers and figures in the entertainment industry are all over her IG, following her profile and commenting on her posts. She rides in a classic Corvette to a shopping spree at the mall and the recording studio, spitting bars that speak only the truth: she's fresh from head to feet, and standing on top of the world. Bigger artists like Sukianna and Trina also appear in the visual – icons Meladee is coming on par with. Take a ride along with The Real Meladee to experience the city's nightlife in this visual.
Follow The Real Meladee:
https://www.instagram.com/therealmeladee
https://www.tiktok.com/@meladee03