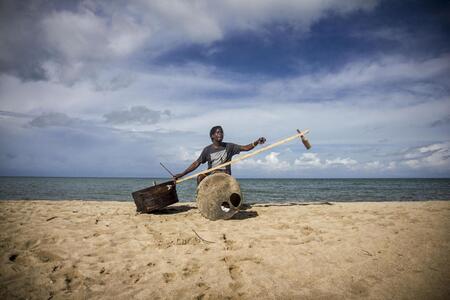 North Malawi's Gasper Nali is bringing his one-man band tour to the UK for a series of 21 performances. Supporting him is celebrated Reggae Poet Michael Mountain.
Acclaimed by the likes of Songlines and RootsWorld, Nali is known for his unique energetic dance music played on his homemade one-string Babatoni. Thought to be the largest of its kind in the world, Nali's custom build makes it unique amongst the already rare instrument.
"This guitar I make myself. The name is babatoni. I also bring that mgolo (large bass drum). I cut two pieces out of an old oil barrel, one for the mgolo and the other for the guitar, and then I add the bluegum (eucalyptus fretboard) and wrap them with cow skins. And I make a kick pedal to beat the drum. You cannot buy a babatoni, that's why I make it all myself" – Gasper Nali
Gasper Nali's success as an international touring artist would be a dream come true for most artists, but for Nali it seemed especially impossible. Coming from rural Northern Malawi, a particularly poor African region, Gasper originally performed with his two brothers where they'd busk in nearby villages. After their tragic passing, Gasper was left to continue the band's legacy alone.
After a video of him posted to social media garnered over 18m views, Gasper came to the attention of music project manager Mattias Stålnacke who paired with the artist to professionally record his music. The pair are still working together and to date have over 1m streams on Spotify alone.
Gasper Nali will be performing across the UK in September and October. Tour dates available below:
TOUR SHOW:
Chidham – The Old Malthouse – 30th Sep
Bournemouth – Arts by the Sea – 01st Oct
Portsmouth – The Lens – 01st Oct
Cambourne – Cambourne Library – 04th Oct
London – Green Note – 06th Oct
Suffolk – John Peel Centre – 07th Oct
Colchester – Colchester Arts – 08th Oct
Settle – Victoria Hall – 10th Oct
Bury – Bury Met – 11th Oct
Hebden Bridge – Trades Club – 12th Oct
Newcastle Upon Tyne – Star & Shadow Cinema – 13th Oct
Glasgow – Hug & Pint – 14th Oct
Brighton – The Rose Hilll – 18th Oct
Manchester – The Vale – 19th Oct
Isle of Man – Centenary Arts – 20th Oct
Whitby – Musicport Festival – 21st Oct
Northampton – Gabribadi Hotel – 22nd Oct
Liverpool – Liverpool Philharmonic Hall – 25th Oct
Weston-super-Mare – Loves Café – 26th Oct
Bristol – Lost Horizon – 27th Oct
Aberystwyth – Art Centre – 28th Oct
Facebook: https://www.facebook.com/GasperNaliOfficial
Twitter: https://www.twitter.com/Gasper_Nali
Instagram: https://www.instagram.com/gasper_nali/
Website: https://www.gaspernali.com