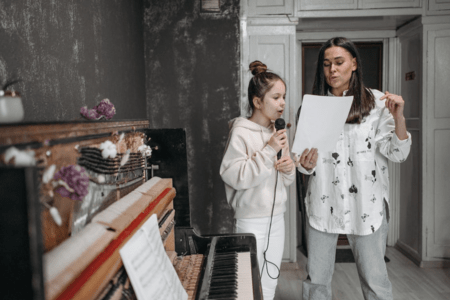 Music is an art form that can truly inspire and enrich lives. Whether you're a seasoned musician or a complete beginner, there's always something new to learn and explore in the world of music. Fortunately, you don't have to be a child to start music lessons—it's never too late to start learning something new! This blog post will be sharing 5 suggestions for music lessons that you can easily start at any time. So whether you're a newcomer to the world of music or you're a seasoned pro looking to expand your horizons, read on for some great ideas.
Piano Lessons
Piano is a great instrument to start with if you're new to music. It's relatively easy to learn the basics and it can be a lot of fun to play. Piano lessons can be structured to fit your skill level and pace, so if you're a beginner, you can start with the very basics such as finger placement and reading sheet music. As you progress, you can move on to more advanced techniques like playing with both hands simultaneously.
Guitar Lessons
Guitar is one of the most popular instruments to learn, and for good reason. It's versatile and can be used to play a wide range of musical genres, from country to rock to jazz. Like piano lessons, guitar lessons can be tailored to your skill level, so whether you're a beginner or an experienced player, there's something for everyone.
Voice Lessons
Are you interested in singing? Voice lessons can help you get started and improve your vocal range and technique and they're convenient because you can take Online Vocal Studio lessons. You'll learn breathing exercises, tone control, and how to develop your own unique singing style. Voice lessons are a great way to boost your confidence and improve your singing abilities, no matter what your current skill level is.
Drums Lessons
If you're looking for something more energetic, drums are an excellent option. Drum lessons can teach you the basics of percussion like reading drum music and essential rhythms. With drums, you can learn a lot about timing and rhythm, as well as jamming with other musicians in a band.
Online Music Lessons
With the proliferation of technology, online music lessons are now becoming the norm. This is an excellent option if you don't have access to physical music lessons in your area or if you don't have the time or resources to travel. Online music lessons offer flexibility, convenience, and the ability to learn at your own pace. With online lessons, you can learn anything from playing the guitar to producing music on a computer.
In conclusion, music is one of the most amazing art forms that brings us together. It's never too late to start learning, and with these five suggestions for music lessons, you can easily begin your musical journey. Remember, the key to success is to practice regularly and have fun in the process. So pick an instrument that resonates with you and start today.