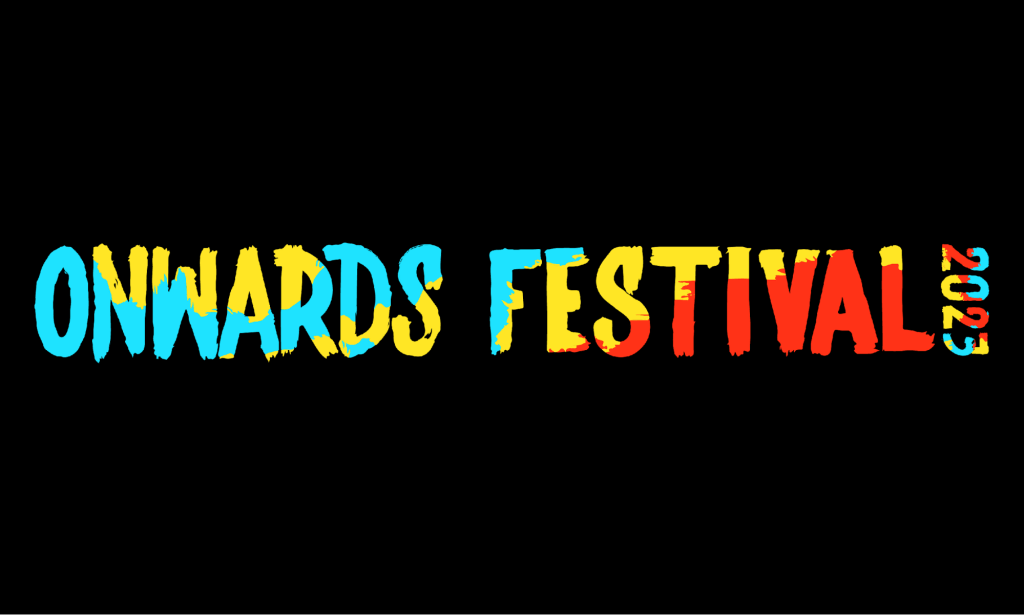 SATURDAY SEPTEMBER 23RD & SUNDAY SEPTEMBER 24TH 2023 
An annual, multi venue music festival with a twist, ONWARDS as the name suggests leads audiences successively through Huddersfield town centre grassroots music venues, showcasing a carefully curated programme of live music.
Onwards Festival began in 2016 fulfilling a concept conceived by event organisers Sam Hodgson & Noah Burton of a live music experience that would move audiences around town in a 'pub crawl' style. Popular demand caused the Onwards Festival to grow, involving more venues and acts each year. Following a forced two year hiatus of the 2020 and 2021 festivals, the need to unite the town's creative sector and community felt even more important and so Onwards Festival sought and were awarded Arts Council England and Kirklees Council Year Of Music 2023 Gainshare support to bring the festival back, bigger and better! 
This year the festival will take place across the weekend of the 23rd & 24th of September 2023, moving between 6 independent venues, with performances from 16 musical acts guiding you on a transcendent journey through an electrifying tapestry of genres. Let the vibrant pulse of funk, afrobeat and blues bands move your body in joyful abandon. Feel the heartfelt melodies and sultry tones of celebrated vocalists weaving tales of love, loss, and resilience through the power of jazz, world and soul. Unearth the timeless beauty and intimate sounds of folk and acoustic performances that connect the past and the present. Onwards offers a kaleidoscope of musical brilliance championing local talent, premiering new works and unveiling visual art and sound installations. 
Led by the Onwards compere, music lovers attending the Saturday festivities will progress through the town finally descending upon headline act Klonk an 8-piece party band crafting stone cold killer cuts out of klezmer, balkan, funk, jazz, metal and hip-hop. Expect full tilt horns and wild strings going toe-to-toe with a powerhouse rhythm section. Other notable performances throughout the day will take place in the spectacular Victorian Byram Arcade by Jazz vocalist Ruby Wood who has an upcoming EP release with First Word Records and Amaya a duo featuring Carnatic singer Supriya Nagarajan and Duncan Chapman on flugelhorn and electronics who are inspired by new ideas, forms and aesthetics from across the world. Earlier in the day audiences will be treated to Afrobeat funksters Plantfood and the powerhouse blues stylings of Wadcutter Blues. Day tickets can be purchased giving access to all events on the Saturday for just £15.
Sunday's lineup boasts acoustic performances throughout the afternoon taking place alongside a newly commissioned collaboration between illustrious 'bare knuckle soul' singer Thabo and The Huddersfield Ukrainian Singing Troupe. Sound artist Chris Ruffoni's sculptural sound installation which responds in real time to the environment will hang in the trees of New Street to create an immersive, contemplative and organically shifting texture of sounds. Headlining Sunday's proceedings are the mighty Mr Wilson's Second Liners who blend New Orleans brass with 90's club classics and will be proudly stepping out in uniformed style as they channel the spirit of the 24 hour party people and get audiences dancing into a joyful frenzy. Events for Sunday are individually ticketed. 
Come and support this grass roots, organic live music festival taking place in the heart of wonderful Huddersfield town. More information and full line up of artists and venues can be found on the festival website.
TICKETS – https://buytickets.at/onwardsfestival
https://www.onwardsfestival.com/
https://www.facebook.com/onwardsfestival/
https://www.instagram.com/onwardsfestival/
Supported by Arts Council England and Kirklees Year of Music 2023.
About Kirklees Year of Music 2023 (KYOM23)
Kirklees Year of Music in 2023, is a unique, place-based, cultural change programme initiated and led by Kirklees Council, part of the wider cultural offer in the region of West Yorkshire over the coming three years.  2023 is designated as a Year of Music for the district and, through investment in the district's diverse music talent, communities and businesses, the year-long programme of events and projects, will strengthen the music ecology of Kirklees from its roots.  
2023 will celebrate the richness and diversity of Kirklees music heritage, the music created and performed today, and the ambition for the future, inclusive of all music genres, all communities and in all forms. 
Kirklees is a place where everyone can hear world class music through festivals and programming; where children and young people have access to high quality musical experiences and education; and where the next generation of musicians and music professionals can build and sustain a high-quality career, with access to the very best industry advice, career opportunities and performance routes.
@musicinkirklees  | #kyom23 | https://www.musicinkirklees.co.uk/