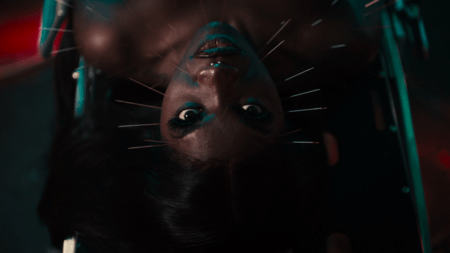 @skopemag news – tuesday – september 19, 2023 @ 5 pm est
https://www.facebook.com/SkopeMag/
https://twitter.com/skopemag
https://www.youtube.com/@skopetv2
https://www.instagram.com/skopemag/
APP – Apple iTunes –
https://itunes.apple.com/app/id1465224822?mt=8
@skopemag APP – Google / Android –
https://play.google.com/store/apps/details?id=hr.apps.n207414718
Support @skopemag –
https://www.paypal.com/donate/?hosted_button_id=3APKAKT8K6ETW
Penthouse — Music Undersea
Polish band Penthouse announces debut album "Music Undersea" to be released this month on Vinyl format through Antena Krzyku. Today they share the music video for single "Entertain me!".
Multidisciplinary talent MASAKA journeys through heartbreak in new cut "ATV"
Displaying a multidisciplinary musical approach that pulls fragments from contemporary R&B, indie and alternative rap, the Ugandan heritage artist envisions a complex journey through heartbreak and reconciliation across "ATV". With spacey guitar licks and electric vocal layering mixed by Fredrik Okazaki (Yung Lean, FKA Twigs, Skrillex), the striped-back, dystopian instrumental set pace for the rising talent to explore a fading love interest and the distress and confusion that takes control. Visually depicted through the dark and mysterious visualiser, MASAKA becomes the narrator of his own melancholy, a therapeutic outlet for him to express a deep-rooted sense of self-pity stuck in limbo that eventually manoeuvres towards true enlightenment.
Viji shares video for new single "Karaoke"
SMOKE FAIRIES — Announce New Album: 'Carried In Sound' Out 17 Nov || + Listen To "Vanishing Line"
Following on from the release of their highly-praised 2020 LP 'Darkness Brings Wonders Home' — which was applauded by the likes of Mojo, Clash Magazine, Q and many more — alt-folk duo Smoke Fairies return once again to announce the details behind their sixth studio album 'Carried In Sound', previewed by the wondrous new single "Vanishing Line".
JESSICA WILDE invites you to 'Freak Out' and move your body with infectious new single, out today
The new album project features some of the most insanely talented artists on the rise- Josh Barry (Nile Rodgers / Rudimental), Zoe Kypri (Black Coffee) and James Newman (Writer of Brit award winning Rudimental song 'Waiting all night') and the first single from it is 'Freak Out', which drops today 8th September!
Roofman releases new single and live video 'Two Buckets Of Dreams'.
There's no stopping Roofman. Today, the prolific Dutch songwriter releases yet another single and live video. 'Two Buckets Of Dreams' is the second single of upcoming EP 'The ATL EP', which will be out on October 6th.
Roofman about the song: "Sometimes writing a song is a spiritual thing. After binge-watching Twin Peaks for two weeks, this song just fell out of the sky. I think it's about not taking everything too seriously, trying to live up to your dreams but not to be too sad when things don't turn out the way you wanted them to. Just embrace 'that it is what it is'."
Out Today // Alternative Newcomer Palace Watson gets heavy on debut EP "The Living Room"
Palace Watson today releases his debut EP "The Living Room" which doubles as his opening remarks as a tongue-in-cheek, dark-humoured artist who forms exquisitely well put together alternative tracks that fit seamlessly in a credible heavy space. The Middlesbrough native, now based in London, will aslo be playing his headline show at The Servant Jazz Quarters on September 25th (tickets.)
Jamie Lonsdale – 'Paris'
LITTLE MAN TATE — Announce First New Album In Over A Decade: 'Welcome To The Rest Of Your Life' || Out 17 Nov
Sheffield indie-rockers – LITTLE MAN TATE – have shared details of their first studio album in over a decade, 'Welcome To The Rest Of Your Life' (out 17 November 2023).
The announcement follows the release of the band's new single "Undercover Lovers" last month, and comes ahead of a UK headline tour this October.
Norwegian Thrash Attack PARADOGMATA: New Single + Album
Fundamental social criticism has often been the concern of traditional thrash and speed metal, and with today's release of the video single The Seeds Of Greed of the Norwegians PARADOGMATA, this is presented again in unmistakable harshness.
US Doom Death Masters VIGIL Sign to Argonauta Records; New Single "Descend to Extinction" Out Now
From the ashes of the band Onera, Justin Christian (Bass, Guitars) and Craig Simas (Guitars, Synth) built Vigil to be heavier, and more aggressive but also beautiful and emotional. Joined by Joe Davis to compliment as one of the two bassists in the band, Brandon Phinney on drums and Dave Petillo on vocals.
Glen Hansard Shares Video For Triumphant New Track "There's No Mountain," Watch Now
Irish musician Glen Hansard, whose music NPR has called "expansive without sacrificing intimacy," is sharing the new song "There's No Mountain" today. The song points forward, to the virtue of simply pressing on, despite cataclysms global and personal that might challenge any stable orbit. It also calls to mind Dylan's "Forever Young" with the insightful line "when you go without, then you'll go within," and the power of positivity with the inspirational sentiment "there's no mountain great or small that you can't climb." Listen to "There's No Mountain" below.
The Polyphonic Spree Return with New Single "Galloping Seas (Section 44)" and Album Announcement
The Polyphonic Spree make a welcomed return today with their exhilarating new single "Galloping Seas (Section 44)" taken from their forthcoming eighth studio album 'Salvage Enterprise,' announced today and to be released on November 17. Pre-save/add HERE.
"We Could Be Falling In Love" – The New Single From Poolside Is Out Today
KHOMPA releases darkly-hypnotic boundary-pushing drum-triggered 'Tre Trigger Contro Tre Trigger'
'Tre Trigger Contro Tre Trigger' is a companion piece to KHOMPA's 2022 album 'Perceive Reality', drawing on the same technology but venturing into a more trance-inducing territory, with oscillating synths snaking around a pulsating, primal drumbeat, rising in pitch to a cathartic peak.
GLEN HANSARD shares triumphant new track 'There's No Mountain'
Irish musician Glen Hansard, whose music NPR has called "expansive without sacrificing intimacy," is sharing the new song 'There's No Mountain' today. The song points forward, to the virtue of simply pressing on, despite cataclysms global and personal that might challenge any stable orbit. It also calls to mind Dylan's 'Forever Young' with the insightful line "when you go without, then you'll go within," and the power of positivity with the inspirational sentiment "there's no mountain great or small that you can't climb."
Jann Klose Unveils Mesmerizing Acoustic Music Video for "All The Way Down" Filmed in Mexico
In this evocative music video, Jann Klose immerses himself in the role of a street musician, drawing inspiration from the vibrant Mariachi bands that grace the streets, playing music for both locals and tourists. This experience harked back to Jann's early days when he honed his musical skills as a young musician, performing in subway stations and trains in Hamburg, Germany, during his high school years.
US Rockers Mad Painter Unveil Emotionally Charged Lyric Video "Let Him Go"
US rock icons Mad Painter unveiled their latest masterpiece – the lyric video for their soul-touching track "Let Him Go", taken from the upcoming album "Splashed", which is poised for re-release on October 20th, 2023 via Epictronic.
Conchúr White Shares New Single / Announces Debut Album Out Jan 19 via Bella Union
Commenting on the track Conchúr – pronounced Conor – White says: "I Did Good Today is a song about craving validation but understanding that such approval can come at the expense of honesty or integrity. Musically I reference the likes of Midlake, Aldous Harding and Bleachers. The track was recorded in a Belfast church with producers Danny Morgan Ball and Kris Platt and mixed in London by Matt Wiggins."
Alt-Pop Duo poptropicaslutz! Share New Single "True Colors"
Fresh off a month-long headlining tour, today the New York duo poptropicaslutz! are sharing their new single "True Colors". Another delectable taste of their electric debut album 'Face For The Radio' out October 13th, the new track showcases their signature combo of vibrant hooks and infectious groove that drives their genre-bending sound. The band explains,
David Holmes Shares New Single / Announces First Solo Album in 15 Years Out Nov 10 via Heavenly
A 14-track interrogation of the last decade, time spent watching a decaying, fraying Britain visibly buckling in real time while tending to his own battles with mental health. Holmes' soundtrack to this inquiry is at times claustrophobic, often euphoric, driven by the rattle and snap of analogue drum machines, wild oscillations of droning analogue synths and the voice of Raven Violet which beguiles and commands in a way that could part oceans.
Rising Teenage Punk Powerhouse HotWax Announce New EP, 'Invite me, kindly' Out October 18th
Rising teenage punk powerhouse HotWax are thrilled to announce their second EP Invite me, kindly, out October 18th via Marathon Artists. Mixed by Alan Moulder (Foo Fighters, Wet Leg, Arctic Monkeys), Invite me, kindly encapsulates the three-piece's ability to harness the firepower of grunge pioneers, matched with great songwriting and musicianship. Their imaginative brilliance to stake out a new landscape in guitar music can be heard in the punchy new single "Phone Machine," out today.
CoH (Ivan Pavlov) shares new single 'circuit hum', "Radiant Faults" LP out 10/20 on Dais Records!
Ivan Pavlov aka CoH characterizes his latest solo work, Radiant Faults, as "the recording of a dialogue," rather than a set of compositions. Crafted using a rare new synthesizer, the Silhouette Eins, Pavlov's first encounter with the instrument across a long, late night session resulted in a continuous set of textures, patterns, and subliminal melodies. At some point during the process, he realized he was not alone: "It was as if something was speaking to me through the gear – the feeling was very intense. No matter how determined and specific I attempted to be, the results were something else. They felt like 'responses.' This instantly reminded me of ELpH."
Singer/Songwriter/ Multi-Instrumentalist Sierra Levesque Releases Debut Single "GET OFF MY STAGE"
Sierra Levesque, the formidable singer, songwriter, and multi-instrumentalist, has taken the music scene by storm with the release of her highly anticipated debut single, "GET OFF MY STAGE." The track, a masterful blend of Levesque's distinct artistry and the renowned production expertise of Ron "Bumblefoot" Thal, became available on all major music platforms on September 1, 2023.
Viji Releases New Single "Karaoke" Via Speedy Wunderground
Birmingham's Finest Artists Lyco & Lotto Boyzz Join Forces For Ice N Rum
DOECHII RELEASES "PACER" SONG AND VIDEO
Steven Wilson releases new song & video; new album out Sept 29
Rachael Sage Releases Unforgettable Video for Heartfelt Song "No Regrets"
Alt-folk-pop singer-songwriter Rachael Sage has released a heartfelt new video for "No Regrets" from her new 15-track full-length studio album, The Other Side. The video premiered in M Music & Musicians (US) and Music-News (UK). Inspired by a poem written by her Dad, who Sage credits for her love of music and joie de vivre, Sage collaborated with her father to write the ultimate homage to simple gratitude. As intimate as it is universal, "No Regrets" gives thanks for the many little things that define a life in all of its beautiful and aching joy. Featuring Jack Petruzzelli on guitar (Rufus Wainwright) and Russ Johnson on trumpet (Elvis Costello),"No Regrets" is unforgettable.
Athens, GA Based West African Project TAXICAB VERSES Shares New Single, "WAZOR"
TaxiCab Verses, a staggering collective of Athens, GA and Ghana based musicians, will re-release its one and only studio LP, Is What You Make It via the New West Records imprint Strolling Bones Records on October 20. Led by Athens' own Jim Wilson, TaxiCab Verses was first formed in collaboration with Ghanaian outfit Kofi Atentenben and the Warriors over the course of three separate trips to West Africa.
COMEDIAN & MUSICAL SATIRIST KYLE GORDON RELEASES FOLLOW UP SINGLE TO HIS 'SONG OF THE SUMMER' "PLANET OF THE BASS"
Breakout Country Music Artist Reyna Roberts Releases Music Video For "Miranda" Off Her Debut Album Bad Girl Bible, Vol 1
PAUL RUSSEL RELEASES "LIL BOO THANG" MUSIC VIDEO TODAY
The accompanying visual perfectly complements "Lil Boo Thang," featuring Paul and friends outdoors for the ultimate cookout. Re: the video, he commented: "We wanted to make something lighthearted that captures the fun of the song, so we threw a cookout and built a story around it. The video has a lot of references to some of the classic stuff I grew up watching, like Will Smith's 'Summertime' video and Spike Lee's camera work."
CHIKA DELIVERS DIVINE MUSIC VIDEO FOR NEW SINGLE "DEMIGOD"
Seth Glier Releases New Single "Finally Home"
Dutch Neo-Soul-Electronic-Pop Quartet Dragonfruit Share New Single 'Lose My Luck'
Dutch Neo-Soul-come-Electronic-Pop quartet Dragonfruit share the new single 'Lose My Luck' featuring Ghanian-Dutch rapper Kay Slice.
Nu-Gaze Duo Amethysts Shine On 'Bloodline' From Upcoming EP Via Tabby Tracks Records & Conch Town Records
Amethysts share the new single, 'Bloodline', released 15th September via Tabby Tracks Records/ Conch Town Records. The single is the first track to be taken from the duo's upcoming EP New Moon.
Folk Pop Artist Sung For The United Nations New Single/Video
Written, performed and produced at 17 by a prodigious young talent from Colorado culminating in a final session on her 18th birthday, ROY G BIV simply states that each moment and relationship is defined by the different colors of our emotions. Composing the music and lyrics, singing, playing keyboard and guitar, and co-producing each track, Riley is joined by musicians Doctor Noize, Art Bouton, David Amaya, and full strings.
Cel NoLackin "NoLackin Flow"
On the track, a propulsive up-tempo groove sets the pace right out of the gate. Cel NoLackin weaves together rhymes with expert precision, poise, and passion. With uncontainable energy, his fiery flow practically explodes on impact. The accompanying visual only amplifies the vibe on-screen.
Robert LaRoche Releases Forevermore LP Today
Forevermore, the adverb, means eternity, always, forever—yet on Forevermore, the album, Robert LaRoche expresses each of its exquisite musical love stories in some three minutes or less "I'm a firm believer in less is more," he says. "Simplicity, memorable hooks, and straight from the heart."
A$AP Twelvvy performs "You Know The Name" Vevo Ctrl
Hallie Spoor Shares New Single "Shenandoah" via Americana UK | 'Heart Like Thunder' EP Out 10/17
Kenny Muney Expands His Rim Rotation in "Spendin & Spinnin"
With a steady flow and a work ethic to match, Kenny Muney makes all the right moves. Coming through with a new video from Blue Muney (Deluxe), the Paper Route Empire rapper shares "Spendin & Spinnin." A sterling slice of high class street music, produced by Tady Fletcher & That Boy Cheeze, the song finds Kenny unspooling his languid triplets over paranoid string arpeggios as he salutes his fallen forebears, including his mentor Young Dolph and Nipsey Hussle. In the video, Kenny stops by specialty shop in his hometown of Memphis, checking out a wide selection of rims before selecting a shiny orange set for his Rolls Royce. "Spendin & Spinnin" follows up the recent video for new single "UHN UHN."