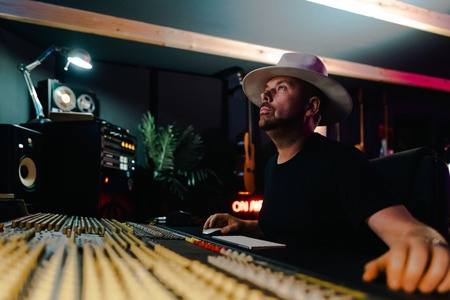 UK-based neo-soul producer Benjamin Race has been at it almost since birth. Raised by a musician father, Benjamin grew up in and around the soul music scene. Picking up the bass at 11 years old, he eventually took lessons with session bassists Jon Bower (The Real Thing/ Dexys Midnight Runners) and Julian Crampton (The Pasadenas, Incognito, Tony Momerelle, Dave Lee). Attending art school, Race flexed his affinity for multiple art forms, including music, photography, and videography, elevating his interests toward the high-level thinking of production and directing. Stepping into the studio for his first solo cuts, he crafted soulful tracks under the moniker HD, collaborating with a host of talents, including Ellison Kendrick (Joss Stone), Dennis Bettis (Grammy-nominated, songwriter to Luther Vandross, Charlie Wilson, and Boys II Men) and Teisha Marie. Now unabashedly stepping back onto the scene as his fullest, most transparent self, Race is pushing his productions to a whole new level. This year, we can expect consistent releases from our studio mastermind friend that will be sure to get you in your feels, off your seat, and onto the dance floor.
Leading off an anticipated string of killer singles from Benjamin Race, "Take You Home" is an infectious R&B bop featuring Race's friend and frequent collaborator, Ellison Kendrick. Mastered at none other than the world's most famous recording studio – Abbey Road, the tune kicks off with sparkling synths that dance alongside classic struts of funk guitar. Adding in jovial horns, Race creates a technicolor playground for Kendrick to explore with his sultry, versatile voice. The song swerves from seductive calms to energetic blasts, mimicking Kendrick's lyrical journey of confident flirtation. Pop on "Take You Home" to gear up for your night out—or to spice up your drive back in.
Catch the vibe of Benjamin Race's neo-soul opus on an even more vibrant frequency with the music video for "Take You Home." Directed by Race himself, the video invites us to join vocalist Ellison Kendrick as we explore his stomping grounds on Ocean Drive in the Art Deco District of Miami. Following Kendrick like wide-eyed lovers down muraled alleyways and white sand beaches, we're transfixed by the sights almost as much as the sounds of Race's masterfully crafted track. Push play on "Take You Home" and soak up the sunny scene.
Follow Benjamin Race:
http://www.benjaminrace.com
https://www.facebook.com/benjaminraceproducer
https://www.instagram.com/benjaminraceproducer/