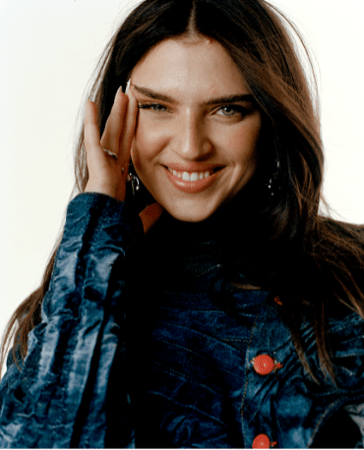 @skopemag news – friday – september 15, 2023 @ 11 pm est
https://www.facebook.com/SkopeMag/
https://twitter.com/skopemag
https://www.youtube.com/@skopetv2
https://www.instagram.com/skopemag/
APP – Apple iTunes –
https://itunes.apple.com/app/id1465224822?mt=8
@skopemag APP – Google / Android –
https://play.google.com/store/apps/details?id=hr.apps.n207414718
Support @skopemag –
https://www.paypal.com/donate/?hosted_button_id=3APKAKT8K6ETW
ANGRA: Music Video For Two-Part "Tide Of Changes" Unveiled
Chinese-American Rising Star, Irene Wong, Releases Debut Single: "mmm idk"
Ashlynn Malia Shares "Cool Girl" Single + Video
Pussy Riot release "Bad Trip" produced by Mykka featuring Nova Twins
Today, Pussy Riot release their single "Bad Trip" featuring the UK's Nova Twins and multi-platinum Argentinian producer Mykka, creating a hard, fierce protest track, which states: "You'll never see us coming, There's nowhere to escape. Power, superNova, Pussy Riot til it's over. etc"
LA CHINGA: new single "Ride the Dragon" out now!
Vancouver-based hard rockers LA CHINGA present the third single taken from their upcoming new album "Primal Forces", to be released this October 6th on Ripple Music. Ride or die!
Renowned Tenor Jonathan Cilia Faro's New Album 'Romantico' Is Available Now
Tenor Jonathan Cilia Faro's new album Romantico is available today! Featuring sixteen of the greatest love songs of all time the album highlights Faro's distinctive fusion of opera and pop, leading audiences through an emotional journey of love songs like never before. Combining his individual flair into timeless tracks like "O Sole Mio," "Parla Piu Piano," "Love Story," "Amapola," "The Prayer," and "Can't Help Falling In Love," this record stands out in every way. Even for those who primarily enjoy pop music, there's an undeniable quality in the voice of an operatic tenor that stirs the soul. Having released a total of sixteen acclaimed albums, including four inspirational and twelve crossover hits, along with boasting the best-selling album in Europe, Jonathan Cilia Faro consistently offers his distinct style of musical genres.
New Music This Week from The Who, Mitski, Willie Nelson, Diddy and More
New Releases for September 15, 2023 – Here are the AllMusic editors' picks for the most noteworthy releases this week. Looking for more? Visit our New Releases page.
Bristol Rockers Twin City Return With Electrifying New Single 'Solid Gold'.
PLAGUESTORM Unveils Latest Single "Gardens of Fire"
SOUNDRAW INC. & FIVIO FOREIGN EXPLORE AI MUSIC'S BOUNDLESS FUTURE ON NEW SINGLE "DOIN ME"
Grammy-Winning Singer Judith Hill Releases New Single "Runaway Train" Out Today!
GRAMMY-winning soul singer and songwriter Judith Hill proudly announces the release of her new single "Runaway Train," out today, Sept. 15 via Regime Music Group.
Princess Goes Share "Jetpack" Single + Lyric Video via FLOOD Magazine
MAE MULLER SHARES THRILLING ALBUM CLOSER "WRITTEN BY A WOMAN"
Ahead of the release of her debut LP Sorry I'm Late out September 29th, globally adored British pop star Mae Muller shares another taste of her long-awaited full-length debut in the form of the album's final track, "Written By A Woman."
Track Out Today from Easton
LUTHARO Release New Single "Ruthless Bloodline", Sign To Atomic Fire Records
As they barrel towards their upcoming tour dates, Canadian melodic metal outfit LUTHARO are excited to announce they have joined new label home, Atomic Fire Records!
SANDY BELL RELEASES NEW ALBUM ENTELECHY (OUT NOW)
An album with songs that are mostly in through-composed form, ENTELECHY is a record that was written during what Bell refers to as a 'breakdown on the forest floor' and subsequently recorded with the layered opulence and precision of celestial arrangements by her partner and producer, Jeff Lipstein in Woodstock, NY. The album was mastered by Chris Gehringer (Lana Del Ray, Rosalia, St. Vincent) at Sterling Sound.
Poulish Kid Arrives with His Debut Album on Audiolith
Irish alternative post punk band MOVMENT release new single 'I Believe in Noise'
Guitars and Bass and Drums and Synths are at the heart of the MOVMENT sound. It explores deep inside us, and our reason for being, and our Existence. What happens when it is over. We need to grab hold of our lives and not let go. So Movment examine their curious thoughts, and how their attitude controls their actions.
Hardcore Outfit FREYA Share Title Track From Upcoming Album Fight As One
Eldridge Rodriguez Share New Album via Earmilk
Atrophy is the fifth full length release from the band Eldridge Rodriguez. The album demonstrates the bands wide range, veering away from the electro-rock and poli-power pop of their last two releases, The Castrati Menace and Slightest of Treason, in favor of a slacker indie feel while still incorporating the noise pop that the band has leaned on for over a decade. The themes on the tracks are more personal this time around focusing on love, loss and the burden of memory. In many ways it's lighter than previous albums. The band is having a bit more fun while still presenting a brooding exterior.
Eldridge Rodriguez drop relaxed but contemplative album 'Atrophy'
Caicos Shares New LP Ascension Intention
Rebel Priest Release Trash N' Roll Single "War Horse" In Advance Of Japan Tour
Vancouver's pulse-pounding Rebel Priest wants to tap into that adrenaline that is at the end of a shitty day or a shitty situation with their new single "War Horse" coming off a yet-to-be-titled album set for release next year. It promises to be the wrecking ball to get you out of that funk and get those motors revving! Along with this deadly new tune, they are announcing an eight-stop tour in Japan this October. The band shares their enthusiasm for the truest vision of their signature Trash n' Roll:
TEDASHII RELEASES NEW EP "DEAD OR ALIVE PT. 1"
Throughout his life and this rollout, Tedashii has been vocal about the various trials and tribulations he's endured from losing his 1 year old son, Chase, to more recently, the serious fall he took backstage on the We Are Unashamed Tour. He's always felt attacked by the enemy in a spiritual and in many cases literal way and through that journey has learned to survive.
$NOT RELEASES NEW SINGLE AND VIDEO "CRUEL WORLD" OUT NOW!
Acclaimed metal songwriter/drummer Miss Randall premieres video via Wonderland