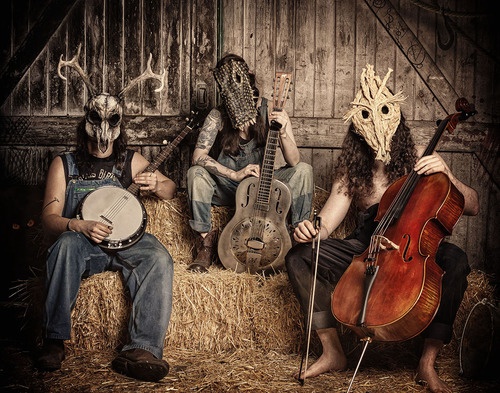 In the United Kingdom and across the globe, The Curse of K.K. Hammond reverberates, casting a spell with her horror blues style. Recently, she's dived into the covers realm and reimagined the iconic "Heart Shaped Box" by Nirvana. The tune has been sprinkled with the unique horror blues essence that K.K. Hammond infectiously carries, making it an exceptional addition to her repertoire.
There's an eerie magic that K.K. Hammond injects into Nirvana's classic hit "Heart Shaped Box," a soothing darkness that is both chilling and mesmerizing. The inherent roughness in this rock classic, a signature element of Nirvana, is harnessed rather than suppressed, thus creating an edgy harmony that is haunting and captivating. The familiar voice of Kurt Cobain, grungy and unpolished, finds an ethereal counterpart in the echoing ambiance that Hammond masterfully commands.
We see a bold move with the introduction of Hammond's signature 'Dirty Country' elements, crafting a sinister undertone that seamlessly blends with the overall eerie atmosphere. This risky maneuver pays off, resulting in a uniquely captivating rendition of this widely recognized tune. The transformation of the familiar into the chillingly extraordinary is a testament to K.K. Hammond's remarkable gift.
Pre-Sale – https://music.apple.com/us/album/heart-shaped-box-in-the-pines-single/1704125219
Even amidst a sea of "Heart Shaped Box" covers, K.K's rendition manages to carve out its distinct niche. While preserving the raw appeal of the original, she layers it with added intensity and menace, crafting a version that is haunting and beautiful in its own right.
This cover song, true to its roots, yet bearing a new soul, strikes a balance between the familiar and the new. The musical prowess of K.K. Hammond is evident in her ability to adapt and transform, fostering anticipation for her future work.
K.K. Hammond's "Heart Shaped Box" is not just a song; it's a unique musical experience. If you find horror blues intriguing, admire Nirvana, or simply appreciate good music, this is well worth a listen. It's a unique blend of gritty blues, haunting melodies, and powerful vocals that will leave you entranced. A definite thumbs up from us!