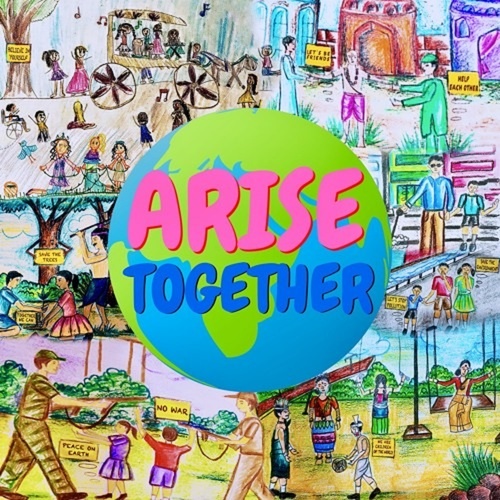 Arise Together – Children of the World is an epic charity album designed to assist children throughout the world and encourage the practice of inclusion, recognizing the particular gifts of the disabled youth among us, and bolstering recognition of diversity as well. The album's organizers have recruited marquee talent from across the globe to contribute to this collection and its astonishing musical and lyrical breadth makes it a must-hear for anyone interested in quality songwriting, not just those interested in promoting its cause.
WEBSITE: https://www.onelittlefinger.com/arise-together/
 The sensitive, delicate rendering of "You Never Know" that opens the album sets a tone. Vulnerability is a key cornerstone of each song on this release, albeit not the only one, and the grouping of Dave Kinnoin, Randy Sharp, producer Rupam Sarmah, Dennis Sy, and Jennifer Della Guardia produces outstanding musical magic. The lyrics will touch all but the hardest of hearts. "Let Us Come Together" introduces another of the crucial themes underlying this release. Emphasizing a sense of global community, we're all in this together, is one of Arise Together's guiding principles and the presence of Kare Africa Kids Chorus accentuates that. The simplified, even spartan, musical arrangement keeps listeners focused on the vocals.
"In the Garden" from Joy Blooms is one of the album's pinnacles. It is impossible to ignore the strong folk-singer vibe driving this track and Blooms' voice elevates the performance with her sympathetic singing. Lyrical piano lines complement her voice in outstanding fashion. "Thrive" is another peak performance from the album. Singer Aoede, the Broadway Kids backing singers, and duet partner Jack Sargent acquit themselves with tremendous skill and get under the skin of the song in a way few performers do.
Steve Elci's "Dreams" is a lyrical bonanza. It is a simple song, in many ways, but his lyrics reach the level of near-poetry with his tender rumination on dreams and their enduring value for us all. Affirmative messages such as this are prone to sentiment, bathos instead of pathos, but the artistry of songwriters such as Elci prevents that from happening. The delightful groove of "I'm Proud (Say It Loud Remix)" soars ever higher thanks to the contributions of the Alphabet Rockers to this already exemplary track.
The plaintive beauty of Dana's "Hold On To Hope" transcends the confines of this charity album. Despite her status as one of the pre-eminent children's performers and songwriters of her time, Dana's songwriting speaks to young and old alike with its well-worded message of clinging to the promise of a better tomorrow no matter what trials come your way. The bright demeanor of Al deCant's "One Strong Voice" relies musically on acoustic guitar and piano, but his voice is full of light. His emotive range is appealing as well.
Paul Jost's "Everyone Is One of a Kind" hooks into an irresistible groove from the first and his soulful singing pierces through whatever resistance you try mounting against its charms. An infectious bass line at the song's center is one of the key points distinguishing this track from other entries on this album. There's a wealth of fantastic material awaiting listeners on Arise Together – Children of the World and, despite its length, you'll likely find yourself ruing how fast the listening experience flies by.