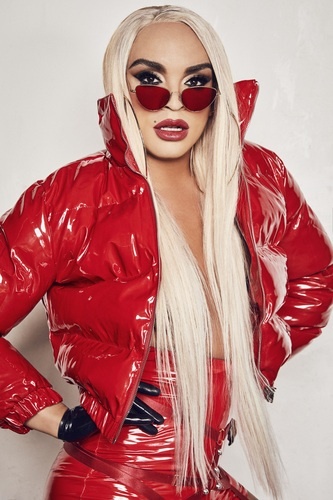 It all began at the famous Heaven Nightclub in London when a mere teenager followed his friend to a drag audition and decided to give it a go. Since then, pop artist Paris King has been impossible to put back into any kind of box. Raised by a Jamaican father and Celtic mother in London, Paris grew up in an atmosphere of music running blood-deep. While both lineages informed a broad range of musical influence, Paris's journey in melding such disparate identities found its home in London's all-inclusive, ever-expressive drag scene. Taking a bold leap into mainstream pop music, King began releasing singles and creating music videos in full drag, challenging stereotypes while calling in everyone she represents—which includes, well, just about everyone. Now, riding high off of a hot collaboration with Damon Elliot and generating waves on social media, Paris King is looking unstoppable. Hop on now before she blows up even more after releasing his anticipated EP, which is due out later this year.
A taste of what Paris King's upcoming EP may hold, her new single "Jealousy" is a no-holds-barred anthem for owning all of who you are, haters be damned. Over pounding drums and lively horns reminiscent of her Caribbean roots, King exhibits an impressive range of expression in voice and lyrics to flex every asset of her rich and multifaceted personality. Rapping, belting, and groaning out her words like a lion declaring its dominance, King makes it clear that she's not here to be anyone but her entire, unapologetic self.
Take an extra shot of Paris King's infectious self-confidence with the music video for "Jealousy." Directed by Paris herself, the video is a chic drag flaunt and celebration of human expression. Standing before a rotating projection of the flags of her nations of origin, King poses in utter authority and fabulousness. The video launches into high-energy choreography cut across seductive scenes, complete with gorgeous wardrobe and lighting work. The ecstatic vibe of badassery is absolutely irresistible—and good news: everyone is invited to twerk along.
Follow Paris King:
http://www.parisking.co
https://www.facebook.com/pariskingonline
http://instagram.com/parisking
http://tiktok.com/@kingdemcome