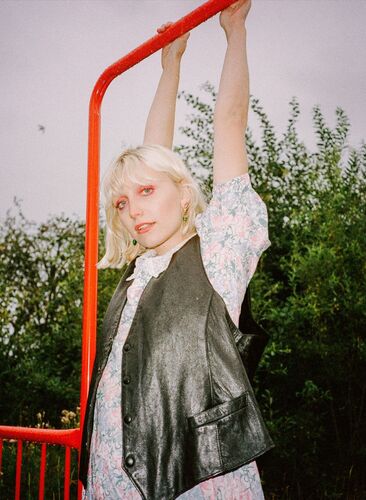 @skopemag news – thursday – september 7, 2023 @ 10 am est
https://www.facebook.com/SkopeMag/
https://twitter.com/skopemag
https://www.youtube.com/@skopetv2
https://www.instagram.com/skopemag/
APP – Apple iTunes –
https://itunes.apple.com/app/id1465224822?mt=8
@skopemag APP – Google / Android –
https://play.google.com/store/apps/details?id=hr.apps.n207414718
Support @skopemag –
https://www.paypal.com/donate/?hosted_button_id=3APKAKT8K6ETW
Black Metal Newcomers NGANGA Release New Single "Lunar Chains"
The band shares: "'Lunar Chains' explores the progressive side of our band, in which we utilize dual guitar harmonies, rhythm and tempo changes to reflect the consequences of humanity going against nature."
Homeboy Sandman Shares Vibrant New Music Video For "Then We Broke Up"
The Moss Release "The Place That Makes Me Happy" With Accompanying Video
Today, The Moss share "The Place That Makes Me Happy," their first new music in seven months, to kick off a busy late summer and fall for the band. The new single is the follow-up to their breakthrough single "Insomnia," which hit #13 at Alternative radio and registered over 15 million streams. The Hawaii-formed, Utah-based band will be hitting multiple festivals in addition to a full U.S. headline tour.
CAVO Releases New EP "The Shakes" via TLG/INgrooves
CAVO released The Shakes EP to all major platforms via TLG/INgrooves today, September 1, 2023. When asked about The Shakes EP, Andy Herrin says, "A lot of these songs for The Shakes EP had been sitting unfinished for a few years. We were writing like crazy back then and it's been amazing finally getting these songs finished and giving them a proper release. Kinda feels like the story of this certain time period of CAVO has finally been told."
YAWNING BALCH: new instrumental gem streaming now!
Following the release of their recent debut album "Volume One", the instrumental project formed by desert rock pioneers Yawning Man and Fu Manchu guitarist Bob Balch presents the first track taken from their upcoming sophomore album "Volume Two" on Heavy Psych Sounds.
Yawning Balch Slow Time with "A Moment Expanded (A Form Constant)"
TAPROOT RELEASE SINGLE "FAVOURITE SONG" FT. ELIAS SORIANO OF NONPOINT
"Favourite Song" goes to radio this week and has already started garnering attention from stations across the US, including spins on the nationally syndicated show HARD DRIVE with Lou Brutus. The track made its live debut on the WJJO stage at TASTE OF MADISON over the weekend, where Nonpoint vocalist Elias Soriano made a guest appearance on stage to perform the track live for the first time.
ELECTRONIC GROUP MILKBLOOD RELEASES NEW SINGLE "EASIER" FEATURING BARNEY BONES & JOSEF LAMERCIER!
Following the seductive production of "RUN THRU ME" released earlier this summer, MILKBLOOD returns with 80's disco inspired dance track "EASIER" featuring the smooth assist from GRAMMY-nominated songwriter and vocalist Barney Bones and R&B songwriter and vocalist Josef Lamercier. The track showcases the undeniable synergy as they pose the question – "is it gonna get easier?"
Alan Chang Unveils Enthralling New Album Check Please
Pioneering a captivating blend of groovy melodies, skillful instrumentals, and evocative vocals, rising jazz pianist and singer-songwriter Alan Chang has released his highly anticipated album, Check Please, a story of finding for himself. Comprising of ten exquisitely crafted tracks, this album weaves a tapestry of endearing sounds that traverse themes of love and life, while conjuring a sense of nostalgia and tranquility. Chang's artistry comes alive in a remarkable showcase of talent and emotion, marking a significant milestone in his musical journey.
LP Reveals "Long Goodbye," an Epic Plea
Today LP, known for their powerhouse vocals and soaring choruses, revealed "Long Goodbye," an appropriately epic breakup song for those who just can't let go.
SOUTH AFRICAN HIP-HOP SUPERSTAR NASTY C RELEASES "PROSPER IN PEACE" FEAT. BENNY THE BUTCHER
For nearly a decade, Nasty C (Nsikayesizwe David Junior Ngcobo) has had a singular focus: to push the boundaries of his own potential. He has been pursuing his hip-hop dreams since childhood when, legend has it, he began rapping and learning to lay down tracks at age nine under the tutelage of his older brother.
LISTEN: Strawberry Guy's "F Song (Strings Version)," Recorded At Peter Gabriel's Real World Studios
Stepping out of the bedroom and into the Real World, Liverpool's Strawberry Guy (Alex Stephens) prepares for an upcoming run of special shows across the UK and the US by releasing reimagined strings versions of fan favorites "F Song" and "Mrs. Magic." Today, Strawberry Guy shares the Craig McLaughlin-directed camcorder video for "F Song (Strings Version)."
CHRISTINE AND THE QUEENS SHARES "MARVIN DESCENDING" VIDEO
Christine and the Queens' releases a stunning new music video for "Marvin descending" from his critically acclaimed fourth studio album, PARANOÏA, ANGELS, TRUE LOVE (Because Music). The video, directed by Red (AKA Christine and the Queens) and shot between the captivating backdrops of Paris, London, and Los Angeles, is both visually stunning and emotionally charged. It takes viewers on a mesmerizing journey through enchanting choreography and insightful visuals that perfectly complement the hauntingly beautiful track.
OBSCURE SORROWS Releases Haunting Self-Titled Album
OBSCURE SORROWS is an experimental instrumental project, creating piano-led soundtrack compositions with aspects of black metal. Traversing the ethereal and discordant, the new offering Obscure Sorrows is inspired by John Koenig's The Dictionary of Obscure Sorrows and makes for an immersive experience.
Empty Country (Cymbals Eat Guitars) Share "David" Single + Video via FLOOD
A.R. THE MERMAID RELEASES HIGHLY ANTICIPATED MUSIC VIDEO FOR "WATT WE DOINGG" OUT NOW!
Over throwback production laced with horns and a head-nodding bounce, A.R. The Mermaid gets to it and shows everyone "Watt We Doingg" in different ways as she takes over NYC. In the accompanying visual, she goes wild in an autobody shop, in a bakery, and in a tiny pool surrounded by models.
TERMINAL DUSK Unveil Haunting Video For "Marionette"
TERMINAL DUSK have unleashed the haunting music video for "Marionette", the title track of their latest EP.
Foxwarren's Darryl Kissick Returns with Captivating New Single "In the Middle"
Kissick is gearing up to release his third full-length album, Goodbye Patterns (out October 6th), which deals with the supernatural like aliens, werewolves, and time loops. First single, "In the Middle," is about receiving a life-altering vision from another dimension and losing one's sense of self, but for the better.
SHA GZ ANNOUNCES RUTHLESS GZ, HIS DEBUT TAPE, COMING SOON VIA SIGNAL RECORDS
Directed by Jsites, the visual comes as the perfect complement to the trippy track, which arrives following the release of his latest effort "Why". Over the weekend, Sha headed to Boston for an exclusive performance with Sweepers which received an overwhelming response from fans. Recently, Sha sat down with UK influencers Zionapong and Godswill for his latest Talk Of The Town interview.
Christian Artist Briana Domenica Shares Hope For Tomorrow With Her Powerful New Single, "Here I Stand"
Contemporary Christian singer/songwriter and inspirational speaker Briana Domenica is excited to announce the release of her brand new single, "Here I Stand." It was written from raw emotion and comes from a deeply personal place. Domenica aims to uplift and provide hope for tomorrow to those who are walking in the darkness of despair and battling doubts and fears. "Here I Stand" was featured on Radio SoBro's NuMu Friday upon release and is now available on all digital and streaming platforms.
VELVET CHAINS Returns with Surprising, Uplifting Single and Official Music Video, "I Am The Ocean"
After a successful South American tour opening for STONE TEMPLE PILOTS and THE WINERY DOGS, as well as a remarkable performance at the Summer Breeze Brasil festival alongside giants such as SEPULTURA, LAMB OF GOD, and SKID ROW, VELVET CHAINS is back in full force with the single "I Am The Ocean", available from July 21st on all major streaming platforms, starting a series of releases that will continue up to 2024. Produced, recorded, and mixed by KELLEN MCGREGOR, the new single cements the band's musical identity and, at the same time, brings new musical nuances, presenting a work in constant evolution and maturation.
"PISTOL" DEADHEAD DAISIES
New Release: The new cinematic official music video for "PISTOL," the second single from DEADHEAD DAISIES, is out now everywhere.
Directed by Aaron Alter, the new video is the first official music video from Toronto-based Deadhead Daisies, the latest project from songwriter and producer brother duo Jordan and Justin Kahn.
Endless Forms deliver an M83 inspired Dreamliner new album
Endless Forms was started by writer and producer Justin Allen in 2015 with the release of his debut Lazarus — a thoughtful album reaching out for a cathartic answer to life's looming existential questions. Endless Forms' subsequent releases — 2017's If There Were Water, 2020's More Than Candy and 2022's Electric Heat Hypnotized each dive progressively further into the fractal, sonically evolving with each release into a dreamy marriage of deep atmosphere, layered rhythms, and earnest lyrics, very m83-esque!
AZTLAN Release New Official Video For 'Revolucionarios'
Revolucionarios, from Mexican folk/death metal group Aztlan, is taken from the album Revolución. The concept of Aztlan is to expose the Mexican culture from ancient times like Aztecs and Mayan to the present day with the sound of Mariachi and Prehispanic Music through a world full of mysticism.
YAOUNDÉBOXINGCLUB shares new single "Another Victim"
French-Cameroonian, London-based singer, songwriter and producer YAOUNDÉBOXINGCLUB has gained great momentum since she released her debut EPI Thought I Knew You, Boy Was I Wrong back in March 2023, and in recent months her singles "Did It My Way" a stunning collaboration with tmdistant, and the indie rock-meets-pop punk banger "SNAKES". While she quietly works on her second EP which is due out in Spring 2024, she's releasing 3 standalone singles ("Another Victim" being the first) to show her appreciation to all her supporters.
ABBIE OZARD releases 'i don't know happiness without you' via House Anxiety
Manchester's Abbie Ozard releases new single 'i don't know happiness without you' today via House Anxiety.
ELLUR releases gripping new effort 'Free' | out now via DANCE TO THE RADIO
Leeds-based indie specialist Ellur shares gripping new effort 'Free', out today (September 7th) via revered indie label Dance To The Radio (Far Caspian, Low Hummer, Youth Sector).
New York based musician Totten Bridge shares 'Please Don't Love Me' single. (FFO: Ed Sheeran, Walk The Moon, Band of Silver)
New York based musician Totten Bridge released his infectious track 'Please Dont Love Me' on the 14th of July via StephJam Music. Refusing to be confined to genre, the multifaceted artist has garnered over 1.5 million streams across all platforms, as well as publication support from the likes of Notion Mag, Earmilk, Backseat Mafia, and Medium.
EDEN RAIN REVEALS GORGEOUS NEW SINGLE ' I FOUND MY BRAIN'// WATCH HERE & LISTEN HERE
Leeds born, London based artist Eden Rain continues to build the rising buzz around her with the reveal of new single ' I Found My Brain', a stellar alt-pop single produced by Halfrhymes ( Matilda Mann, Kings Elliot.) Showcasing the attention grabbing vocals and songwriting that have seen Eden gain press support from areas such Dazed, Best Fit and DIY as well as placements on Spotify playlists such as anti-pop, Fresh Finds, New Music Friday and more, the track is another razor sharp entry into a growing catalog. ' I Found My Brain' is taken from upcoming EP ' But I'm Alright Now', arriving in November alongside headline shows at The Lower Third ( London) and Oporto ( Leeds).