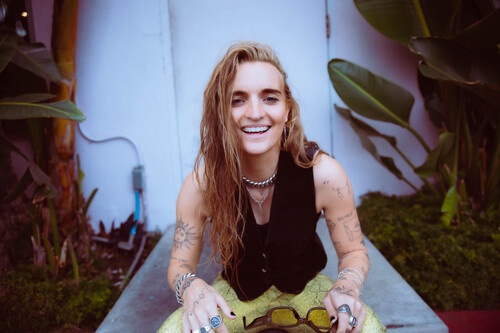 From the dawn of recorded music, the recipe for popular success has always been the same: great beats, great vocals, and raw attitude. Legendary bands have often been assembled around that exact formula. There'll be a powerhouse drummer, a charismatic singer with a glorious voice, and a rowdy side person who couples hot riffs with delicious impertinence. But what if you could get all of that in a single package? What if the beatmaker, the vocalist, and the guitarist were all the same talented person? Meet the Australian pop-rocker G Flip. Expect thunderous, hip-swiveling rhythms, impassioned vocals, and a full sonic spectrum of instruments from a dynamic musician who can make a modern classic with remarkably little assistance from others.
"Good Enough," the latest G Flip single, is a brilliant example of the heat this proudly nonbinary artist can bring. The song starts out like an Adele piano ballad: ruminative, full-throated, wounded but tough, effortlessly melodic and immediately engrossing. But the moment G Flip sits down at the kit, it's apparent that this is no slow dance number. From the moment the beat crashes in, "Good Enough" is an unstoppable rocker, sung with tremendous fire by the star and driven by a backbeat that pounds like the surf in a storm. It's a fierce reminder of G Flip's remarkable musical versatility.
Nevertheless, this album is named DRUMMER for a very good reason. The drums were G Flip's first instrument, and they're the racing heart of this exhilarating set. This artist has no intention whatsoever of conforming to pop convention: machine drums might be industry standard, but every rattling cymbal, earthquake kick, and gunshot snare you'll hear on DRUMMER came from G Flip's sticks, hands, and feet.
The drums are a focus of the energetic clip for "Good Enough," too. Director Kyle Caulfield (Yorke, Teen Jesus and the Jean Teasers) sets up the kit right on the sand. When G Flip hits the skins, remarkable things happen. Scenes switch between day and night. Skies open; rain slashes down on the crash cymbal. G Flip howls and hammers, unperturbed, straight through it all. The camera catches the exact spot on the snare head where the sticks hit home. As the rain falls, every downstroke is accompanied by a splash. It's all a visual metaphor for the drive and the power of the drummer: the most consequential member of the band, and the engine of pop-rock, now and forever.
Follow G Flip:
https://www.gflipmusic.com/
https://www.youtube.com/@GFlipDrums
https://www.facebook.com/gflipmusic
https://twitter.com/gflipmusic
https://www.instagram.com/gflip/
https://www.tiktok.com/@gflipmusic