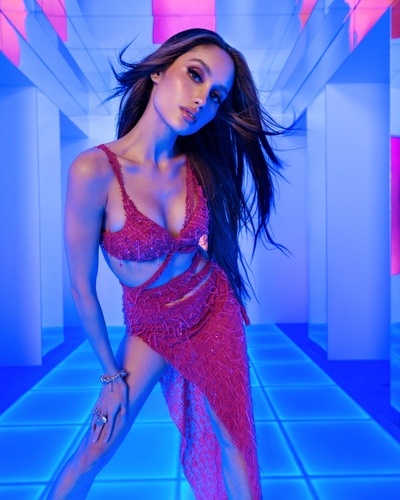 @skopemag news – friday – september 1, 2023 @ 10 am est
https://www.facebook.com/SkopeMag/
https://twitter.com/skopemag
https://www.youtube.com/@skopetv2
https://www.instagram.com/skopemag/
APP – Apple iTunes –
https://itunes.apple.com/app/id1465224822?mt=8
@skopemag APP – Google / Android –
https://play.google.com/store/apps/details?id=hr.apps.n207414718
Support @skopemag –
https://www.paypal.com/donate/?hosted_button_id=3APKAKT8K6ETW
TIMBALAND REUNITES WITH JUSTIN TIMBERLAKE & NELLY FURTADO ON NEW SINGLE "KEEP GOING UP" OUT NOW
Four-time GRAMMY® Award-winning iconic producer, songwriter, and artist Timbaland delivers the hottest reunion of the year on his new single "Keep Going Up" featuring Nelly Furtado & Justin Timberlake. It notably marks the legendary producer's first official solo single in over eight years and his artist debut under the partnership between his own Mosley Music Group and Def Jam Recordings.
DOJA CAT RELEASES NEW TRACK "DEMONS" & HIGHLY ANTICIPATED ALBUM "SCARLET" TO BE RELEASED SEPTEMBER 22ND!
GRAMMY award-winning global superstar Doja Cat releases her new track and music video, "Demons" today via Kemosabe Records / RCA Records. The music video was filmed in Los Angeles, CA and directed by Christian Breslauer (SZA/Chris Brown) and Doja Cat. The video features a special cameo from Emmy-Award winning actress, Christina Ricci ("The Addams Family" / Netflix's "Wednesday"). "Demons" made its broadcast premiere on MTV Live, MTVU, MTV Biggest Pop and on the Paramount Times Square billboards.
BUZZING UK PHENOMENON KENYA GRACE RELEASES NEW SINGLE "STRANGERS"
She initially teased the track on social media with a series of viral snippets. It caught fire on Instagram Reels, inspiring north of 119K creates and over 42K pre-saves in just 24 hours, while Kenya picked up 50K new followers in just 5 days. On the track, vibey synths wrap around an addictive drum 'n' bass core. At the same time, she layers evocative vocals over this propulsive backdrop. Her gentle delivery barely cracks a whisper as she captures the outpour of emotion at the end of a relationship. It culminates on a disarmingly catchy chorus as she sings, "Then one random night when everything changes, you won't reply and we'll go back to strangers."
QUEEN NAIJA TEAMS UP WITH YOUNGBOY NEVER BROKE AGAIN ON NEW SINGLE "NO FAKE LOVE"
Co-written by Queen and NBA YoungBoy, "No Fake Love" kicks off with a warning: "You betta be careful," the R&B songstress belts out before rumbling beats drop in. Over glimmering production, she continues to make her case. "I got the power to make 'em wait for me," she declares on the commanding hook. When YoungBoy slips in, he's just as self-possessed—if not a little on guard. "I ain't watchu like, then coach me," he lets loose in his nimble flow. "I love you, but this I don't need." As the song slides back into the hypnotic hook, Queen gets the final word, unleashing a powerful mantra: "I'm a force by myself; every time, IMMA bet on me."
Diamonds and Guns – "Making Cash For Heartless Crooks"
Swedish rock band Diamonds and Guns release the EP "Making Cash For Heartless Crooks". The Ep has a little bit happier tone than their earlier releases. More nostalgic-, party- and a small flirt with summer feelings. Melancholic, harmonious, energetically and beautiful dynamics between darkness and light in the lyrics. All of the songs are great ones.
Grandiose synchronised swimming in Erin K's 'Breathe' video
'Breathe' comes with a Wes Anderson style video which was shot in the grandiose Moseley Road Baths, in Birmingham. The gothic renaissance architecture provides a stunning setting for the synchronised swimmers that accompany Erin's performance in and out of the water.
LYOD delivers hotly anticipated debut album 'Forgot How You Dance'
Over recent months, Niklas Heidkamp aka LYOD has locked himself in a small cabin by the sea and worked exclusively on new tracks. The result is the German artist's captivating debut LP, Forgot How You Dance, released to much hype after a string of successful album singles. They include latest cut 'Ride Alone Again', featuring an enchanting recording of a Nigerian choir, 'Fighting For', a mesmerising fusion of dance and alternative rock featuring Bad Actor's hauntingly captivating vocals, 'Why Does My Heart', an exquisite new version of the iconic track 'Why Does My Heart Feel So Bad?' by Moby, and the plaintive house anthem 'If You Ever Need A Friend', which have together hit over two million Spotify streams. The album's focus track 'I Got A Dream' – co-produced by Alexis Troy (RIN, Schmyt, Clueso) – adds a further nuance to LYOD's thoughtful body of work, as its mesmerising vocals blend seamlessly with its stripped back production.
Hit Netflix anime series 'Baki Hanma' theme songs 'Sarracenia / Salvia' by SKY-HI and BE:FIRST are now streaming worldwide
Featuring the opening and ending theme tunes from Father-son face-off anime series 'Baki Hanma', which began streaming globally on Netflix on August 24, the new split single 'Sarracenia / Salvia' from SKY-HI and BE:FIRST is now available on streaming services worldwide. Music videos themed on each song have also been released on YouTube.
The video for the opening theme song, 'Sarracenia' by SKY-HI, which is based on the 'Baki Hanma' character Yuujiro Hanma, is like a blockbuster martial arts movie, in which the character played by SKY-HI must overcome various trials in his pursuit of the perfect bowl of miso soup. This bold, catchy video includes Easter eggs that 'Baki' fans will love, such as the Triceratops Fist martial arts technique that appears in the original manga.
OUT NOW: MAIH – Mon Plaisir (FFO Carly Rae Jepsen, Sigrid)
Hailing from the charming town Dale on the west coast of Norway, MAIH is starting to making waves in the world of Scandipop with music that cuts straight to the core, combining heartbreak and growing pains with bold production and big pop hooks. Having already released the singles "The Movie Of Us" and "You Don't Know Me Anymore" this year, she's about to release the third single from her debut EP. It's called "Mon Plaisir" and it's out today.
RAPIDLY RISING BRONX RAPPER CONNIE DIIAMOND RELEASES NEW SINGLE "GHETTO & RATCHET"
On the track, an ominous beat sets the tempo for a flurry of fiery lyricism from Connie. She rips bars over a thick bassline and delivers an instantly unforgettable hook, "I'm sorry, baby. I live in The Bronx. My bitches is ghetto and ratchet."
BREAKOUT R&B STAR LAYA RELEASES BET THAT EP TODAY
The seven-track body of work finds the genre-smashing siren in the zone. She flexes confidently and runs her own world unapologetically.
Karen Harding releases new single 'Wrong Places'
Multi-platinum singer Karen Harding has released her brand new single 'Wrong Places' today (Sept 1st). The track is quickly proving a radio hit and has shot straight onto the playlists of Kiss Dance and Capital Dance. It is latest song to be taken from her highly anticipated debut album Take Me Somewhere out September 29th via Ultra Records.
DINA AYADA RELEASES NEW SINGLE 'Flowers!'
Dina Ayada returns with her new single 'Flowers!' out now via LISTEN TO THE KIDS / Santa Anna in partnership with RCA Records UK, produced by Chuki Beats, Joe Stanley and KimJ. Since her last release, Dina has been busy hanging out with KPOP stars like Giselle and aespa, wrapping up her deput EP and her usual: breaking the internet. All of Dina's social accounts have experienced tremendous growth over the course of a week, of note, she's gained 25K+ additional Instagram followers following her On the Radar Freestyle Performance. 'Flowers!' is her first official single to debut post the thousands of new fans that have gathered.
KAYLA GRACE SHARES HER DEBUT EP 'GLASS CHILD'
Kayla Grace today releases her debut EP 'glass child', alongside a visualiser for its title track and new single. Blending confessional lyrics within a sonic tapestry of indie, DIY pop and punk, she has already earned high profile supporters in the shape of Matt Healy, Hugo Silvani (Pale Waves) and Radio 1's Mollie King and Maia Beth, as well as excited comparisons to Olivia Rodrigo, Holly Humberstone, beabadoobee and Gracie Abrams.
Melody Fields Delve Further Into Psychedelic fun In Two New Double Album
CINTA LAURA KIEHL exudes confidence on new banger "Loco" (9M on IG, 1.8M on TikTok)
Helmed by in-demand Brazilian duo Tropkillaz – who have cuts with the likes of J Balvin, Anitta, NCT 127 and M.I.A amongst others – "Loco" once again subverts expectations of what Cinta's millions of fans expect from the star with its blend of Latin-flavored dance beats, a hypnotic flute melody and Cinta's memorable hook to "go loco" in a mesmeric new effort from the Indonesian-German pop provocateur.
Mokroïé — Moving Forward
French composer, producer, and remixer Francesco Virgilio—better known as Mokroïé—has released "Moving Forward," first single and title track from his upcoming EP (out November 3, 2023). The single comes with a gorgeous music video edited and produced by the artist himself.
Elephants and Stars Debut Indie Rock Goodness on New EP, "Get Your Own Army", Out Today!
With the EP's second single "Gimme Ketamine," Elephants And Stars deliver the ultimate summer anthem with an infectiously catchy rocker that sees the band wearing the influence of groups like The Gaslight Anthem and The Goo Goo Dolls on its sleeve.
Ambient EDM Artist Sebastian Reynolds Reveals New Single + Video for "How to Move Forward"
ICYMI: Philly's Hood Tali Released "Belt To Ass" Visual, Single Out Today
Philadelphia rapper Hood Tali's official video for his track "Belt to Ass" is here. The song appears on his forthcoming project, 'Murder Rate Music' coming this fall.
THE PAPER KITES — New Album 'At The Roadhouse' Out Today
The Paper Kites have released their new album 'At The Roadhouse' today via Nettwerk Music Group, a sixteen-song collection that serves as a gripping ode to what waits for us on the winding paths of love, loss, acceptance and wanderlust.
London-via-Türkiye's SELIN keeps her foot on the gas with "LIGHTS OFF" [350K on socials]
A slice of vulnerable, smoky pop written by Selin with Oscar Bell (Beren Olivia, Phoebe AXA, Debbie), "LIGHTS OFF" takes shape as a powerfully emotive moment which faces the reality of having to close the door on a doomed love – brought to life by the raspy textures of Selin's beautifully rich vocals and her signature creative wordplay.
OUT NOW: Cinematic Electronic Producer Hologramme releases 'Slow' single
ANDREW WYATT RELEASES NEW SINGLE "MAYBE YOU KNOW ME NOW"
"Maybe You Know Me Now" follows prior single "Beyond The Pale," which served as Wyatt's first solo single in over a decade. Both tracks are set to be featured on Wyatt's upcoming new album, Some Day It Won't Feel Like Dying, a deeply intimate and personal reflection that takes on the demise of love as its main topic. Wyatt expertly crafts a sonic space that allows him to simultaneously mourn loss and reclaim his sense of self. Ranging in sound and inspiration, Some Day It Won't Feel Like Dying explores anger, regret, disappointment, confusion, the search for identity, and letting go.
Southern rock band THE STEEL WOODS' new single "The Man from Nowhere" available today
Co-founder, vocalist and guitarist Wes Bayliss shares the inspiration for the song: "It's a song loosely based on the story of Uncle Lloyd as a prequel to the Darrell Scott song we cut on our first record, It's written from the perspective of a man who just can't seem to get things right; hinting that his drinking and gambling addictions are the reason he's abandoned every good thing he's ever had going for him. When Connie and I were writing this one I started really getting excited about the record and realizing this crazy idea I had could actually be great."
GENRE-DEFYING BREAKOUT ARTIST KANII DROPS NEW SINGLE "marry me"
BREAKOUT R&B STAR LAYA RELEASES BET THAT EP TODAY
The seven-track body of work finds the genre-smashing siren in the zone. She flexes confidently and runs her own world unapologetically.
Paris Paloma's "as good a reason" Is A Bold Love Letter To Women; Listen Now
Indie-folk Singer Harrison Storm Discovers His Own Strength and Resilience in New Single "Stone"
Storm wrote "Stone" in the worst part of Melbourne's lockdowns, producing one of the heaviest moments on his forthcoming album. "At its peak, I could barely leave my house," he says. "I was so anxious, and I had this epiphany that I really needed to work on it. The chorus is, 'I'd rather be alone than together now,' but for me, it's not a negative thing. I need to be alone so I can have these reflections. I could've gone down such a negative spiral, but with the help around me I was able to be with it and nurture myself within it, so I could come out."
[PRESS RELEASE] Japanese singer-songwriter HIRAIDAI releases lyric video for 'HONEY&MOON'
Japanese singer-songwriter HIRAIDAI has released a lyric video for his song 'HONEY&MOON', which was published on August 30 as a YouTube Premiere release. The song is featured on 'SURF & TURF (Deluxe Edition)', which was released on August 27 as an expanded version of his 'SURF & TURF' EP, originally released digitally on June 25.
SAM FISCHER RETURNS WITH STUNNING NEW SINGLE "AFTERGLOW"
Filled with bright vocal melodies and euphoric reverbs, "Afterglow" is one of Sam's most uplifting songs to date. Written after a period of writer's block, the lyrics explore the theme of finding joy through clarity and shaking off the worries in life that can often weigh people down. Accompanying the single is its music video, directed by Joe Wood, which follows Sam as he has an otherworldly encounter.