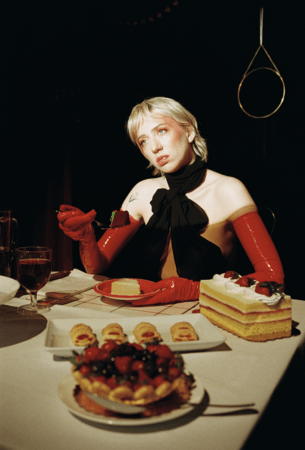 @skopemag news – thursday – august 31, 2023 @ 11 pm est
https://www.facebook.com/SkopeMag/
https://twitter.com/skopemag
https://www.youtube.com/@skopetv2
https://www.instagram.com/skopemag/
APP – Apple iTunes –
https://itunes.apple.com/app/id1465224822?mt=8
@skopemag APP – Google / Android –
https://play.google.com/store/apps/details?id=hr.apps.n207414718
Support @skopemag –
https://www.paypal.com/donate/?hosted_button_id=3APKAKT8K6ETW
Eldridge Rodriguez Share Single "Without All Your Teeth You Can't Get Into Heaven" via Under The Radar
Atrophy is the fifth full length release from the band Eldridge Rodriguez. The album demonstrates the bands wide range, veering away from the electro-rock and poli-power pop of their last two releases, The Castrati Menace and Slightest of Treason, in favor of a slacker indie feel while still incorporating the noise pop that the band has leaned on for over a decade. The themes on the tracks are more personal this time around focusing on love, loss and the burden of memory. In many ways it's lighter than previous albums. The band is having a bit more fun while still presenting a brooding exterior.
'68 Announce New Album, "Yes, and…," Coming Sept 29th Via Pure Noise Records
Revered Atlanta rock 'n' roll duo '68 will make their awaited return next month for the release of their 4th full-length album, "Yes, and…" Due out September 29th from Pure Noise Records, '68's latest offering is their hardest rocking record to date. A sonic explosion of heavy riffs and frantic rhythm abound on the band's massively anticipated follow up to 2021's critically acclaimed "Give One Take One."
Tadashi Drops New Summer Anthem "California"
Prolific Japanese-American rapper and producer Tadashi has released his latest track, "California," a song capturing the complex feelings of young love. With an exceptional talent for seamlessly blending elements from both rap and pop genres, his unique musical style possesses the power to draw in a diverse audience, immersing them in a profoundly authentic love story. "California" is now available to stream on all digital platforms.
Cameroonian Afro Futurist Pop artist Moken releases new single "Glory Days"
Atlanta's Moken, a Cameroonian Afro Futurist / Avant Garde pop artist with one of the most unique croons you've ever heard, is releasing his first new material since 2019's "Missing Chapters," which was lauded by Fader, PRI's The World, Popmatters and more.
FINAL GASP Release "Blood and Sulfur" Single – Debut Album 'Mourning Moon' via Relapse out Sep 22 – Boston Hometown Release Show Announced
Bermuda Yae explores the digital realm in Pi'erre Bourne-produced "Big 4" video
The music video for "Big 4" welcomes viewers into a surreal digital realm, blending VHS visuals with reminiscent hand-drawn animations. Yae indulges in his abundant wealth as it adorns the surroundings wherever he ventures.
Video: Kosha Dillz – Ups and Downs (Prod. by Black Surfer)
Kosha Dillz takes us through the ups and downs of his "Groundhog Day" lifestyle with a crazy cast of New York characters.
TEEZO TOUCHDOWN SHARES NEW SINGLE "YOU THOUGHT" FEATURING JANELLE MONÁE
Beaumont, TX based artist Teezo Touchdown connects with Janelle Monáe for his new single "You Thought." This is the latest single from his upcoming debut album How Do You Sleep At Night?, releasing September 8th via Not Fit For Society/RCA Records. In "You Thought," Teezo stitches tightly-wound raps into scuttling percussion and flaring electric guitar for a tongue-in-cheek flex anthem. Janelle Monáe adds a sweet touch by weaving in sweet romantic melodies.
OMAR APOLLO SHARES NEW MUSIC VIDEO FOR SINGLE "ICE SLIPPIN"
Omar Apollo shares the music video for his latest single, "Ice Slippin," directed by rubberband. This music video follows the announcement of Omar's forthcoming EP, Live for Me , due October 6th via Warner Records. "Ice Slippin" was co-produced by Omar and Teo Halm (ROSALÍA, Beyoncé, Lil Yachty). This latest offering follows the whirlwind of releasing his debut album IVORY in 2022, being Nominated as a Best New Artist at The Grammys in 2023, selling out his world tour, and joining SZA on her arena tour earlier this spring.
BLOOD LIGHTNING: "The Dying Starts" video premiering now
Boston heavy metal unit BLOOD LIGHTNING (with members of GOZU, Sam Black Church, Worshipper, We're All Gonna Die) teams up with Invisible Oranges today to present their new video "The Dying Starts". Their self-titled debut album will be issued on October 20th through Ripple Music.
DRAMA Announces Till We Die EP w/New Self-Titled Single + Music Video 'DRAMA'
Electronic R&B's heartthrob duo, DRAMA, producer Na'el Shehade and vocalist/songwriter Via Rosa, return to release their confidently self-titled single, 'DRAMA.' It's the third track off the duo's highly anticipated EP, Till We Die, dropping later this Fall. The newest single 'DRAMA' demonstrates Shehade and Rosa's sonic range with their fun immersion of genres, in retrospect to their previously released records 'Tighten It Up' and 'Feel The Same.'
YEULE SHARES NEW SINGLE "INFERNO"
yeule shares "inferno," the latest single off their forthcoming album softscars out September 22nd via Ninja Tune. "inferno" finds yeule lamenting over a relationship, incorporating burning analogies to describe the intensity in their heart.
Out Today take pause and think mindfully when you hear "Inbetweening" by Toronto indie rockers, The Lightning Struck
The Lightning Struck is an indie rock band from Toronto. To watch the Lightning Struck is to be transported to New York's Lower East Side, sometime between '69 and '91. Listen carefully – you can hear the Velvet Underground, Sonic Youth, the Ramones and Television. Of course, this careful curation of sound didn't happen by accident. In 2000, Loren Davie moved to New York City after listening to the Velvet Underground and Nico one too many times. After 20 years of making music there, he returned to Toronto, bringing that New York sound with him.
Theo Tams Shares "Parallel Universe," Mahrow-Produced RnB/Pop Single Exploring the Possibilities of 'What If'
"I get super inspired by travel and I was in the beginning stages of planning my wedding at the time," explains Tams. "I just started thinking all of those thoughts like 'What if we never met?' What if I lived here instead? What would my life look like?'"
NEW MUSIC (AUDIO LINK) Multi-Award Winning Singer-Songwriter-Producer-Author, ERIC ROBERSON Releases New Single, "I APOLOGIZE"
"I APOLOGIZE" was written and produced by Eric Roberson, Jairus Mozee, Brett "B Dubb" Baker and Rodney Jones. "The song is inspired by the creative gumbo that feeds my music. The theatrical musicality of Stevie Wonder, heartfelt word play of Commissioned and the unapologetic low end approach of A Tribe Called Quest," mentions Eric Roberson.
Seductive Alt Pop Meets Rock: MTV Favorite
"In a world where strength is encouraged, and expression of feeling has been painted as the opposite of strength, I'm over here arguing that one cannot exist without the other," says singer, songwriter and musician Beck Pete when approached about what motivates her unapologetically honest demeanor.
Tropical house flavour beats from WNDR
The newly released single 'Falling Down' incorporates much of WNDR's same recipe – catchy synths, a deep bassline and a strong, melodic female vocal – and highlights his ability to create catchy, deep and moody house tracks. In this case, the single is an experimental foray into the world of house, showcasing his darker side and creating an emotive feel for the listener.
Apex Predator – Bold Statement of intent from SW Newcomers
Post-grunge and garage infused debutants milkshed. will release their debut single 'Apex Predator' on 18th August 2023. Premiering their talents at none other than Glastonbury Festival, southwest three-piece fuse post-grunge and melodic hardcore to create an energetic and powerful rock track for the ages.
DannyLux Releases A Tropical New Music Video with Maye for "MI HOGAR"
DannyLux teams up with Venezuelan singer-songwriter, Maye, in his new music video for "MI HOGAR." The bachata ballad is part of DannyLux's latest music collection, DLUX, which recently debuted at #27 on Billboard's Latin Albums Chart. The Música Mexicana crooner reunited with director and longtime collaborator, Tevan, for the music video which was shot on the lush beaches of Miami Beach. DannyLux shared his experience on making the song and video with Maye and stated, "I was so excited to be working with her on this song and we had such a good time, everybody was on the beach as we filmed it. We danced the day away at the beach."
Melbourne's Sunday Honey return with new single 'Silver Lining'
Making a successful debut in 2022, Melbourne-based alt-rock group Sunday Honey have continued to build on an impressive run of early releases, with the new single, 'Silver Lining'.
Honeyed vocals and melodies meet introspective and clever lyricism on 'Silver Lining', with Sunday Honey setting up a musical space that is at both times inviting and immersive.