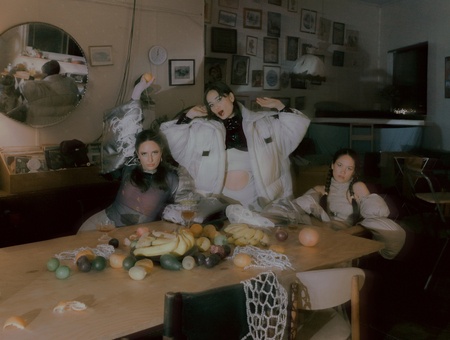 @skopemag news – wednesday – august 30, 2023 @ 12 pm est
https://www.facebook.com/SkopeMag/
https://twitter.com/skopemag
https://www.youtube.com/@skopetv2
https://www.instagram.com/skopemag/
APP – Apple iTunes –
https://itunes.apple.com/app/id1465224822?mt=8
@skopemag APP – Google / Android –
https://play.google.com/store/apps/details?id=hr.apps.n207414718
Support @skopemag –
https://www.paypal.com/donate/?hosted_button_id=3APKAKT8K6ETW
Poolside Announces New Single With Cut Copy's Ben Browning — "Ride With You" Is Out Today, Aug 29 On Ninja Tune/Counter Records
A seductive swing plus all the sweet things that make a straight-up, easy-to-love song sums up the vibe of Poolside's newest single "Ride With You," out today, August 29 (Ninja Tune/Counter Records). Here Poolside, which is the recording project of producer, songwriter and multi-instrumentalist Jeffrey Paradise teams with Cut Copy bassist Ben Browning and turns "Ride With You" into a co-write of new and nostalgia as island rhythms and steel drums ripple beneath Browning's echoing vocals. Look for the song to appear on Poolside's upcoming studio album Blame It All On Love.
Santa Chiara — Worth it or not?
Italian artist Santa Chiara announces debut album "IMPORTED" out October 20 via legendary indie label Kill Rock Stars. Today she shares the video for "Worth it or Not?", third single taken from the record.
MARZZ RETURNS WITH NEW SINGLE "IN THE MORNING"
Speaking on the song, Marzz adds, "This song represents a feeling of waiting until the morning, getting excited of the unknown. It's the wishful understanding of everything within a relationship. Sometimes we need understanding about falling in love when we're not sure."
Jim Jones feat. M Dot Taylor & Maino – Biggest Fan [DJ Pack]
TIËSTO UNITES WITH BIA AND 21 SAVAGE FOR "BOTH"
"As a fan of both 21 Savage and BIA, I'm super excited to have collaborated with them on this one," said Tiësto. "BIA and I had been looking to work together, and after sharing my new track with her and then hearing her verse I instantly knew this would be the one. Before she could cut another verse, 21 Savage hopped on and brought a whole new energy to the project ! I couldn't have asked for a better collaboration for this song !"
SleazyWorld Go Is On Fire In New Single "Got Me Hot"
Breakout rapper SleazyWorld Go earned his latest in a series of accolades earlier this summer with the announcement that he was selected as a 2023 XXL Freshman; the first artist to represent both Kansas City, MO, and Grand Rapids, MI, on the prestigious magazine cover. Since then, he's made an appearance at the 2023 BET Awards, released the anthemic "Don't Get Your Feelings In It" featuring fellow XXL Freshman Luh Tyler, and has been in the studio working on his forthcoming debut album.
Video Submission- Cuban Pete and BoFaat – IDGAF
Cuban and Bo drop the video for the third single from their acclaimed album 'The Year Of The Rabbit'.
'IDGAF' is about people's problems in being able to discuss and deal with certain issues.
The trick to dealing with them is to not give a f…
POTE BABY MOBS THROUGH SAVANNAH IN NEW "TOO MANY TIMES" VIDEO
He's reminded of the sacrifices, the times he's fallen short, and the lessons learned on the route to a hard-earned success. As he makes strides toward becoming the best version of himself, Pote soon realizes that chances make champions, no matter how many times it takes to get it right.
Viral Nigerian artist SALLE upgrades breakout track "Icon" with new visuals
OUT NOW: Carla J Easton (Poster Paints, Teen Canteen) – Sugar Honey
We've already had a few tastes of Carla J Easton's forthcoming new solo album SUGAR HONEY (out 20 October) in the shape of the singles "One Week" and "BLOOMING 4U" – plus bonus Bandcamp release "Be OK". The final single to be taken from the record is the anthemic title track "Sugar Honey", out 30 today on Olive Grove Records.
Coi Leray Releases New 'Blue Moon' EP Out Now
Once again, the project finds Coi firing on all cylinders, using her songwriting as a diary to reveal her unique perspective on life. She laces highly quotable bars with irresistible hooks, showcasing her lyrical acumen and impressive vocal delivery at the same time. She opens up the world of Blue Moon with the single and music video "Isabel Marant." Ethereal production underscores her breathy verses as she reminds, "They can't fuck with Coi Leray." It culminates on a hypnotic hook that's impossible to shake. The accompanying visual intercuts vignettes of Coi underwater, shimmering in blue glitter, and ruling this fever dream like a bossed-up high fashion mermaid.
Corinne Bailey Rae releases new track via 7″ single today
Multi-award-winning singer/songwriter Corinne Bailey Rae has today released a limited edition 7″ single featuring her hit single 'New York Transit Queen' on the A-side, accompanied by the brand new track 'Erasure' on the B side.
'Erasure' receives its world premiere today on BBC 6 Music when Mary Anne Hobbs plays it as her 'Near Future' track. It will be available on all streaming platforms on September 15th.
Asynchrone reimagines Ryuichi Sakamoto / New single & video out today
PROBLEM PATTERNS Reveal Debut Album 'Blouse Club' Released 27th October 2023 via Alcopop! Records
Belfast-based DIY feminist queerpunk quartet PROBLEM PATTERNS are delighted to announce that their debut album Blouse Club will be released on 27th October 2023 via Alcopop! Records.
KARRAS Unleash New Music Video For "Lutheran Blade"
Karras upload their next attack with the video for their current single "Lutheran Blade." Featuring footage of the punishing French trio performing live. Check it HERE –
BRITISH EPIC POP BAND MY LIFE STORY ANNOUNCES NEW SINGLE & TOUR
Epic pop pioneers My Life Story, headed up by charismatic frontman, Jake Shillingford, has announced a new single, 'I'm A God' is released on 30th August followed next year by a small UK tour and a new album. The tour includes two shows at the prestigious London venue the 100 Club on Oxford Street, the first, which sold out in a day is on Saturday 17th February 2024 and marks their first London show in over 2 years.
ArrDee makes feature film acting debut in 'Rise of the Footsoldier: Vengeance'
Fresh off his headline Wembley Stadium performance at Capital's 2023 Summertime Ball, British rapper ArrDee makes his feature film acting debut in the latest instalment of the wildly popular Footsoldier franchise, Rise of the Footsoldier: Vengeance, releasing wide in UK cinemas 15th September.
Benét shares 3rd single/video / Debut LP via Bayonet (Beach Fossils, yeule)
FIRE DOWN BELOW: get crazy with "Cocaine Hippo"
Belgium's fast-rising stoner rock torchbearers FIRE DOWN BELOW unleash the third single taken from their upcoming new album "Low Desert Surf Club", to be released this September 8th on Ripple Music.
Haiku Hands announce new album with "Feels So Good"
Today, Australian alt-dance trio Haiku Hands (Claire Nakazawa, Beatrice Lewis, and Mie Nakazawa) announce their upcoming sophomore album, Pleasure Beast, due December 1st via Spinning Top Records. To celebrate their new LP, the trio return with a thumping pop anthem, "Feel So Good," a Gorillaz + Fatboy Slim-inspired cut of euphoric indie sleaze with a propulsive break beat that will make you want to dance, as well as boasting an all-star production team consisting of Dan Farber (Lizzo, Tkay Maidza, G-Flip) and Josh Fountain (BENEE, Ladyhawke). Listen to "Feels So Good" HERE.
Wilderado Release "In Between" Single & Video Today
"'In Between' is one of those songs that fell out while struggling to write several other tunes. We paused in a moment of frustration while at the studio and found a riff Justin (drummer) had written several years back. The song appeared as a reprise in the space caused by exhaustion, writer's block and imposter syndrome. There's an easy nature to it that seemed to form itself. The lyrics came in with the melodies and all we really did was sit around and enjoy it. Then we had to go back to working on the others." – Max Rainer, Wilderado
Beharie shares dynamic, dreamy track + lyric video "We Never Knew"
Today, Norwegian alternative R&B-soul singer-songwriter Beharie shares the smooth, dreamy track and lyric video "We Never Knew" out everywhere now. The track's ethereal production captures the mixed emotions that come with a relationship ending quicker than it was supposed to. Atwood Magazine exclusively premiered the track and calling it, "passionate and smoldering," adding, "Beharie's soul-stirring song 'We Never Knew' delivers an achingly intimate and emotionally charged postmortem on a love he thought might last a lifetime."
Premiere: Beharie's Soul-Stirring "We Never Knew" Is a Passionate Postmortem on Lost Love
Rockshots Records – Brazil's AS THE PALACES BURN Get "Into Emotions w/ New Music Video Off New Album "Drowning Into Shadows" Out Oct 2023
Signing with Rockshots Records, the band is presenting their new album "Drowning Into Shadows" to follow their EPs "Offer To The Gods" (2022), "All the Evil" (2020), and 2019 debut full-length "End'evour". Those releases pushed forward the band's growing recognition in their home country along with earning them nominations from Roadie Crew Magazine's "Best of the Year" awards in both 2019 and 2020.
Celestial, Iridescent Single about Escapism – Surprise Baby "Motorcycle"
Surprise Baby is the Los Angeles based project of musician and songwriter Sarsten Noice and producer Claire Morison. Described as rock and roll cowboy meets indie pop, the two, who are originally from Northwest Montana, use their long-standing relationship as friends and creative partners to craft a sound which is both authentic and captivating.
Bran Van 3000's Liquid Ltd charts his journey with new jam 'I Walked'
Fresh off the success of his song 'Hard Labor', which has been heard on radio all over Europe and has just been featured in Bafta winning editor screenwriter Will Gilbey's new action-thriller film Jericho Ridge, Liquid Ltd is reflecting on his life journey, from struggles to enlightenment in consciousness, with new hip-hop meets Americana single 'I Walked', out 25th August!
Dan Pallotta Shares "Couldn't Make It Rhyme," Folk Reflection on Emotional Unavailability and the Passage of Time
Narrative finger picked acoustic guitar is underscored by gentle accordion playing from Bryan Mitchell as Pallotta speaks of chasing an unavailable partner during his time spent in Los Angeles where he first pursued a career in music several decades ago.
The song further cements Pallotta's collaboration with album contributors Soozie Tyrell of E Street Band fame on fiddle and bassist Tony Garnier, music director for Bob Dylan.
THXSOMCH RETURNS WITH BRAND NEW SINGLE AND MUSIC VIDEO "SPIRAL"
About the track, ThxSoMch shares, "It might be about getting high and leaving your worries and anxieties behind. It might be about things coming and going. It might be about mentally spiraling out of control. It's about whatever the listener needs it to be about – I don't care."