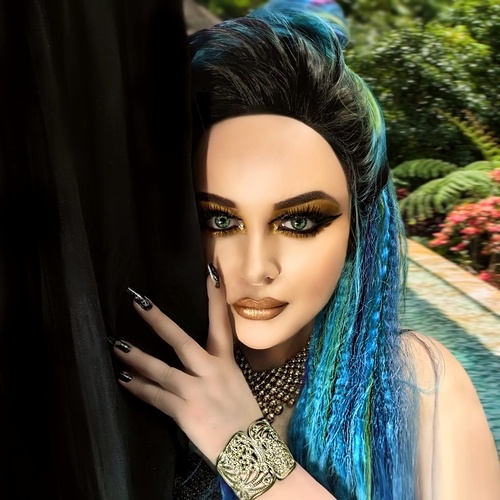 The new song "In These Eyes" by TaniA Kyllikki feat. Rynellton is seriously epic and is a one-of-a-kind, super cool masterpiece.
When internationally acclaimed UK songstress TaniA Kyllikki releases a new song, it is always an international smash and an undeniable radio-friendly masterpiece, so we are left pleased that the hype has once again been rewarded with her latest composition, "In These Eyes," featuring Rynellton, also known as her husband and producer, Garry D. Hairston.
Without question, "In These Eyes" is straight fire! It's like nothing else out there, super cool and unique. It's a total masterpiece. It's a seamless fusion of genres and cultures that resulted in a performance that was both sincere and soulful. The track's Egyptian-themed cover art, with TaniA's own makeup look, is unquestionably stunning and stands out from the crowd.
The song opens with a driving electronic beat that hooks the listener right away. TaniA's hushed, inviting British-speaking voice sets the stage, drawing the listener in and making them want to consume the work in its entirety. TaniA's flawless, exquisite, and mysteriously evocative voice joins the instrumental depth after the percussion section.
Her vocal range is just incredible, and her golden voice leaves you wanting more. The bright side is that she has no qualms about actually using it. It's a feast for the ears, heart, and soul, with an exotic ambience made possible by the addition of backing harmonies inspired by Arabic music.
Rynellton adds depth and variety to the song with his rap verse, showcasing his talents as a rapper and producer. While Most of TaniA's songs deal with more sombre subjects, "In These Eyes" is an upbeat love ballad about a man who, after being captivated by a beautiful woman's green-blue eyes, pursued her until they were betrothed.
This song deftly defies classification, drawing from a wide variety of genres and styles, including house, soulful R&B (thanks in large part to TaniA's mesmerising vocal performance), hip-hop (thanks to Rynellton's delivery), Egyptian/Arabic pop (thanks to the unmistakably rhythmic-minded and driven percussive lines), and the melodic edge of rock (which is quite inescapable given the arrangement).
As has been the case throughout TaniA's career, "In These Eyes" is a comprehensive work of art that showcases TaniA Kyllikki's versatility and ingenuity. With a second album titled "Free-Spirited" in production and due for release in 2024, "In These Eyes" gives us an exciting teaser of what's to come.
All store's link:
https://ditto.fm/in-these-eyes
Socials for TaniA Kyllikki:
https://www.facebook.com/TaniAKyllikki
https://www.instagram.com/taniakyllikki