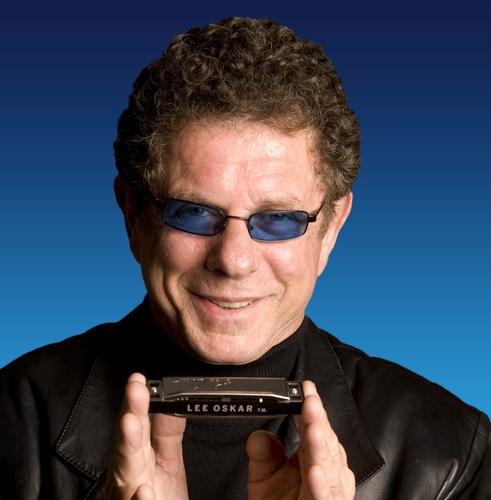 Internationally renowned harmonica virtuoso Lee Oskar is a well-established creative in many areas. On top of co-writing and performing the earworm melodies of chart-topping songs like "Low Rider," "Cisco Kid," and "Why Can't Be Friends," alongside superstars such as Ke$ha, Pitbull, and more, Oskar is an accomplished producer, composer, businessman, visual artist, and musical explorer. Immigrating at age 18 from Denmark to New York City, Oskar built his life almost purely on his harmonica talent. Without speaking English, he translated his inner emotional life and observations into song. He often quips, "I may not speak right, but at least I know what I'm talking about," and his melodies are a testament to the power of inner reflection and felt expression through pure instrumental sound. For the things that just can't be expressed in words—that's where Lee Oskar shines. Take some time to dig back through this sonic poet's catalog in anticipation of his upcoming album, She Said Mahalo, due out on September 15, 2023.
A tasty morsel of bread running up to the release of She Said Mahalo, Lee Oskar's new single "Funky Rhetoric" is a funk-pop magnum opus for our celebrated master of harmonica. Over a bluesy, funky, and infinitely danceable groove, Oskar blows and croons out expressive, curious, and joyful runs of melodic genius. The lyricless composition is Oskar's refutation of the empty rhetoric of our days. Instead of throwing more words into the picture, he invites us to feel. And you'll hardly be able not to feel, smile, or move your hips once he starts finessing his holy harmonica.
Dive further into the mind and sonic vibrations of Lee Oskar with the music video for "Funky Rhetoric." Directed by long-time collaborator Dmitri Antos, the video cuts between scenes of Lee caressing his harmonica with his esteemed backing band and scenes of modern strife and conflict. Below, Antos translates Oskar's funky riffs into a poetic reflection on the state of the world, eventually pointing towards music and community as our universal salve. After a rising sense of mania, the composition, poem, and video all turn towards peace, harmony, and unity as we encounter scenes of dancing children, natural wonders, and even an ecstatically joyful alien (don't miss it). Put on Lee Oskar's "Funky Rhetoric." Feel heard. Feel joy. Then boogie.
Follow Lee Oskar:
https://leeoskarmusic.com/
https://www.youtube.com/leeoskarharmonicas
https://www.facebook.com/LeeOskarHarmonicas
https://twitter.com/@leeoskar
https://instagram.com/leeoskarharmonicas
https://tiktok.com/leeoskarharmonicas