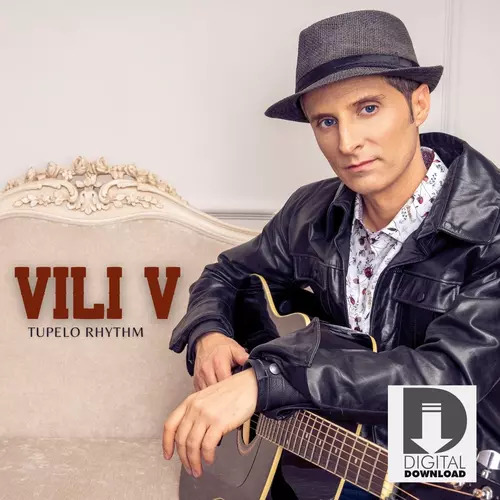 Canadian singer/songwriter and roots rock artist Vili V serves up a delightful musical ride with his latest single. He steeps "Tupelo Rhythm" in the blues and summons up the sights and smells prevalent south of the Mason-Dixon line with off-handed ease. It belies the hard work necessary for such magic to take hold. It's another enjoyable mile-marker in a 20 year and change musical journey that's taken Vili from promising obscurity to global notoriety and the respect of his audience and peers alike. It's an early taste, as well, from his pending new album release In Daddy's Arms Again, and shows a recording and performing artist operating near or at the peak of his considerable powers.
https://www.instagram.com/vilivthemusic/
It is dead sure to be an appealing live number. "Tupelo Rhythm" comes on with good-natured ribald chutzpah, never too strident, but flashes enough teeth to leave its mark. Its traditionalist bent may play as an old hat for some listeners. Vili, though, lays down a zesty and likable vocal exuding enough personality to overcome any sense of over-familiarity. Pouring old wine into new bottles is a noble pursuit, especially when we're talking about a fine vintage as we taste with this track. It has a timeless flavor.
The main story of this song is the parrying between Vili's voice and the guitar work. The latter isn't virtuosic. It's down-home rock and roll, straight no chaser, and has enough distortion hanging off the six-string lines to give it a welcome switchblade quality. Vili's voice is clear, never overly affected, and the cut benefits from him playing it straight. He has a little of that same switchblade quality at critical points and conveys a sense of total immersion in the places and experiences the lyrics convey.
The drumming has a real snap and an appreciable amount of power. Groove has paramount importance in songs such as this and "Tupelo Rhythm" straddles a line between the blues and rock and roll with perfect balance. Listeners aren't inundated with overkill fills, and it punctuates the performance at the right junctures. One of Vili's shrewdest moves is adding near-barrelhouse piano to the song and spotlighting its contributions past the song's midway point deepening its impact for listeners.
Vili V doesn't sound like some Canadian pretender attempting to mimic his American musical heroes. He sounds like he grew up with this music surrounding him every waking moment of his day until it threaded its sound into his DNA. You can't fake this sort of thing; either you have it or you don't. Vili V clearly feels it to his core and his understanding of what makes songs such as this tick leap out at you in every line.
Expect more of the same from In Daddy's Arms Again. "Tupelo Rhythm" shows anyone interested how it's done and leaves you invigorated and sporting a big grin on your face. There's nothing finer and we shouldn't expect anything less from this talented performer. Check this out today and enjoy the ride.
Mark Druery