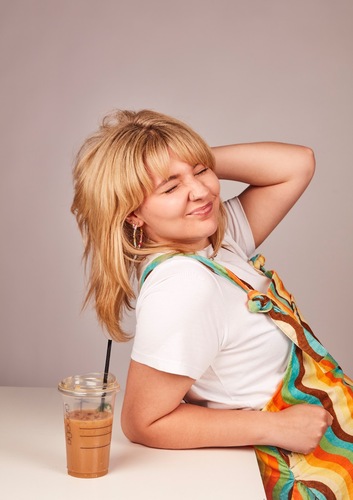 @skopemag news – thursday – august 17, 2023 @ 3 pm est
https://www.facebook.com/SkopeMag/
https://twitter.com/skopemag
https://www.youtube.com/@skopetv2
https://www.instagram.com/skopemag/
APP – Apple iTunes –
https://itunes.apple.com/app/id1465224822?mt=8
@skopemag APP – Google / Android –
https://play.google.com/store/apps/details?id=hr.apps.n207414718
Support @skopemag –
https://www.paypal.com/donate/?hosted_button_id=3APKAKT8K6ETW
HOZIER SHARES THE OFFICIAL VIDEO FOR "DE SELBY (PART 2)"
In anticipation of his third studio album Unreal Unearth out this Friday, Hozier has released the official video for his latest offering "De Selby (Part 2)" starring Irish actor Domhnall Gleeson (Harry Potter, Star Wars, The Revenant). Drawing inspiration from the song's title that shares its name with a character from Irish literary classic The Third Policeman, the visual finds the Tony Award, Golden Globe, and Critics Choice-nominee traversing deserted landscapes as a man who is unknowingly dead. Watch the Wolf James-directed video HERE.
Out Now – "BLUR" Princess Goes
What started out as a complex, multi-layered song that pulled inspiration from MGMT and Coldplay, "BLUR" was refined bit by bit as early versions were played for eager fans on tour. Becoming part of the process, live audiences witnessed the band stripping the new single back in real time – honing it into an atmospheric, all-consuming synthwave tour de force while keeping the soul of the original.
YTB Fatt reminds you pimpin' ain't easy in "Pimp Problems" video
DC The Don Ignores Texts From His Ex In "Tell Shyanne" Video
DC The Don pushes boundaries and has created a sonic world entirely his own. Two weeks after releasing the R&B-inspired "Tell Shyanne" in celebration of his 24th birthday, he shares the music video for the luscious track. On top of glistening synths and a driving bassline, DC contemplates his love life, ignoring calls and texts from his ex-lover while he drives around in a shiny new Maybach. Even as he tries to shift his focus to a new love interest, he can't ignore the glaring stare from a scorned lover in the packed-out crowd at one of his shows.
Kings County – New Single & Video "So Cold"
With over 2 million plays on their latest video, "Holding On", Kings County is a force to be reckoned with and is proving it once again with their new hard rock single and video, "So Cold" dropping August 25, 2023. Kings County always blasts their hard-hitting guitar riffs, blazing vocals and intense, melodic sound in your face, and this time is no exception.
VON WILDENHAUS – Avant-pop artist releases "Ghost Moon" || + Announces UK Tour this September
HUMOUR share new single "Wrangel" & tour with Do Nothing
At the tail end of last year Glasgow's Humour put out their debut EP "Pure Misery", a six-track fever dream that established the band as one of the most exciting new bands on the circuit, a record they called themselves "a montage of miserable things… a bit desperate and a bit grim, but also a bit ridiculous".
K.Flay & Pierce The Veil collaborate on new single
'Irish Goodbye' is the album's heaviest and hardest-hitting track, an intimately detailed portrait of choosing self-preservation over succumbing to possibly toxic desire. "I was screaming in the demo to that song and eventually I realized, 'I have a friend who screams professionally, so maybe I should get him on this,'" K.Flay recalls.
BAT FOR LASHES ANNOUNCES 'MOTHERWITCH'
The deck is a hand-illustrated reimagining of Tarot, using multiple original female archetypes, visual symbols and an abstract spiritualist painters' colour palette, to provide a storyteller's guide into the mysteries and beauty of our own internal landscapes. The Motherwitch oracle deck lands somewhere between Brian Eno and Peter Schmidt's 'Oblique Strategies' and the Wild Unknown Tarot Deck, while the deck also stands alone as a bespoke art object in and of itself.
MOTHERWITCH ORACLE DECK – PRE-SALE
JAZMINE FLOWERS SHARES THE NEW SINGLE 'i'm DONE'
Rising talent Jazmine Flowers imagines that her music is what you would hear in the "R&B lounge of some dystopian club in 3045," but that forward-thinking approach is already making waves in 2023. Early tracks such as 'awkward' and 'detached'have inspired comparisons to the likes of FKA twigs, Jhené Aiko, Kehlani and Banks, while her ascent has been boosted by airplay at Radio 1 and 1Xtra as well as shows with Becky Hill and Dylan. Now she shares her new single 'i'm DONE' as the first release under a new deal with BE83 / Sony (Jaykae, Dapz On The Map).
Liz Cass releases scorching new single 'Too Hot'
Liz Cass has released her brand new single 'Too Hot', a scorching pop track which glistens with an 80s disco shimmer as she casts away fickle past relationships among its infectious funky groove.
Jamila Woods Shares New Single and Video 'Boomerang' co-written with Nao. New Album 'Water Made Us' out October 13 via Jagjaguwar
Michael Incognito – New Single 'Let Loose'
Suffolk Indie-Rock Singer-Songwriter Gabby Rivers Shares New Single 'Two Face' Ahead Of Upcoming EP
Suffolk based Indie singer-songwriter Gabby Rivers returns with the explosive new single 'Two Face', taken from the anticipated upcoming EP Disappointed But Not Surprised.
Piano Power Ballad from New York artist Tim Young // NEW VISUALS
Tim Young is a multi-Grammy certified vocalist, songwriter and music producer from New York City. Over the years, Young has had the privilege of working with the likes of Paul McCartney, David Bowie, Max Martin, Ashanti, Hugh Jackman and Lin-Manuel Miranda, to name a few. His atmospheric rock meets alternative pop sound, has been described as Lana Del Rey meets Journey, meshing atmospheric storytelling with aggressive audio production, to create something that is uniquely his own. His lyrics share brutally honest and tragically hysterical stories from his very colorful and very strange life.
As Friends Rust address life's complexities on single "No Gods, Some Masters"
LUKE BLACK releases 'I'm So Happy' | First single since Eurovision
London based Serbian artist Luke Black reveals Lily Allen influenced new single 'I'm So Happy' today, with an exclusive NME interview.
Sexyy Red & Sukihana Take Over the Country Club in "Hood Rats"
A master of unprintable bars and shout-a-long hooks, Sexyy Red is one of rap's freshest new stars. Reuniting with her kindred spirit Sukihana for her first new song since releasing Hood Hottest Princess, Sexyy shares "Hood Rats," her new single. Produced by Tay Keith, the man behind the boards for her Billboard Hot 100 hit "Pound Town," Suki and Sexyy compete to see who can craft the most outrageously quotable lyric: Sexyy reiterates her preference for men who drive Hellcats, while Suki plots a way to seduce Joe Biden in the White House.
Modern Nature Shares New Single "Cascade" / New Album Out Sep 29 via Bella Union
No Fixed Point In Space, the third full-length album by Jack Cooper's Modern Nature, takes the palette of sound and themes that were honed on 2021's Island Of Noise and launches them into an expansive world of openness and vivid technicolor. It's a music that hasn't been heard before; as melodic as anything Cooper has produced but framed by rhythms and instrumentation that reflect the chaos, unpredictability and color of the natural world.
MRCH SHARE THE NEW SINGLE 'EASIEST TO BEND'
'Easiest To Bend' sees MRCH's shoegaze-tinged dream pop becoming ever hazier, with shimmering waves of distorted guitars buzzing around Mickey Pangburn's hushed, reverb-heavy topline and celestial vocal harmonies. Its hallucinatory ambience is equalled by its crunching dynamics, ensuring that its sonic contrasts possess an edge in keeping with the complex emotions of its lyrics.
K.Flay's "Irish Goodbye" Ft. Pierce the Veil's Vic Fuentes out Today! New LP out 9/15
Dutch Tulips share new single "Gold Chain" w/ music video
Boston rockers Dutch Tulips are proud to share their contemplative new single "Gold Chain." The band's first new music since their 2021 debut album Double Visions, "Gold Chain" is available now at all DSPs, with an accompanying music video streaming now at YouTube. Though the quartet is hard at work on their next LP, this single – a prime example of their energetic, anthemic indie rock – provides a welcome stopover until its release.
k.d. lang's Tribute to Tony Bennett, "Because of You," out Today
k.d. lang recently recorded the song that was Tony Bennett's first no. 1 hit, "Because of You," for CBS News Sunday Morning, in memory of her longtime friend, teacher, and musical collaborator. Nonesuch releases the recording today, August 17, 2023; lang is donating her proceeds to the Tony Bennett Legacy Fund of Exploring the Arts, the nonprofit he and his wife Susan Benedetto founded. Bennett and lang recorded Arthur Hammerstein and Dudley Wilkinson's song together for his 2006 album Duets: An American Classic. lang's new version was recorded at NightBird Studios in West Hollywood, CA.
PISTOLS AT DAWN Release New Single "Fly" (Radio Edit) + Lyric Video via Megaforce Records/MRI Entertainment
Swedish Release Video For "Shovel Beats Sceptre"
Oxymorrons drop "Look Alive (Netic)" upcoming 'Melanin Punk' album
Oxymorrons continues to revolutionize the music scene with their latest single, "Look Alive (Netic)." Out today, the track is the fourth release from the NYC-based genre-defying and trailblazing band's upcoming debut album, Melanin Punk, available on October 20th via Mascot Records.
'WALKING DEAD' STAR EMILY KINNEY RELEASES NEW SINGLE "BROKEN AIR CONDITIONING"
Jullian Records recording artist, singer-songwriter Emily Kinney today releases her new single "Broken Air Conditioning." The song is the latest single from her upcoming LP Swimteam, out September 22, 2023.
Terra Lightfoot Shares Urgent, Upbeat Pop-Rock Track "Cross Border Lovers" from Upcoming 'Healing Power' LP
The album's lead single, "Cross Border Lovers," is an upbeat pop rocker of longing, hope, and faith, inspired by fans of hers that Terra had met who were in long distance relationships heavily affected by pandemic restrictions, as well as reflecting on her own relationship (Terra's partner was able to make it up to Canada from Seattle just before the border was closed).
MICHAËL BRUN RELEASES "COMING YOUR WAY" WITH ANNE-MARIE & BECKY G
"Coming Your Way" is the perfect song to soundtrack the final fleeting days of summer. The music video, directed by Andrea "Dre" Saaverda, is summer encapsulated; Anne-Marie, Becky G and Michaël turn up the heat as party guests dance away to the trio's global anthem. The new summertime single made its broadcast premiere on MTV Live, MTVU and MTV Biggest Pop in the U.S., plus MTV Music UK, MTV Hits UK and MTV Hits International, as well as on the Paramount Times Square billboards in New York. The track also premiered as BBC Radio 1's Hottest Record In The World.
Chile's J.P. Krom Conjures The Mystical With "Luna Plutón" Off Upcoming Gothic Metal EP "AstroMetal"
"Luna Plutón tells us about dark family secrets, kept in the dark of our minds. Secrets we all have, and some know and they use them to manipulate, generating resentment and an obsession with these emotions fixed in the deep. It seems that nothing can purge our blame, that most of the time we try to deny."
SLOMATICS Release New Single "Voidians"
"Voidians was one of the first songs written for Strontium Fields, so in many ways it sets out our stall for the album. We've been loud and we've been quiet, but on this song we wanted to be everything at once. This song also laid out the emphasis on vocals on the record and gave Marty the opportunity to really stretch himself as a singer. If we had to choose one song that represents the band, this one is as close as it gets" – David