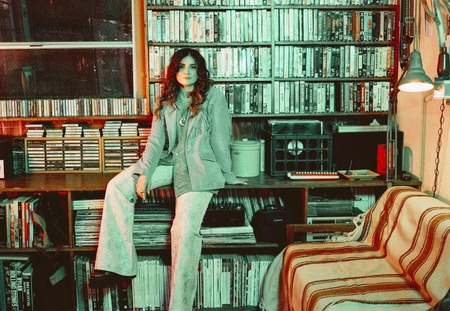 @skopemag news – friday – august 11, 2023 @ 3 pm est
https://www.facebook.com/SkopeMag/
https://twitter.com/skopemag
https://www.youtube.com/@skopetv2
https://www.instagram.com/skopemag/
APP – Apple iTunes –
https://itunes.apple.com/app/id1465224822?mt=8
@skopemag APP – Google / Android –
https://play.google.com/store/apps/details?id=hr.apps.n207414718
Support @skopemag –
https://www.paypal.com/donate/?hosted_button_id=3APKAKT8K6ETW
OUT NOW: HoneyLuv Enlists Cakes Da Killa For New Single 'Bring It Back' via Insomniac Records
Today, rising underground icon HoneyLuv releases her intoxicating new single 'Bring It Back' featuring New York rapper Cakes Da Killa out now via Insomniac Records.
Dalton Dover Revisits '90s Country with "Night To Go"
"When I heard this song for the first time, it took me back to being a kid. This is the kind of music I grew up listening to," shares Dover. "I wanted to do something that would make my '90s Country heroes proud."
POP-ROCK TRIO 'THE BAND CAMINO' RELEASES HIGHLY ANTICIPATED NEW ALBUM THE DARK TODAY VIA DBLBLK/ELEKTRA RECORDS
Today, Nashville-based pop-rock trio, The Band CAMINO (comprised of Jeffery Jordan, Spencer Stewart, and Garrison Burgess) proudly reveal their awaited sophomore album, The Dark, available now via dblblk/Elektra Records. Fueled by the band's infectious, unguarded, guitar-driven sound that first captivated fans on tryhard (which spawned early fan favorites "Daphne Blue" and "See Through") and their self-titled debut album, The Dark boldly challenges the complexities of life, love and self-discovery, inviting listeners along for the ride.
ILSEY SHARES EMOTIONAL BALLAD "YELLOW ROSES"
California singer/songwriter Ilsey has shared new single "Yellow Roses." The emotional ballad builds to a cathartic crescendo as the artist explores the pain of unrequited love. The track arrives alongside an official visualizer, which is streaming now on Ilsey's official Youtube channel.
"'Yellow Roses' has the deepest emotional resonance for me," shared Ilsey. "Longing for love that you can't have is really the touchstone of the heartbreak of the album. That's the root of my personal heartbreak."
Rahway Releases New Music
Rahway, the hard rock powerhouse renowned for their electrifying performances and thought-provoking lyrics, is set to make waves once again with their highly anticipated new single, "Drowning." The track, which pulls no punches, delves into the depths of social media pretense, shedding light on the unspoken struggle faced by individuals who go to great lengths to project a glamorous façade on their online profiles.
Mouths of Babes Return with New Single and Announce Upcoming Album
(New York, NY) With the release of the new single, "Summertime," Mouths of Babes announce the album, World Brand New, to be released October 6, 2023. The highly-anticipated, self-produced follow-up to the duo's award-winning LP, Brighter in the Dark, World Brand New is a Folk/Americana album in the old-fashioned sense: an album with an arc, meant to be listened to all the way through on good headphones with no distractions. With ten songs that range from stuck-in-your-head-catchy to cinematic and orchestral, Ty Greenstein and Ingrid Elizabeth take you on a journey hinted at in the cover art: In seeking the safety and comfort of home, one must venture out to the turbulent sea, step fully into the chaos and despair of the world, and face a reckoning, in order to encounter the promise of renewal.
Indie pop duo corner club announce second EP 'in the rearview mirror' + share biting single "whenever you're ready"
PETER MCPOLAND RELEASES DEBUT ALBUM 'PIGGY'; STARS IN CINEMATIC VIDEO FOR ALBUM-FAVORITE "DOG"
DEVON COLE RELEASES CHEEKY NEW SINGLE & MUSIC VIDEO "DICKHEAD"
TONE STITH RELEASES NEW SINGLE "I NEED YOU"
Andy Frasco & The U.N. share new studio album L'Optimist; "put-it-all-out-there lyrics, and upbeat mix of infectious musical styles and beats"
Andy Frasco & The U.N. have released their much anticipated new album, L'Optimist via Fun Machine Records/Soundly Music. L'Optimist is Frasco's most hopeful and enthusiastic collection thus far in his career and has earned the praise of outlets like Westword, Forbes and Relix. A testament to Frasco's wide-ranging influences and boundless energy, L'Optimist sees the magnetic frontman continuing to chart his path of self-exploration and personal discovery through increasingly introspective lyricism and musical adventure.
Dogstar Releases Electrifying New Single "Breach"
Demand for Dogstar's sold out 25+ City Headline Somewhere Between the Power Lines and Palm Trees Tour, which kicked off yesterday with an exhilarating performance at Saint Rocke in Hermosa Beach, was overwhelming as the tour sold out on the first day of ticket sales. The tour continues with a Phoenix tonight and then a run of west coast dates across cities like Las Vegas, Salt Lake City and Denver through the end of the month, before they take their live show overseas for three dates in Japan in early September. They will resume their North American dates in December in cities like Chicago, Toronto, New York City, Boston, Philadelphia, DC and Atlanta before concluding on December 20 in Nashville, TN.
Eric Nam Shares "Don't Leave Yet"
Rock artist Charlie PS perseveres in chasing her dreams despite hardships on new single "Even If It Kills Me"
"Even If It Kills Me" is inspired by Charlie's journey through COVID after much self-work and going from a chronic overthinker to being in a much more peaceful and carefree head space, as well as the notion of persevering through things that you love to do, even if they aren't always easy – for Charlie, this situation is about the music industry and being a musician.
Norwich Indie-Funk-Rockers Pretty Terry Release New EP 'Golden Age Of TV'
Mac Wiseman's 'Songs That Made The Juke Box Play' Available Now For First Time Ever On Digital & Streaming via CMH Records
In an effort to honor and preserve seminal classic country and bluegrass albums, CMH RECORDS (Country. Music. Heritage.) has remastered and rereleased Mac Wiseman's Songs That Made The Juke Box Play. Now available for the first time ever on digital and streaming platforms, this expansive 22-track collection showcases the legendary "The Voice with a Heart," supported by an expert backing band including Western swing master Johnny Gimble on the fiddle and mandolin.
BREAKOUT R&B STAR LAYA RELEASES HARD-HITTING NEW SINGLE "NEED 2 KNOW"
Sliding in over sharp beats, a spiky synth, and her signature wallop of bass, LAYA sets up her attack with grit and grace. "Gettin' pussy twice a night must be nice," she sneers, her silvery voice touched with pain. "I ain't telling you to wear some shoes you can't fit in, but I'm gonna need the truth so come with it," she adds before diving into a silky chorus that evokes the best of '90s R&B. In typical LAYA style, it's raw, real, and utterly irresistible.
PLAGUESTORM Unleashes First Single from Upcoming EP, "Empty Eyes"!
LEFT TO ROT Premiere New Single "Come To Me" Over At Metal Injection
LEFT TO ROT is set to make an explosive return with their new EP, Breath of the Tomb, due out October 6th. The five track project is both brutal and punishing, with scathing lyrics underscored by a jarring wall of sound. In 2021, the band released a demo EP. The debut served as a powerful expulsion of chaotic energy, introducing the world to the raw, frenzied sound of LEFT TO ROT. On the death metal trio's sophomore effort, they build upon that foundation and set out to bring their core philosophy to life.
HEAVEN SHALL BURN – Release Video For "Valhalla" For The 10 Year Anniversary of VETO
HEAVEN SHALL BURN have just dropped a video for their classic cover version of Blind Guardian's "Valhalla" to celebrate the 10-year anniversary of their milestone album, VETO. The video was directed by their longtime partner, Philipp Hirsch and guitarist Alexander Dietz, check it out here and spot the very special guest:
Joey Valence & Brae Release "GUMDROP" | Debut Album 'PUNK TACTICS" Out 9/8
EXEK Announce New LP, Share "Welcome to my Alibi" Single
Today, Australian post-punk sextet EXEK — singer Albert Wolski, guitarist Jai Morris-Smith, synthesist Andrew Brocchi, trumpeter and backing-vocalist Valya YL Hooi, bassist Ben Hepworth, and Chris Stephenson on the drums — announce their forthcoming sixth full-length LP, The Map and the Territory, out October 6 via Foreign Records. To celebrate the announcement today, the band also shares the record's first single, "Welcome to my Alibi."
Melbourne Post-Punk Sextet EXEK Debut Dystopian Animated Video for "Welcome To My Alibi"
Frank Viele Shares "Claws" Single via American Songwriter + Exclusive Feature | On East Coast N.A. Tour | New LP Coming in 2024
Today, Connecticut-based singer-songwriter Frank Viele shares a heartfelt and vulnerable new track entitled "Claws," a follow-up to his previously released tracks "The Trouble With Desire" and "Hearts We Left Behind." All three singles, each shared with an accompanying lyric video, serve as an introduction to Viele's forthcoming 2024 full-length LP, set to exhibit the musician's exceptional storytelling and strong roots in a wide range of genres from rock and blues to folk and country.
Frank Viele Ventured to Muscle Shoals to Make New Music, Found "Claws"
A LIGHT DIVIDED Release New Single "RAIN" to all major platforms!; Announce August Tour Dates with Rise Among Rivlas!
FW: For Skope: Nicky Romero's new club single "Mahoya" (out now) from forthcoming EP and 1st-ever solo show "Nightvision"
Meditations on Crime Share "Robbin' Hoods" ft. Quelle Chris, Jean Grae, Money Mark + LA show w/ Julia Holter, Geneva Jacuzzi + more
RESTLESS ROAD RELEASE NEW TRACK "ROLL TIDE ROLL" FROM DEBUT ALBUM; ALBUM OUT OCTOBER 20
Rising trio Restless Road (Zach Beeken, Garrett Nichols and Colton Pack) release their new track "Roll Tide Roll" just in time for football season (listen here). The Bama inspired track was written by Zach Beeken, Garrett Nichols and Kyle Sturrock and is featured on the trio's upcoming debut album Last Rodeo, which is due out on October 20th.
Indie-Folk Band Flyte Shares the Delicate New Single "Speech Bubble"
Today, British band Flyte shares the intimate "Speech Bubble," the third single from their newly announced third album, the self-titled Flyte, set for release on October 27th via Nettwerk. A sparse track with gentle acoustic strums and soft piano, "Speech Bubble," features delicate harmonies from Will Taylor and Nick Hill.
Ez Mil shares deluxe LP 'DU4LI7Y: REDUX' & "Realest" ft. Eminem lyric video + track "Podium" out now
Today, Philippines-born, Las Vegas-based multi-faceted musician, Ez Mil, who both raps and sings, shares the highly anticipated, layered deluxe version of his second album, DU4LI7Y: REDUX, out everywhere now. Plus, the musician shares the lyric video for recently released track "Realest" featuring Eminem and new track "Podium" out now following his recent signing to Eminem and Dr. Dre's Shady Records/Aftermath Entertainment/Interscope Records. Mil joins the likes of 50 Cent as only a few of the artists signed directly to all three labels.
PETEY'S NEW SINGLE – "DID I MENTION I'M SORRY" – IS OUT TODAY
In the official video, Petey and his band pay a visit to a fictitious Bulgarian talk show. As they perform "Did I Mention I'm Sorry?" for a live studio audience, they're surprised by a pair of enthusiastic dancers who join them onstage. Charlotte Ercoli directed and Ricky Zissou produced. View HERE.
CHAPPELL ROAN RALLIES IN "HOT TO GO!"
Chappell Roan Rallies In "HOT TO GO!"
Ashlynn Malia Shares "Nobody Else" Single + Video via Wonderland, Ones To Watch l More New Music Coming Soon via Jullian Records
Speaking on her new single, Ashlynn wrote: "There's nothing like the chemistry between you and that one person who's terrible for your mental health."
Cory Wong releases new song feat. dodie; new studio album out August 18
"dodie is one of my favorite singer-songwriters of our generation," says Cory Wong. "She pours out who she is into her music and she is transparent and relatable with who she is as a person. It's so rare to see someone reinvent themselves time and time again but absolutely crush it every time. I first became familiar with dodie because of YouTube, and then really dove into her artistry and music, and she recently started a band with some of her collaborators called Fizz that I am DIGGING!
Vevo and Post Malone Release Exclusive Performance of "Something Real"
Vevo, the world's leading music video network, announces the release of Post Malone's Official Live Performance of "Something Real" off his new album Austin, out now. Vevo's Official Live Performances are the result of close creative collaboration with artists and their teams, resulting in a series of very special exclusive performances. "Something Real" follows Post Malone's previously released Vevo Official Live Performances of "Overdrive" and "Green Thumb."
ABSOLUTELY CAPTIVATES ON NEW SINGLE "SPEAK UP" OUT NOW!
The track's haunting acoustic guitar transmissions sound as if they were piped in from another galaxy. Meanwhile, manic whispers underline her soulful delivery as she exhales on the hypnotic hook, "I don't smoke 'cause I get paranoid. I've been in my bed all day—had to just fill the void." Following this confession, she urges, "Speak up." It highlights the inimitable push-and-pull at the heart of her signature style.
MEDIA ALERT | Giggs Announces Tracklist For Upcoming Project, 'Zero Tolerance' + Check Out Recent Fire In The Booth Freestyle
Global recording artist Giggs released his new single "Mandem" featuring Diddy today. The Peckham rapper's new offering unites two rap titans and is the first taste of his forthcoming project, Zero Tolerance, out August 18th.
Produced by LouisAura, "Mandem" comes complete with a Buck and Myles Whittingham-directed video starring both Giggs and Diddy. In the visual, we see Giggs transitioning and evolving through his various groups of "Mandem".
Out Now: Electronic synth-pop band Telly shares new single & music video for "BLINK" (RIYL: Frou Frou, Sylvan Esso)
Public Image Ltd. Release New Album 'End of World' via PiL Official Ltd, Today; Tour of UK and Europe Kicks-Off September 8
It was 45 years ago that John Lydon rearranged pop music – for the second time – with the introduction of innovative experimentalists Public Image Ltd. Almost a half-century on, PiL are an avowed musical institution (and, since Lydon wrested control from record labels roughly a dozen years back, they are truly independent, releasing records on their own PiL Official Ltd label. Today, Public Image Ltd. have released their vital eleventh studio album End of World worldwide by PiL Official Ltd via Cargo Records/Redeye USA –
HIP-HOP HEAVYWEIGHT GHOSTFACE KILLAH RETURNS WITH UNFILTERED NEW SINGLE "YUPP!" FEAT. REMY MA
Yup, Ghostface Killah is still rapping circles around his contemporaries. This time around, the New York giant doubles down on his signature style of slick raps as he attacks the beat with savage intentions for "YUPP!." Remy Ma matches his intensity, bringing her own flair into the mix with the kind of tongue-in-cheek lyricism that has made her one of the best female emcees, ever. Together, Ghostface and Remy deftly guide listeners through their quick-hitting lyrical flexes and celebrate hip-hop's 50th birthday in the same sequence.
THE VEER UNION Team with JODY BLACK on Alt-Metal Cover of BILLIE EILISH "You Should See Me In A Crown"!
Out Today Low Country Hill alt-folk supergroup returns with title EP track "A Billion Rooms"
The title track of the EP was inspired by the emotional juxtapositions of society made forefront during the pandemic in a time of such suffering. "The title "A Billion Rooms" comes from the last verse and chorus of the song. Quite simply it's just a hunger to feel a broader and deeper solidarity with people in their pain and suffering but also feeling a tinge helpless to do much about it."