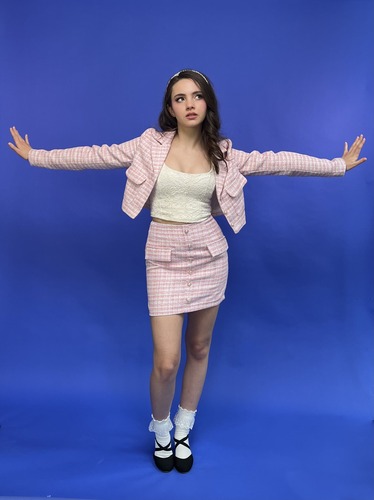 If you grew up in a family of talented siblings, would you shy away from the spotlight or step into it? If you're like punk-pop artist Jojo Engelbert, you not only step into the spotlight but blaze a trail of your own. While her siblings became Daytime-Emmy nominated stars of Steal the Show and Ariel & Zoey & Eli Too through their light-hearted messages of support and vibrant pop fun, Jojo courageously explored and expressed the more shadowy sides of adolescence, relationships, and life. Growing up on the passionate fearlessness of acts like Lana Del Ray, Marina, and Avril Lavigne, she carries their torch in style and substance. Her hit songs "Grown Up" and "Sweet n Sour" – written and produced with her talented sibs – speak to teenage angst, identity formation, and the emotional struggles of growing up. Now producing a steady flow of electrifying singles, she's amassing an army of eager fans and followers who deeply relate to her vulnerable and infectious take on life. As she continues on her reflective journey in creativity, we'll have the privilege of seeing Jojo Engelbert emerge more and more as a voice of her generation in years to come.
In her signature punk-pop style, Jojo Engelbert gives us an edgy glance at adolescent infatuation with her new single, "Not a Real Blond." When big sister Zoey pitched this song, Jojo had to have it. It had the hook, the lyric and the vocal range that she craves. Launching with a distorted riff that screams 90s grunge bliss, Jojo explores her push-pull journey of attraction to a boy with fake blond hair. Her soaring, expressive vocals communicate the emotional tension of her situation as she wonders if she can trust him—is he showing up authentically or just another poser? Somehow she manages to step outside the teenage experience to express it more fully. Take note, young performers: this is pop songwriting and performance at their best.
Take another dose of scrumptious angst with the music video for "Not a Real Blond," directed by Jojo's dad, Matt Engelbert. Plastered with classic punk imagery—barbed hearts, paper clipping lyrics, and so on—the video follows Jojo as her crush (played by Jackson Dorfmann) plays tug-of-war with her heart. Through its color and wardrobe, the video also pays homage to this summer's blockbuster Barbie and the '90s classic Clueless. Donning an obnoxious quaff of blond hair, we understand why Jojo is questioning his authenticity. However, as the story plays out, both Jojo and the viewer discover the loveable goofball underneath the Bieber-esque wig. Be sure to watch until the end for a special sequence with the wig you won't want to miss!
Follow Jojo Engelbert:
http://instagram.com/therealjojoengelbert