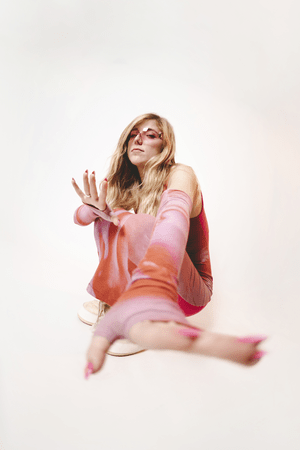 @skopemag news – friday – august 4, 2023 @ 9 am est
https://www.facebook.com/SkopeMag/
https://twitter.com/skopemag
https://www.youtube.com/@skopetv2
https://www.instagram.com/skopemag/
APP – Apple iTunes –
https://itunes.apple.com/app/id1465224822?mt=8
@skopemag APP – Google / Android –
https://play.google.com/store/apps/details?id=hr.apps.n207414718
Support @skopemag –
https://www.paypal.com/donate/?hosted_button_id=3APKAKT8K6ETW
Empty Country (Cymbals Eat Guitars) Announce New LP
Today, Empty Country — the project of musician Joseph D'Agostino (Cymbals Eat Guitars) — returns with the announcement of their sophomore LP on Get Better Records (US) / Tough Love Records (UK), a full-length aptly entitled Empty Country II (due 11/3). To celebrate the announcement today, the group share the newest cut off the record, a track called "Erlking," alongside an accompanying music video.
Hello June Announces New Album ARTIFACTS, Launches New Single "Interstate"
West Virginia indie rock group Hello June will release a new album entitled Artifacts on October 6 via 31 Tigers Records. Artifacts is the group's second album and their first in five years, following their self-titled debut in 2018.
"I landed on the title because if there's one thing we're left with, it's memories of other people: artifacts that we take with us through life," says frontperson Sarah Rudy.
Tove Lo Releases Official Music Video For 'I like you.'
SOUR TIMES Announces New EP Awaken The Voiceless
American extreme metal outfit SOUR TIMES are back with their highly-anticipated follow-up to 2021's The 11th Hour. Their new EP, Awaken The Voiceless promises to be staunch, rageful and explosive in its blend of raw aggression and melodic inclination. Today, the band has revealed the new single "40 Foot Noose" alongside a striking lyric video.
Music Submission: Wuzy Bambussy new single 'Shoo Be Di Do'
Shoo Be Di Do is a slinky, jazzy pop number, complimented by sassy big band brass and shuffling irresistible grooves. All brought to life by the inimitable Bristolian vocalist Kat Harrison. Lyrically the theme is writer's block, with the unreachable words and music that haunt and tease both the waking and subconscious hours.
Lily & Madeleine share sweeping track & video "Rolling Rock" out now ahead of 5th LP
Today, Indianapolis-based folk-pop duo Lily & Madeleine share sweeping track and behind-the-scenes style video "Rolling Rock" out everywhere now. The pair's enchanting fifth studio album Nite Swim is due out October 6 and is available to pre-order now. On the pensive latest release, "Rolling Rock" smoothly–and warily–glides forward to find an end could lead to a new beginning.
Reminder: Zack Miranowic's New Single "Seems Like Yesterday"
Yungblud Releases Official Music Video For Latest Single 'Lowlife.'
Yungblud has shared the official music video for his latest turbo-charged anthem "Lowlife." The video, which made its broadcast premiere today on MTV Live, MTVU, MTV Biggest Pop and on the Paramount Times Square billboards, was directed by Priya Minhas and Yungblud and follows the internationally acclaimed musician, as he and a representation of his cheeky younger self strut around the iconic Camden Town, London. Watch HERE.
STRABE Share New Single "Honey" || From Debut Album, Out October 20
STRABE have today premiered new single "Honey", which is available now on [PIAS]. The band will release debut album How Our Love Grows on October 20th, introduced in style with "All My Heart" (alongside a stunning, AI-generated video) & recent track "Memories". Having gone viral for their first track "Best Worst Year" – which surpassed 11 million streams over the pandemic – and dropped acclaimed first mixtape JUVENOIA, STRABE will launch the record at a London headline date at The Lower Third on September 14th.
"Lips Of An Angel Pt. II" from Shaylen and Austin John Winkler Due Aug. 30
Nashville-based country artist Shaylen and Austin John Winkler, the original lead singer of Hinder, announce the release of "Lips Of An Angel Pt. II" — a country-infused rendition of the iconic No. 1 song that retains its original edgy rock elements and dynamic vocal prowess — to happen on Wednesday, August 30 via Two Hats Music Group.
Yatta Bandz Seeks a Love That Transcends Space and Time on "4Lifers"
Yatta Bandz commands a legion of fans who respond to his relatable lyrics, heart-on-sleeve honesty, and easy way with melody. Demonstrating all three of those qualities on the latest glimpse at his upcoming album TUFF LUV, the 21-year-old rapper shares "4Lifers," his latest music video. Working through the higher-end of his vocal register with raw emotion, the Bay Area native takes a page out of Mary J. Blige's book, looking past short-term flings and searching for a real love. Winding around thumping 808s and gently-plucked acoustic guitars, Yatta makes his intentions clear: "Run around, he gave you the run around/But you chasin' temporary love until the sun is down/Girl, I couldn't help but notice you been feelin' hopeless/And Imma be the one to make it better now," he croons. In the video, directed by Jay Pusha, Yatta and his one-and-only travel through space and time, keeping their spark as they move from the modern day Bay Area to an ice planet to a Prohibition-era speakeasy and back.
Danny Towers & DJ Scheme Upgrade The Wrists in "Chunky Monkey" Video
Florida boys through and through, DJ Scheme and Danny Towers have had a seismic impact on the underground scene and they're just heating up. Returning to cook up with more chemistry than Ben & Jerry, the rapper-producer duo share their latest video, "Chunky Monkey." With melodic assistance from Pompano Beach's Loe Shimmy, The track finds Danny reflecting on his trapping past, comparing it to his independent rap grind: "Presidential Rollie, Ronald Reagan/No videos in the trap, you must be tryna get it raided/Forty on my lap, you know I keep a cutter baby/Going through some sh*t, you better call the voodoo lady."
PREDATORY VOID – Release "A Portrait", A Short Film By Diana Lungu
"Predatory Void feels like something totally new, it's like learning to walk again and of course there's ups and downs", says Lennart Lennart Bossu (guitar). "It's important for people to realize that we're really just a group of individuals who have the irresistible urge to play music, and that we'll inevitably fuck up now and then, but that's how it is."
PREDATORY VOID have just released "A Portrait", a short, but intimate documentary by Diana Lungu about the people and the dynamics in the band that you can find here:
Canadian Power-death act Balrogath Release New Ep; Stream In Its Entirety
Brooding and melodic with a fiery modern energy, "We Bring Calamity" kicks in the gates with the first single "Calamity." Playful rhythms and soaring leads that will get buried in your head for days followed by powerful vocals tearing the sonic landscape to shreds make this track stand out as a powerful starting place for this release. "Of The Abyss" picks up where Calamity finishes, setting an engaging groove to headbang along with. Again the use of rhythm stands out, with an ebb and flow to the lyrics and percussion that crashes like the thunder of waves. Just when the mist clears, a powerful and familiar force gathers momentum, "Endless Lifetime of Hate" has begun. A familiar song for long-time followers of the band, finally manifested in its true form. A mighty, frantic expression of love for fantasy explodes as the final track on this crushing EP.
Danny Towers & DJ Scheme Link Up With Loe Shimmy for "Chunky Monkey"
Cade Hoppe Shares New Single "Only Human"
New York-based indie-pop artist Cade Hoppe presents "Only Human," the new and final single from his upcoming EP, 'Just Look At The Moon.' The EP, which is slated for release this Fall, will also include recent singles "Moon," "Fool's Gold," and "Labels."
DOJA CAT RELEASES NEW SINGLE "PAINT THE TOWN RED"
ETHAN BORTNICK GETS HIS LASSO FOR WESTERN-INSPIRED TRACK "DOPPELGÄNGER"
Says Ethan about "doppelgänger," "I've been very vulnerable in my songwriting for the past year, and "doppelgänger" sees me playing a character for the first time. It's a projection of something I'm afraid to become, but I know I already am. The song is an homage to the wild-wild west in an attempt to draw parallels to the chaotic nature of my chronically online generation, and how it has subtly made us all mentally ill. "
LISTEN NOW: EZ MIL FT. EMINEM "REALEST"
Keanan serves up sweetness on summer anthem 'Butterscotch'
'Butterscotch' is a sweet-tasting summer anthem that will leave you craving more and more. Retro-inspired, Keanandescribes the track as "funky pop with a twist" as he brings his playful rap energy to the table. Ingredients include a bouncy bassline, groovy horns and a memorable chorus that can only be described as euphoric, transporting listeners to the dancefloor as the viral star delivers the perfect song for the summer.
GENRE BLENDING DJ & PRODUCER [IVY] RELEASES NEW SINGLE 'LOOKING 4 ME'
Combining distorted vocal samples and pounding percussion, 'looking 4 me' showcases [IVY]'s signature style, effortlessly blending DnB, house, 4×4 and techno. Speaking about the track [IVY] says: 'I have a passion for genre merging and "looking 4 me" is the perfect marriage between techno & drum and bass. I love how this song embodies female empowerment while bringing a sassier side to the drum and bass world'.
Ophelia's Eden releases enchanting debut album Boundary Road
After a string of successful singles, rising singer-songwriter Ophelia's Eden unveils her much-anticipated debut album Boundary Road, out today.
A reflection on the singer's nomadic journey, Boundary Road is an enchanting listen from back to front. Inspired by the divine feminine, the production of the album was a therapeutic release during the lockdowns, and aims to uplift listeners and bring positivity to life.
Rap Newcomer IZE shares visual for single 'Gang Shit'
Essex rapper and creative Ize, shares his latest track 'Gang Shit' alongside an aspiration visual, out now via X Management.
SHORE Releases New Song "Lost Time"
SHORE releases their new song "Lost Time" today to all digital retail outlets and service providers on Legend Label Group. Following up their latest song "Come Over", "Lost Time" is the next release off of their upcoming EP, Love & Distress set to release on September 1st. The song was produced by Adrian Disch and co-written by Colton and Dawson Shorman.
LYOD delivers transcendent new single 'Ride Alone Again'
Rising producer LYOD returns with his anthemic new single 'Ride Alone Again', out 4th August on OUT FIT.
Featuring an enchanting recording of a Nigerian choir, 'Ride Alone Again' conjures a unique and uplifting atmosphere that is truly exceptional. LYOD's skillful production seamlessly blends with the choir's captivating harmonies, creating an irresistible fusion that transcends the everyday.
Keni Titus shares stunning new single "american spirit" // Listen here
Today's new single follows Keni's release of "if u want" in June, and further demonstrates the extent to her divine vocal abilities and dreamy use of instrumentation to whisk you away to a place of serenity. She is an effortless talent to be emerging from The US right now and aims to share her experiences through songwriting as a way of turning the page on those times.
EL ARTISTA EMERGENTE URBANO OAL PRESENTA SU ELECTRIZANTE NUEVO SENCILLO "PARA QUÉ"
"'Para Qué' habla sobre las frustraciones que puede traer el amor no correspondido. Le hace a la otra persona la perpleja pregunta: ¿Por qué? ¿Por qué hacerme sentir así y hacerme pasar por tanta turbulencia emocional?" comparte Oal. "Al igual que mi último sencillo 'Tirando,' 'Para Qué' es una canción post-crush: puede ser emocionalmente doloroso, pero ahora me doy cuenta de mi error al permanecer atado a tus afectos por tanto tiempo, y me niego a involucrarme más contigo. Realmente será, como dice la canción, tu pérdida".
Sweden's Sarah Klang Announces New Album 'Mercedes' Out Oct 20
Making music is how Klang has always processed changes in her life – like moving to the country and changing schools as a young girl. The experience had a profound impact on her life, not least because of how tough her school was – a place where bullying was rife. Being an expectant mother took her squarely back to that period, recalling what she experienced in vivid detail after years of suppressing the memories. Nowhere is this more apparent than on her emotive new single "Halloween Costume," which deals with themes of teenage bullying and mental health musically wrapped in bright americana-pop warmth. Listen to "Halloween Costume" HERE.
Tony Jay signs to Slumberland, announces new LP & shares title track
Recorded entirely in 2021, Perfect Worlds, the new album by San Francisco's mysterious lo-fi pop legend Tony Jay, delivers an intimate record of thirteen dreamy, assured arrangements that further cements Tony Jay's status as a dejected crooner of the quotidian par excellence. Drawing inspiration from failed relationships, lack of sleep, a bicycle injury, and depression, Tony Jay (headed by Flowertown/Sad Eyed Beatniks member and SF scene mainstay Michael Ramos) pairs catchy melodies and hushed vocals with ethereal instrumental tracks.
#1 HIT SONGWRITER JOHN MORGAN IS HAVING A "COLD SUMMER IN SAN ANTONE"
Multi #1 hit songwriter John Morgan is having a "Cold Summer in San Antone" with release of his latest wrecking-ball track, available everywhere today. Written by John with Ben Hayslip and producer Will Bundy, the brooding new song depicts the isolation and coldness a broken heart can inflict, even during the most brutally hot season in Texas.
GLOCKENBACH & ELLA HENDERSON RELEASE "LIFELINE"
"Lifeline" is another head-banging tune, showcasing Glockenbach as one of Germany`s most exciting new electronic artists. With their last two singles alone, the hitmaking crew generated nearly 100 million streams worldwide. "Lifeline" is an up-beat dance track perfect for electrifying dancefloors this summer.
MAX Joins Forces with JVKE and Bazzi for Dreamy New Single "Strings"
"I proposed to my wife 3 months after we started dating with a song I wrote for her called 'Lights Down Low,'" MAX explains. "I knew she was the one. 8 years later we have a beautiful 2-year-old girl together, and somehow my love for my wife grows stronger every day… I hear strings play every time she walks my way!"
Giggs Releases New Single/Video "Mandem" ft. Diddy Today
Global recording artist Giggs released his new single "Mandem" featuring Diddy today. The Peckham rapper's new offering unites two rap titans and is the first taste of his forthcoming project, Zero Tolerance, out August 18th.
Produced by LouisAura, "Mandem" comes complete with a Buck and Myles Whittingham-directed video starring both Giggs and Diddy. In the visual, we see Giggs transitioning and evolving through his various groups of "Mandem".