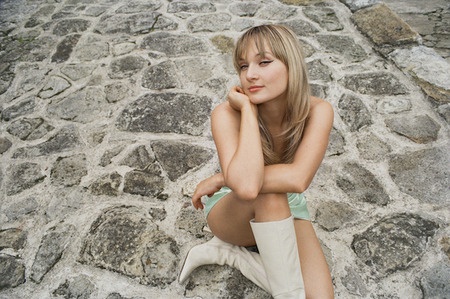 @skopemag news – thursday – august 3, 2023 @ 12 pm est
https://www.facebook.com/SkopeMag/
https://twitter.com/skopemag
https://www.youtube.com/@skopetv2
https://www.instagram.com/skopemag/
APP – Apple iTunes –
https://itunes.apple.com/app/id1465224822?mt=8
@skopemag APP – Google / Android –
https://play.google.com/store/apps/details?id=hr.apps.n207414718
Support @skopemag –
https://www.paypal.com/donate/?hosted_button_id=3APKAKT8K6ETW
NIA ARCHIVES RELEASES NEW SINGLE "BAD GYALZ"
Nia Archives is unstoppable. Following the release of her seismic summer banger "Off Wiv Ya Headz" in June, she returns today [Wednesday 2nd August] with a ravey original vocal-led single entitled "Bad Gyalz". Given a raucous reception last weekend during her headline performance at Outlook Festival and kicking off with a BBC Radio 1 Hottest Record on R1 Future Sounds by Jack Saunders, this anthemic track rich with captivating relatable lyricism is for all the bad gyalz who came to dance and skank, expressing themselves without judgement.
Cassetta drops new single + music video for "Thin Blue Crime"
CASSETTA, a new project based out of greater Los Angeles, has released their latest single "Thin Blue Crime" on Bandcamp, Youtube, and all DSPs. The hardcore/metal group blends influences from the heaviest, darkest spaces to create a relentless, pummeling wall of sound. The music video is out today on Youtube and was directed by Brad Alexander (Fake Figures etc).
OXX: No Echo Premieres "The Lake And Everything Around It" Video From Danish Technical Hardcore Trio; Fourth Album, The Primordial Blues, Nears Release Through Nefarious Industries
"The Lake And Everything Around It" is the latest single from Aarhus, Denmark-based avant/technical hardcore outfit OXX and their fourth album, The Primordial Blues, nearing release on Nefarious Industries later this month. The volatile new song is presented through an artistic video, which is being premiered exclusively at No Echo today.
TYLER COLE RELEASES HIS "GOOD DRUGS" VIDEO FROM HIS 2-PACK "GOOD DRUGS // BAD JOKE."
The two tracks were the first taste of new solo music from Cole and gave fans a window into what's to come. Listen to "Good Drugs/Bad Joke" and keep an eye out for more from Tyler Cole coming soon.
New single // enthralling avant-garde pop
Raylee Forest is an artist of extraordinary vision and audacity is set to redefine the very essence of the mainstream pop genre. With an unwavering commitment to innovation and a fervent desire to challenge the status quo, this trailblazer is poised to bring something truly revolutionary to the world of popular music.
The Mommyheads share new song; tour with Eggstone's Per Sunding
A watershed release for The Mommyheads, CONEY ISLAND KID marks the venerable NYC-based band's 15th studio LP and first-ever foray into concept album terrain. Highlights include the idiosyncratic first single, "Why Are You Smiling," joined by an official music video, directed by The Mommyheads founder/frontman Adam Elk that premiered yesterday on Brooklyn Vegan and is streaming now on YouTube.
The Mommyheads announce new LP (hear "Why Aren't You Smiling") & US shows with Eggstone's Per Sunding
54.40 Release New Single 'West Coast Band' From Forthcoming Album
54-40 has been telling Canada where they came from and where they're going for the last 40 years. Now, it's time for lead vocalist and guitarist Neil Osborne, bassist Brad Merritt, guitarist, keyboardist and vocalist Dave Genn, and drummer Matt Johnson (with the help of keyboardist David "Oz" Osborne) to reveal their band culture in a collection of songs called 'West Coast Band.' Through self-referential and often very literal stories, the songs explore bizarre shenanigans, odd dynamics, and personalities of its members.
Brewn Releases Soul Searching Single "Always Calling"
Musically uniting everyone with an anthemic song, we can all relate to the band Brewn, who released their new single and lyric video, "Always Calling." A band of country-infused rockers, Brewn delivers a profoundly powerful sound that resonates with audiences globally. "Always Calling" embodies the message of being driven to follow your inner voice and trusting the process.
Macedo Share "Block of Ice" Single + Lyric Video via EARMILK | New Track Out Now via All DSPs, More New Music Coming Soon
Macedo — the songwriting duo composed of twin sisters Melissa and Michelle Macedo — return with an instantly enchanting on series of new singles that display a sound equally steeped in sun-soaked classic Southern California pop and nineties alternative mystique, stemming from their natural sibling connection and otherworldly creative bond. At the top of 2020, they kicked off their next chapter signing to Pasadena Records and working with producer Chris Chu on singles "Stronger Now" and "Can't Imagine," both of which got national radio attention.
REACH RECORDS FINALIZES THE SUMMER 23 PLAYLIST WITH NEW RELEASES FROM TOMMY ROYALE, WANDE, 350, ANGIE ROSE, ALEXXANDER AND MORE
August 2nd 2023, The 116 Summer Playlist is here. Twelve new songs featuring a diverse pool of artists–some you may have heard of, some you may just have had introduced to you, but all include fresh collaborations that hopefully encapsulate the warmth, carefree, and celebratory themes of summer. All while continuing to proclaim the message that started all of this–that We are those who are Unashamed to proclaim the Gospel the power of God that brings salvation to everyone who believes.
Reminder: HORIZON THEORY Announce New Single/video "ASTRONOMER"
Loneliness, Addiction, and Struggles come forth in the latest release from Horizon Theory, "Astronomer". Bringing a heartfelt portrayal of the loneliness that one can experience even in a crowded world. The song delves deep into the emotions that come with multiple life struggles we might experience from day to day.
Swedish Prog Rockers TIME DWELLERS Release New Single; "Let's Get Happy" Is Out Now On All Streaming Platforms
By following their critically acclaimed debut "Novum Aurora" (2022), Swedish Progressive Rockers TIME DWELLERS release today new music as a sign of their forthcoming album currently "work in progress" and marks an exciting step in the band journey and trademark.
FLYING DISK: Italian noise rockers share new video, "Wasted"
Hailing from northern Italy, the noise rock force takes a stand with their most intense release yet, out now via Araki Records (FR), Forbidden Place Rec (USA), Urgence Disk (CH) and Karma Conspiracy (IT).
OUT NOW: ITALIAN DJ/PRODUCER MATISA SHARES 'TONGUE' EP ON GUDU RECORDS
Italian artist Matisa today shares Tongue, a new four-track EP for Peggy Gou's Gudu label. The lead single, also titled 'Tongue', dropped 18th July.
Born in Rome but based in Florence, Matisa has become one of dance music's most talked-about ascendant talents, releasing music on some of the most critically acclaimed labels on the circuit – including Optimo Music, Steel City Dance Discs, On Loop and Permanent Vacation – with DJs such as Ben UFO, Peach, Shanti Celeste, Eris Drew, Sally C, Mall Grab and more supporting her music.
Global rap collab banger from A!MS – Prod. Grammy award-winning Cool & Dre
Gretta Ray share new single "Don't Date The Teenager", album Positive Spin out 18th August
Gretta Ray today releases her latest single 'Don't Date The Teenager', lifted from her forthcoming album Positive Spin, a pure pop project that comes to you bathed in golden light, a hazy sunset of love and heartbreak, growth and understanding… a project full of beautiful moments of classic and emotive pop set for release on August 18 and available for pre-order now.
Values Here (ft Porcell of Youth Of Today, Judge) debut with punchy single "Will Be Tomorrow"
Values Here is a new band formed by vocalist Chui and legendary guitarist John Porcelly (Youth Of Today, Shelter, Judge). Today they share their debut single "Will Be Tomorrow," introducing their refreshing blend of hardcore punk with pop flair. Shredding guitars and punchy drums compliment Chui's attitude-filled vocal delivery, complete with a classic woah-oh hook. The video for the song finds the band, rounded out by bassist Tim Brooks (Bold) and drummer Vinny Panza, giving a fiery performance and running around the streets of NYC. The single appears on the band's upcoming album, Take Your Time, I'll Be Waiting, set for release September 22nd on End Hits Records.
DANGER MOUSE & JEMINI ANNOUNCE ALBUM AND SHARE SINGLE, "BROOKLYN BASQUIAT"
Celebrated producer and musician Danger Mouse and talented New York rapper Jemini Have announced the long-delayed release of their Born Again album — recorded in 2004 but previously unheard until now — available to the public after 20 years in the vault on 25th August via Lex Records. Remarkably, the release comes nearly two decades after the album's creation and coincides with the twentieth anniversary of the duo's debut LP, hip-hop cult classic, Ghetto Pop Life.
QUEENS OF THE STONE AGE: "Negative Space" New Video Directed by Liam Lynch
Queens of the Stone continue to prove themselves "a band reaching the peak of their powers" (NME). Following a triumphant reign over some of the UK and Europe's most hallowed festival grounds including "officially one of the most-watched Glasto sets ever – Josh Homme and co. pulled a huge crowd and unleashed pure chaotic joy" (Kerrang), Queens of the Stone Age are back with the latest audiovisual odyssey from their international chart-topping opus In Times New Roman… a brand new video for "Negative Space." As with previous videos from this campaign, "Negative Space" was created by, starring and directed by Liam Lynch, who states:
SHEER MAG Release New Single / Video "All Lined Up" – Sign To Third Man Records – Announce Tour – Re-Releasing Catalogue Oct 27
History has shown that the greatest bands–bands with that certain, ever elusive quality called lasting power–neither conform to nor buck the trends of their time, but rather force the times to catch up to them.
With new single, Eddy Lee Ryder announces 'Blue Hour' EP
Exploring themes of love and loss, the experience of being an inflatable doll, the nostalgia of hopeful youth, and the eventual descent into madness while grappling with the ramifications of climate change, Eddy Lee Ryder's new EP, Blue Hour, will be released on September 15, 2023. The latest single, "Holy Sh*t I Love You," was born out of a cataclysmic heartbreak that resulted in two albums worth of material.
King Tuff Shares New Song "Symphony Of A Man"
On August 18th, King Tuff, the longtime project of Kyle Thomas, will release Smalltown Stardust (deluxe dust) on all DSPs. This expanded digital-only version of his acclaimed early 2023 album Smalltown Stardust includes the original 11-track album, one previously unreleased song, and four wonderfully different studio versions of songs from the album.
Out Today // HUNNY BUZZ – "Deli Man"
Rising alternative UK band HUNNY BUZZ returns today with new single "Deli Man", powered by their spirited, youthful energy. The track comes complete with an exclusive new video.
Izzy Bizu Releases New Single "Flower Power"
"'Flower Power' is a song I wrote about trying things for the first time, feeling liberated, feeling the energy of others and trusting in them to take me on adventures I'd never forget," shares Izzy on the new single. "Hope you enjoy this little piece of my story, big love."
INTRODUCING: bby
A five piece band on a mission to infiltrate your world with their alt indie, fun flecked sounds. "hotline" hits like a statement of intent straight out of their East London HQ. A bolthole where they meet, hang, jam and funnel freedom into creativity. Writing, developing and producing their own music, alongside abundant good times, has become their focus for the future.